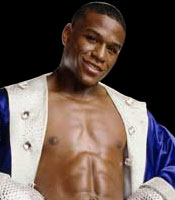 "Gatti's had so much plastic surgery that he's starting to look Japanese!"
Undefeated pound for pound picasso Floyd Mayweather Jr. told Boxingtalk.com, "Now we've got Arturo Gatti nailed down, and after I'm done with Gatti we're going to be looking at Oscar De La Hoya. I've been chasing Oscar De La Hoya down for the longest time. My dad is training him and there's nothing I'd love more than to test my fighting skills against his training skills. That's the fight that I want for December. Right now you know I'm in the Ferrari and I'm looking forward to taking out my Rolls Royce Phantom later."
GL: The other day you threw a bunch of insults Arturo Gatti's way. Do you respect him now that he's taken the fight and he's no longer "ducking and dodging" you?
FM: "Not really. It was forced on him. He really didn't want it to go to a purse bid, so that's what happened."
GL: Why didn't he want it to go to a purse bid Floyd?
FM: "He and I both know why."
GL: I don't think Main Events wanted that purse bid because they don't have Bob Arum money.
FM: "ABSOLUTELY."
GL: When are you going to camp for this fight?
FM: "It doesn't matter. I don't even know when I'm going to camp right now. But Gatti needs 14 weeks to train for me and that's nowhere near enough time. All the people need to know is every time I get in the ring I'm at my best mentally and physically. You know I was sitting in my mansion today and I was thinking about something. There's seven ways to beat Arturo Gatti, I've already seen six of them and we're going to show you the seventh way come June. All you gotta do is look at the tapes to see the six guys that beat him."
GL: Is there any chance of you coming into this Gatti fight overconfident?
FM: "Nope. Right now Arturo Gatti can't even sleep good at night. He's in camp right now and I'm partying at the club. You know, no matter how much trash I talk, no matter how much money I make the most important thing to me is seeing another day. God blessing me so I can wake up to see another day is most important to me.
"But this boy Gatti, he ain't on my level. I mean, can you tell me who he's beaten when he was in a big fight?"
"I love HBO but I want to know how guys like him and Micky Ward from being ESPN caliber fighters to making millions on HBO? A guy like Bernard Hopkins needs to fight for 20 years to get $10M and that's not right. Then I look at this guy Gatti's fight and he's starting to look Japanese. There's been so much plastic surgery done to his face that he's starting to look Japanese. As you can see he's punchy, that's not bad enough, now he's looking Japanese.
GL: If Arturo Gatti's not a true world champion, who has never beaten anyone in a big fight why have you chased him down so hard?
FM: "Because he got something I need. He got my belt, that's why."
GL: Once you get that belt if you can't make a fight with another top junior welterweight would you move right up to welterweight?

FM: "You know the names I want. I don't want Shitty Shane Mosley right now. But I'm going to need him as a tune up for the Oscar fight."
GL: So you're going to tune up for Oscar by fighting someone who beat him twice first?
FM: "You mean someone Oscar beat twice. He never beat Oscar. He never earned that belt from Oscar. He was supposed to punish him and he never did that. He won both fights from shitty Shane Mosley. I'm not even a big Oscar fan but I call a spade a spade. it is what it is. He fights with his eyes closed just winging punches."
GL: How serious of a possibility is moving up to welterweight right after your next fight?
FM: "I got certain goals I've set for myself and I feel the Arturo Gatti fight should be like the Diego Corrales fight, whoever loses the fight should lose their contract with HBO. But they're not throwing that out there. I feel whoever loses should lose the contract, that's how confident I am."
GL: Under the terms of you HBO deal you made more than $3M for fighting guys like Sosa, N'dou and Corley. Now you're fighting Gatti for the same kind of money. Do you feel you need to fight elite fighters now in order to make the money you were then?
FM: "Not me. Don't go by the numbers and don't believe everything you hear. At the end of the day I'm going to be making more money than Gatti is on this fight. And I'd even give Gatti a rematch, but after the way I'm going to beat his ass he's not even going to want a rematch."
GL: Do you even give Gatti a punchers chance of beating you?
FM: "Againt who? Did he knock Ivan Robinson or Angel Manfredy out? Who has he knocked out? Leija, who HBO wouldn't allow me to fight? This stuff is just like a movie. They wouldn't put me in there with Branco either. When we asked them about Leija, they said it was disrespectful."
GL: Is Gatti going the distance or will he go out on his face or his back guaranteed?
FM: "Bet your job on it. If you got an apartment, you're going to get a house. If you bet your house you're going to get a mansion. If you bet your mansion, you're going to get a castle, and if you bet the castle, you're going to get a high rise and if you bet your high rise you're going to get an empire."
GL: You're going to be fighting Gatti in his backyard, do you feel like you have to knock him out to win?
FM: "For what, the fans can't fight for him. The WBC loves me and they don't take sides. The WBC demanded this fight to happen and I love the WBC for that. I see they're trying to play mind games but nothing could get to me. You see, I talk a lot of shit but I make money moves."
MEMBERS CLICK HERE FOR THIS HOT NEW MUST READ EXCLUSIVE INTERVIEW
Send questions and comments to: gleon@Boxingtalk.net