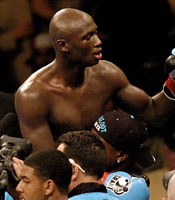 Tarver ready to fight on Showtime or ESPN PPV if HBO doesn't step up!
GL: I understand the Glen Johnson rematch was offered to you for the April 30 that now seems to be going to Ruiz-Toney, what can you tell us about that?
"First of all, I could tell you a lot of dates it was mentioned for. It was mentioned for the middle of May, then it got pushed back to June 4, then it got pushed back to June 18. Then I get a call out of the blue asking if I could be ready in six or seven weeks for an April 30 date. It came to my attention that Klitschko got injured so they couldn't make the deal, but now it seems that I'm a filler to them now instead of a world class fighter. It seems as though I've been demoted to filler for someone who gets injured. That's the lack of respect they're showing me. The first fight was entertaining and they need to respect the rematch otherwise it's not going to garner the attention that it deserves."
"But in either case, I gave it some thought, and I'd be willing to fight anybody on that date. It doesn't necessarily have to be Glen Johnson again, but if it is, then so be it. But at the same time, it was my Monday when I first heard from my mangaer (Al Haymon) and he told me that he was going to the powers that be (HBO's Kerry Davis) to figure out exactly what's on the table. And now here we are mid-day Wednesday and I still haven't heard from anybody. I'm trying to figure out what exactly is going on.
"We're already at the last minute and they wanted to talk about everything except for what the money is."
GL: With the date continously getting pushed back, I imagine HBO would be offering good money for a Johnson fight on short notice.
AT: "The first time we fought Roy Jones, I feel I beat him more clearly than I beat Johnson and didn't get the decision. It motivated me in such a way that I came back, I told the world what I was going to do and I did it. Here we are in the same position. I feel I won the fight, a lot of people feel I won the fight. HBO's commentators thought I won the fight and most experts thought I won the fight. Yes it was a good fight, very exciting, one that people would like to see again. But once again, it seems that the powers that be are luke warm about the fight.
GL: Obviously, the powers that be you're referrring to are HBO. How do you feel about HBO approving fights like Wladimir Klitschko-Sergei Lyakhovich, Mayweather-Bruseles, Sam Peter-Yanqui Diaz, Cotto-Corley and maybe even a Cotto-Corley rematch before your rematch with Glen Johnson takes place?
AT: "It just goes to show you, I mean, you can't have one foot in and one foot out. They're in bed who they're in bed with and they're promoting and marketing the fighters that they wish to promote and market, but the one thing about Antonio Tarver is, I've always been self promoted. I'm not going to rely on anybody to give me or hand me anything. I feel that I deserved things I've earned and I've earned them the hard way and that's why I'm here speaking on this matter today. You know I made a lot of concessions and gave up a lot to make that fight for them on December 18, a week before Christmas, with no real promotion from  HBO, and then they want to cry about the fight not getting great ratings.
"But who is getting great ratings out there other than the people they're spoon feeding to the public and going above and beyond to promote? And then when they get in the ring they can't do the job, they don't perform. A lot of things have me confused right now, but here we are facing another rematch and I'm putting the world on notice that the real Antonio Tarver will stand up. I'm going to do whatever I have to do to demolish Glen Johnson, a guy that's never been knocked out before. If they don't value the rematch, I don't understand what they're looking for out of the fight game. There's not another fighter in the world who could speak it and deliver in the ring like I can. After whatever date we get it on, people are never going to doubt me again. I'm ready to show them that I'm head and shoulders above Glen Johnson, and if they can't see that and they don't value that, I can't help them.
"And I'm telling my promoter Joe DeGuardia to go and get me a concrete date from HBO, he's already been put on notice. I don't want some rush job seven weeks out and they're still coming with no money or low money, as a filler. I don't do my business that way. When are they going to give me the respect that I deserve?"
GL: You made interesting point earlier. The Glen Johnson fight is clearly the fight that HBO wanted. You vacated your championship to make the fight that they wanted.
AT: "It's disturbing, but this is the nature of the beast. One thing I know is, they can't break me. And when I get in the ring I'm going to take it in my own hands. All I want to do is get in the ring on either HBO, Showtime or ESPN PPV. It doesn't matter to me, I want to get busy. Once again they have doubted the Magic Man and not it's time for me to show them I am nothing to play with. Period G. I'm done."
CLICK HERE FOR MORE OF THIS MUST READ EXCLUSIVE
Send questions and comments to: gleon@Boxingtalk.net