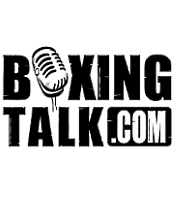 Kevin Kelley hurt his left hand in about the 3rd or 4th round and "had a hard time putting my punches together, I didn't want to break it (his hand)." As you read in Scott Shaffer's piece, he was able to outfox Jose Reyes and floor him in the 9th round on the way to a unanimous decision.
Ross Puritty was bothered by a left hook to the right eye against undefeated Eddie Chambers during most of their 10 round heavyweight co-feature.  Puritty was still applying ice 2 hours later.  Chambers is now 23-0 after the unanimous decision.
Newton Kidd seemed busier than Frank Walker in a 4 round Cruiserweight matchup that appeared on ESPN2 between wins by Chambers and Kelley.  Kidd got the not on one scorecard, while the other two judges had it even. Walker is 10-1-1 and Kidd is now 5-3-1.
Breon Smiley made his professional debut a difficult one by taking on undefeated Saeed Hawkins.  Hawkins (167 lbs) got into Smiley in the 2nd round and stopped him at 2:49.   With a varied attack of power and boxing Hawkins improves to 7-0 with 3KO's and furthers his "prospect" status.
Mario Maldonado almost got outworked during a late 4th round surge from Jamel McKay but the majority decision went to Maldonado, who is 2-1 after a 20-year layoff caused by "problems with trainers, managers and other bull".
Derric Rossy overcame a bloody nose and thumped Rodney Ray for a KO victory with 21 seconds remaining in their 4 round heavyweight clash.  Ray seemed to be winning the fight but he has a bad habit of pulling away with his head up and it cost him in Philadelphia.  The undefeated Rossy used good power to score his 5th KO in 6 wins.
Antonio Espinoza (5-0)  took a 4 round lightweight decision from Luis Angel Lopez.  Not much drama here as Lopez was floored early.
Next Blue Horizons Boxing Promotion card is scheduled for June 24th.  Power Productions has a June 10th date at the Blue in Philadelphia with Willie Gibbs and Lujuan Simon in separate bouts.  Both nights will be interesting for Philly fight fans as many local guys will be getting tested in the ring to see if they really are going to be "hot prospects" by the end of the year. Call 215 763-0500 for ticket information for either event.
Send questions and comments to: planetlarry@Hotmail.com