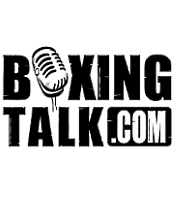 Press release:
Heavyweight Dominick Guinn and featherweight Rocky Juarez will appear in co-feature bouts on ESPN2 Friday Night Fights Main Events Special Friday, Dec. 3 at 9:30 p.m. ET from Bally's Atlantic City's Main Ballroom.
Joe Tessitore and Teddy Atlas will be ringside for the second card of the ESPN / Main Events new promotional agreement, the next of which is scheduled for January 21, 2005. Additionally, Brian Kenny will host festivities from Bally's, while reporter Jeremy Schapp will also be on site and renowned ring announcer Michael Buffer will handle those chores.
Juarez (21-0, 14 KOs), who scored a unanimous 12-round decision over Zahir Raheem in an IBF #1 eliminator in his last bout July 17, will meet Guty Espadas (38-6, 24 KOs), a former world champion who won the WBC featherweight title in April 2000, and has been in with current and former world champions including Erik Morales (twice – KO by 3, L12), Bones Adams (W15), Alfred Kotey (W10) and Jesus Salud (L10). 
Juarez won the silver medal at the 2000 Sydney Olympics and is currently ranked #1 by the WBC and IBF. He earned his first professional title on November 22, 2003 when he decisioned 46-bout veteran Hector Velasquez to claim the vacant WBC Continental Americas featherweight crown.
Guinn (25-1-0, 18 KOs), who stopped world-title challenger Michael Grant in the seventh round after knocking him down four times on June 7, 2003, is taking on Serguei Liakhovich (21-1-0, 14 KOs), the talented Belarus heavyweight who has won his last five bouts, four by knockout.  Among Liakhovich's amateur accomplishments is a victory over 2000 Olympic Super Heavyweight Gold Medalist Audley Harrison.  Guinn is ranked in the top-10 by both the IBF and the WBO and trained for Liakhovich by sparring with former world-heavyweight champion Evander Holyfield.
ESPN2 Friday Night Fights Main Events Special will once again feature Trainer Cams, unmanned cameras in each corner focusing on the corner men, and will present profile pieces on the up-and-coming Guinn and Juarez. 
The ESPN / Main Events agreement features a premier monthly boxing series within ESPN2 Friday Night Fights in 2005, highlighted by two pay-per-view events. ESPN's first pay-per-view boxing event will be in Spring 2005. Currently, ESPN PPV includes ESPN GamePlan, a college football season package; ESPN Full Court, a college basketball season package; ESPN Fantasy Football Forecast; and pay-per-view events such as ESPN College Grand Slam, K-1 martial arts programs, and movies produced by ESPN Original Entertainment.