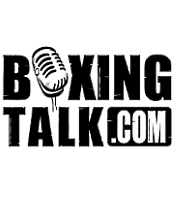 The fights yesterday on ESPN2 Friday Night Fights from the Mohegan Sun Arena in Uncasville, Connecticut went as expected. In the co-feature, 24 year old Middleweight prospect Elvin Ayala (9-0 with 3 ko's) out of New Haven, CT took on 24 year old  New Hampshire journeyman Jose Medina (7-3 2 ko's). Although Medina had already lost three times in his brief career, he was on a five fight winning streak going into this fight.
It was clear from the beginning that Ayala was the better all around fighter. He won the first three rounds easily, displaying superior defensive skills, ring generalship, intelligence and accurate punching.  Medina was the slower fighter of the two, but Ayala wasn't exactly lightning quick himself. In addition, neither fighter seemed to possess dynamite in their fists. Ayala controlled the fight with a stiff jab and slick movement, making Medina miss and making him pay. At the end of the 4th round, Ayala hurt Medina with consecutive left hooks to the body.
In between rounds upon examining Medina, the doctor advised the referee to stop the fight. Ayala improves to 10-0 with 4 knockouts. Medina falls to 7-4 with 2 knockouts. Around the time of the stoppage, 1950's welterweight champion Tony De Marco made a guest  appearance on a night that marked the 50th anniversary of his 14th round title winning effort against Johnny Saxton.
In the main event, 29 year old Willie "Gladiator" Gibbs (17-1 14 ko's) out of Philadelphia, PA took on 34 year old Andres Pacheco (13-2 9 ko's) out of Pueblo, CO. The 5'9 Pacheco weighed in at almost eight pounds above the contractual weight limit of 162lbs. The 6 foot Gibbs weighed in at the contractual limit of 162lbs. After the initial weigh-in, Pacheco was only able to lose ¾ of a pound. The Gibbs camp agreed to the fight, with Pacheco being fined $1500 and not being allowed to weigh any more than 175lbs on fight night.
Gibbs was coming off a 7 month layoff, having last fought in a pugilistic Vietnam with recent Jermain Taylor knockout victim Daniel Edouard. Gibbs lost his bout with Edouard on a 4th round knockout in a fight of the year caliber donnybrook. Pacheco going into this fight was on a two fight losing streak, but had knocked out 5 of his last 7 opponents. The two losses he sustained were a technical knockout loss to world class fighter Rodney Jones (32-3)and a close split decision loss to veteran Yori Boy Campas (82-6)
The 175lb Pacheco who had fought his last fight at 158lbs, and was fighting at 153lbs as recently as 4/04, looking sickeningly out of shape. At first glance this appeared to be an April Fool's joke, as Pacheco looked like he was taken out of the audience as a goof. I was waiting for Pacheco to go back into the crowd and continue munching on his hot dog and washing it down with a Corona while the real Pacheco walked into the ring. Unfortunately, that never happened. 
In the first round, the much faster, stronger Gibbs came out landing over 53% of his punches against the corpulent Pacheco. Towards the end of that round, the muscular, well-conditioned Gibbs hurt Pacheco with a lead left. In the beginning of the second round, Pacheco landed a couple of decent counter punches but nothing that bothered Gibbs. With 33 seconds left in the round, Gibbs landed a left to Pacheco's soft body, followed by a hard right and a left to the head which dropped him. Pacheco gamely got up and the round ended. In between rounds, the ringside doctor (who is also a Neurosurgeon) examined Pacheco's eyes and advised the referee to stop the fight. He should have also advised Pacheco to become a sumo wrestler. 
This was a good stoppage as Pacheco had no real chance of beating Gibbs, but he did have a chance of eating him. There was no excuse for Pacheco to come into the fight that fat and out of shape. True professional fighters don't operate like that. Gibbs improved to 18-1 with 15 ko's. Pacheco fell to 13-3 with 9 ko's.