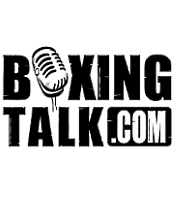 G. Leon and Ben Thompson @ ringside
Robert Dula may have suffered a serious injury after a violent knockout at the hands of Eric Mitchell in the final non-televised bout in St. Louis, Missouri on Saturday.  Mitchell landed a crushing right that had Dula out on his feet in the first round.  As Dula fell to the canvas, Mitchell landed another equally powerful right.  The referee wasted precious seconds counting over Dula.  With his young son looking on in horror, Dula remained motionless on the canvas for several minutes.  Ring announcer Jimmy Lennon, Jr. informed the crowd that Dula had regained consciousness just before he was carried out on a stretcher.  On paper, the middleweight bout did not seem like a mismatch but it was a step up in opposition for Dula, now 15-1-1.  Mitchell is now 18-4-1.
Devin Alexander W6 Donovan Castaneda...
Kevin Cunningham's welterweight prospect wins every round on all three scorecards.
Elio Rojas TKO3 Yamin Mohammad...
Dominican amateur star moves to 9-0 in featherweight contest.
OTHER RESULTS:
Tye Fields KO2 Ray Lunsford (heavyweights); Josiah Judah KO1 Brandon Jackson (super middles); Marcus Johnson TKO1 Mark Long (light heavyweights); James Johnson KO1 Aaron Blake (light heavyweights).