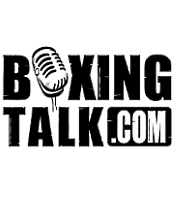 Joey Rios Takes A Small Step To Bigger Things
The show entitled "Hudson Valley Explosion ", promoted by Newburgh, New York promotional company Northeast Promotions certainly played out true to its name from the opening bell. The headliner on this evening was a red-haired fellow wearing green and who often hands out black and blues. I am referring to junior middleweight Irishman John Duddy, who headlined the show by knocking out Chuck Orso in 1:37. This talented albeit untested two-fisted bomber has hopes of becoming a true superstar in this sport. He entered the ring to chants reminiscent of a World Cup soccer match and instantly the Westchester County Center in White Plains, New York was transformed into Little Dublin. Almost as soon as the bout started, Duddy stalked Orso and used a left hook to the side of the head to send the overmatched Orso sprawling to one knee. Orso to his credit tried to get up but as he shook the cobwebs loose, he failed to properly interpret referee Mike Ortega's ten count. This one-sided affair ended officially at 1:37 of the 1st round. Poor Orso mi lad, like the rest of Duddy's opponents, we didn't get a chance to know you. The 25 year old from the Derry County, Ireland who now makes his home in Queens, NY, sees his record improve to 8-0 with all 8 wins coming by way of knockout. Orso who hails from Macintosh, Alabama sees his record drop to 4-6.
In the co-feature of the night up and coming Jr. Welterweight prospect "Mr." Joey Rios 9-0 w/ 4 K.O.'s, out of The Bronx, New York put his undefeated record on the line when as he took on Mobile, Alabama's "Bad" Chad Lawshe 8-4. Rios who was facing without a doubt his toughest test to date made it look like another day at the office. Rios used a workman like and economical approach in outclassing the very durable Lawshe. Rios dropped Lawshe twice to the canvas in the 3rd round with some vicious left hooks to the head of. Lawshe. "Bad" Chad managed to sustain the heat being brought by the Bronxchester Gym warrior and he himself managed to have his moments throughout the match. However Lawshe's efforts were too little and far between to ever truly say Rios was in danger of losing the bout. Rios swept all of the scorecards at ringside to win an impressive white wash decision. Those who were in attendance last night can attest to Rios holding the mantle of being arguably the best ticket seller out of any of his fellow New York City prospects
[editor's note: Dmitri Saleta might not agree with that statement]
. 
In the inaugural bout of the evening two undefeated bantamweights took center ring as Keiron Armour from Garland, Texas 1-0 was pitted against New York's own Max Daguizan who was searching for his first pro win. Both fighters came out throwing bombs early and really put on a crowd pleasing fight. This action packed four round affair ended up being judged a majority draw. Armour's record goes to 1-0, w/ 1 draw while Daguizan resume reads 0-0 w/ 2 draws.
In the oddest bout of the night Dominican Delvin Rodriguez, who lives in Bridgeport, Connecticut stopped Monroe, Louisiana's Mikel Williams in the first round. The bizarreness of the whole incident was that no one seemed to see what punch did the damage that sent Williams to retire on one knee. The story at ringside was that Williams complained about a rib injury and that's what forced him to submit. I speculate that Williams was hurt going into the bout and the journeyman who had a record of 2-5-4 draws, could not afford to miss a payday. Nevertheless with the win the junior welterweight hopeful Rodriguez, who got his only loss on ShoBox, ups his record to 13-1 w/ 7 wins via K.O.
Russell Jordan the 6'2 welterweight from Rochester, New York improved his record to 10-2 w/ 6 K.O. with an impressive hard fought win over trial horse New Orleans, Louisana's Darien Ford. The lanky rangy southpaw out boxed and outworked Ford for 6 rounds earning a unanimous decision. Jordan holds the New York State welterweight title. New York fight fans may recall Ford who fought Chris the "Mechanic" Smith on April 22nd in 2004 during one of Dibella entertainment's installment of Ballroom Boxing series.
Women also had their time to shine on this night as White Plains, New York own Ann Marie Saccaruto won an entertaining six round unanimous decision over a game Texan, Victoria Cisneros.
Send questions and comments to: spjr21@yahoo.com