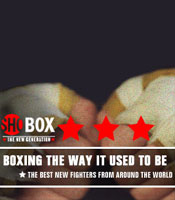 Inside of the ring, Nonito "Flash" Donaire does it with flair.  The highly regarded youngster, who has knocked out eight of his 14 opponents within the initial six rounds, is charismatic, talented and extremely entertaining to watch.  
"Donaire has incredible hand speed, good power and can make his opponent miss by a half-inch while standing right in front of him," said Mike Houser of the Nevada Appeal, who named Donaire his "Prospect of the Year."  "The mega-talented 23-year-old looks like a future world champion."   
Outside of the ring, Donaire is dedicated, determined and hungry.   
"It was not that I grew up dirt poor, but it definitely was difficult growing up in my village in the Philippines," the personable, soft-spoken Donaire said. "My parents moved to America when I was seven. From the time they left and until we rejoined them in the United States, my two brothers, sister and I were raised by our grandparents.  
"During those last few years living in that village, we hardly had any food, and what we did have had to be rationed out. But nobody complained. We appreciated what we had. Some people had it a lot worse.''  
Donaire, who will take on Kahren "Armenian Essence" Harutyunyan in the Jan. 20 "ShoBox: The New Generation" main event on SHOWTIME (11 p.m. ET/PT, delayed on the west coast), left the Philippines when he was 10 years old. Shortly after he and his siblings were reunited with their parents in San Leandro (Calif.), Donaire began to box.  
"Basically, I followed in the footsteps of my older brother Glenn, who is three years older,'' Nonito, who is promoted by Gary Shaw Productions, LLC, said. "We were not rowdy as kids, but my dad did not want to take any chances, so he got Glenn into boxing to keep him off the streets.  
"Glenn started boxing and winning, and getting all this attention. Being the younger brother, I wanted the trophies for myself. I wanted the attention. Ever since I put on my first pair of gloves, I have been hooked."  
The brothers had excellent amateur careers, but both dropped controversial decisions to Brian Viloria at the 2000 Olympic Trials.  
"I am over that fight and have moved on," Nonito said, "but that fight left a bad feeling with me for a long time.  
"When Viloria beat my brother, it totally took me out of my game. I just was not there mentally for that fight," said Donaire, who most ringside observers believe won.  
The transition from the amateurs to the pros was a welcome one for the "Filipino Flash.''  
"I prefer the pros to amateur fighting because it is just you who decides the fight," Donaire said. "If you connect with one big shot, it can be over. You can utilize more of your ability in the pros. It is more about overall skills."  
As a pro, the talented "Flash" has been impressive in 14 fights, scoring five opening-round knockouts.                
Said Jay Heater of the Contra Costa Times: "Donaire is a very aggressive fighter and a very busy one.  He has donated a lot of his time to teaching young kids martial arts. He is a great kid and a very slick fighter.  I am not sure about his punch yet, but he throws a lot of punches.  He is very strong for his weight. You are going to love him."  
If there is one rap against Donaire, it is that he tends to load up and rely on landing the big shot.  
"Donaire is a quick-fisted fighter with a strong punch," said David Avila of The Riverside Press-Enterprise and Maxboxing.com. "He likes to take them out quick, but if he fails to do that, he settles back into a boxing mode.  Right now, he needs experience fighting guys who can take his punch.  He relies too heavily on the knockout."  
Donaire (13-1, eight KOs) and Harutyunyan (13-2-3, 0 KOs) will not be facing each other for the first time when they square off in a 10-round bout for the vacant North American Boxing Federation (NABF) super flyweight title.  
Harutyunyan (13-2-3, zero KOs), of Yerevan, Armenia, is a senior English major at the University of California at Los Angeles (UCLA) and the North American Boxing Organization (NABO) junior bantamweight titleholder.   
"Harutyunyan and I sparred a few times when I was training down at Freddie Roach's Gym in Hollywood (Calif.)," Donaire said. "I know what he is capable of, and he knows what I am capable of.  He runs and hooks and wins by points.  He is a tricky fighter who likes to hold, but I have him figured out and have a game plan for him.  
"He is not a scary fighter, so if I am at my best, which I will be, I should knock Harutyunyan out."  
In Donaire's most recent outing, he registered a lopsided eight-round decision over former International Boxing Organization (IBO) super flyweight champion Ilido Julio on Nov. 5, 2005, in Stateline, Nev. Donaire dropped Julio twice in the eighth round en route to winning 79-70 on all the scorecards.  
"That fight was a great experience," Donaire said.  "I fought a world-rated guy, got tired after the first few rounds, and, for the first time in my pro career, I got a second wind.  In the last two rounds, I felt great.  Now, I know I can go into the later rounds, which is very important for a young fighter like me."  
Donaire's lone loss came in his second pro start when he dropped a five-round decision to Rosendo Sanchez on March 10, 2001, in Vallejo, Calif.  
"I fought a guy who I think was a natural 122-pounder who dropped down in weight," Donaire said. "He was a much bigger guy for me, and it was just my second fight.''  
Donaire has been on the national stage before, but never on a platform as big as "ShoBox."  
"To tell you the truth, I am overwhelmed right now," Donaire said.  "This is cool.  This is SHOWTIME.  Wow! People have no idea how hungry I am for a title shot, to get up there in life and in boxing.  This is such a great opportunity for me.   
"After all my parents did for me, bringing me to America, making me who I am, my goal is to buy them a house and let them travel the world.  This fight on Jan. 20 will get me one step closer to my goal."   
In what figures to be an explosive "ShoBox" co-feature, Global Boxing Union (GBU) Americas Lightweight Champion Tyrone Harris (14-0, 12 KOs) will take on Israel Hernandez (11-1-1, 11 KOs) in an eight-round junior lightweight tussle. Gary Shaw Productions, LLC, will promote the doubleheader from Pechanga Resort & Casino in Temecula, Calif.
The telecast represents the 71st in the popular "ShoBox" series, which debuted on SHOWTIME in July 2001. "ShoBox" features up-and-coming prospects determined to make a mark and eventually fight for a chance at a world title.  A number of fighters who have appeared on the series have gone on to become world champions, including Jeff Lacy, Ricky Hatton, Juan Diaz, Leonard Dorin, Joan Guzman and Scott Harrison.
Nick Charles will call the action from ringside, with Farhood serving as expert analyst.  The executive producer of the telecast is Gordon Hall, with Richard Gaughan producing.
For information on "ShoBox: The New Generation" and SHOWTIME CHAMPIONSHIP BOXING telecasts, including complete fighter bios, records, related stories and more, please go the SHOWTIME website at
http://www.sho.com/boxing
.