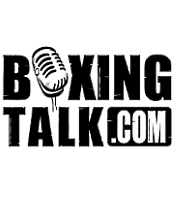 Also See Video Interviews with Lamon Brewster, Kali Meehan, Cory Spinks and Miguel Angel Gonzalez
August 5, 2004
- There is usually not enough time in the day to hear everything Don King has to say that is on his mind. He is eloquent with his vocabulary using words most of us have never heard of before, let alone know their meaning. But yesterday after the Brewster-Meehan, Spinks – Gonzalez press conference at Arnie Morton's Steakhouse in Los Angeles, BoxingTalk's own Darren Nichols was able to briefly speak with King about the possibilities of any upsets on his September 4th card, why so many boxers leave him only to return as the Prodigal Son, if Evander Holyfield will ever meet Mike Tyson again, and why he has Tito Trinidad going up against such a tough brawler as Ricardo Mayorga in his first fight out of retirement.
Lamon "Relentless" Brewster and Kali "Checkmate" Meehan have admitted that the only way they are going to lose their fight on September 4th at the Mandalay Bay in Las Vegas is if they are being carried out on a stretcher. Even though they both know what the public expects of them - Brewster is suppose to easily defend his WBO Heavyweight Title, while Meehan plays the role of the underdog coming into Brewster's backyard - with two powerful warriors depicting this much heart and determination a month before their fight proves that this will be no mismatch, but instead the recipe for a knockdown drag-out war. In the words of Brewster's motto: "Don't Blink," for a simple flutter of the eyelid could prove disastrous for either boxer, and the spectator.
Cory "The Next Generation" Spinks is one of boxing's few undisputed champions currently fighting, yet he knows in order to reach the higher echelon of his sport, he must not get complacent, but instead continue to take on the toughest challengers available to him. He will get that in Miguel Angel Gonzalez, a tough Mexican veteran of 54 fights who has been in the who's who of the welterweight division. As soft spoken as these two great fighters are, Cory "The Next Generation" Spinks and Miguel Angel Gonzalez will make up for it in the ring when they meet each other toe to toe on September 4th at the Mandalay Bay in Las Vegas. Both these combatants know what it means to go to war, and even though Spinks is the undisputed 147-pound champion, Gonzalez is walking in with more knockouts than "The Next Generation" has fights. BoxingTalk was on hand yesterday at Arnie Morton's Steakhouse in Los Angeles to bring our viewers the best of what these two welterweight greats had to say about their battle next month.