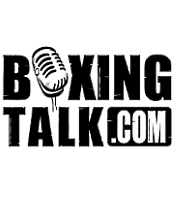 On Friday night in Connecticut, Al "Speedy" Gonzalez lost a ten-round decision to Oscar Diaz. Boxingtalk spoke to the manager of Gonzalez, Patrick Doljanin, to get his reaction.
JA: What are your thoughts on how Speedy's fight against Oscar Diaz last Friday night played out?
"Obviously disappointed. I know Al can fight better than that. Al is a better boxer and is a better fighter than Oscar Diaz. We did not see that Friday night. It sounded like we were in Chicago from that chanting for Speedy and by the booing at the end of the fight that most people didn't agree with the decision. But when you're fighting a Duva boxer in a Duva show that it shouldn't have come as a great surprise. We knew Al was not going to get a decision there and that's why he was going for the knockout most of the fight. I thought he did just enough to at least get a draw out of the deal but you move on."
JA: What affect if any did the cut have on Gonzalez?
PD:"None. Jesse Reid did a great job."
JA: Where does Al Gonzalez go from here?
PD:"Al's a fighter. Al's never backed away from anybody. He's fought, including Oscar makes now his third toughest guy in the one hundred fourty pound division. He's never shyed away from anybody or any challenge. It will be back to the gym, back to the basics. Work on the things that he needs to work on. One of them
of which is listening. I think if you watch the seventh round it was by far Al's best round. It was ninety percent body punches. I was right there. Diaz was ready to take a tumble. He's was about two punches from going down from that body attack. Al came back in the eight round after being told repeat what you just did and
he threw only two or three body punches. It was a very uneven performance on Al's part. He's a young fighter and in my book two loses don;t mean anything.
Micky Ward had around fifteen losses before he had his first million dollar payday. I think fighters as well as the media, mostly perpetuatedby the media, if a guy has got a loss or two they think he must not be good. I think some of us in the boxing end of it are a little guilty of it too. If you look around some of the most dangerous guys out there, Emanuel Augustus for instance, are at 140. It really doesn't mean anything. What does matter is regrouping and polishing up the rough edges and moving forward."
JA: There was an incident that happened after the fight but before the decision involving an up and coming 140-pounder Paulie Malignaggi. What..?
PD:(cutting in)"I didn't notice any up and coming up hundred fourty pounders there. I just know that there were four tough one hundred fourty pounders in the  ring that night. I saw a guy who looked like a white rat getting his chicken ass hauled out of there by a state trooper. That's all I saw. (laughs)."
JA: So you have no comment?

PD:"The guy is a little puke. There's nothing funnier than watching that guy get dragged out of the arena ghost white. I never saw anyone with a more scared look on his face. He tried to horn in on somebody else's show. Go there, watch the fight and if you got any comments, Boxingtalk gives him plenty of press. Nobody
there really cared. One of the biggest rounds of applause was when his ass got thrown out. The guy is nothing."
JA: But he was there on an invite from your team, is that not true?

PD:"We've given up on him and anything to do with him because that was more Duva's idea. When Oscar's opponent backed out we stepped up. I called Dino and said we're willing to take the fight. And we made the fight and people got an outstanding night. I spoke with Gordon Hall who is the executive producer at
Showtime afterwards. He said he had the fight even. We asked him point blank would he have Al on again and he said absolutely. He's an exciting fighter. Al's not pefect.
We'll just go on from there. He has alot of work to do. I never said that he was the next (Miguel) Cotto or the next Kostya Tszyu. He's a tough young kid who makes for exciting fights and he's not afraid to fight anybody. I think with Jesse Reid's help he'll make the corrections that he needs to make and we'll come back again and he'll keep fighting tough guys."
Send questions and comments to: onfireboxing@Verizon.net