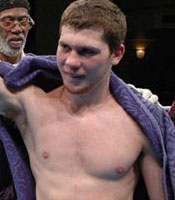 Salita faces Frankel Thursday night!
Boxingtalk.com recently caught up with undefeated NABA Light Welterweight champion Dmitriy "The Star of David" Salita 23-0(14) to get his thoughts on what may very well be his last Broadway Boxing appearance this Thursday night. Salita, 23, trained by well respected veteran trainer Hector "Panama" Roca will take on recently finalized opponent "Red Hot" Robert Frankel 12-4(1). "He is known to be tough warrior. So I trained hard and I expect a tough fight, but I expect to put on a great show and expect to move onto the next level." stated Salita, who will once again headline this the final Broadway boxing series installment of the year, which will also features other up and coming New York prospects Edgar Santana, Curtis Stevens and Gary Stark Jr.
RC: Dmitriy, what's going on?

DS: Everything is good man; I just got back from training camp a few days ago. I did a lot of good work there in the Pocono's with Edgar Santana, Jorge Teron and Miguel Callist. It was a variety of good boxing, Edgar and Jorge has been there for a while, but Miguel Callist is new, and he is a very talented and real good boxer.
RC: You will be fighting Robert Frankel, what can you tell us about this guy?
DS: He is 12-4, I saw his fight with Lamont Peterson and from the scouting reports from different people, he is a tough guy, he throws a lot of punches, he stays busy and he has a very good chin. He has never been stopped, well he has been stopped but it was in his pro debut, but he has is known to be a tough warrior. So I trained hard and I expect a tough fight, but I expect to put on a great show and expect to move onto the next level.
RC: From what I understand he was just finalized as your opponent a couple days ago, was it hard preparing in camp not actually knowing who or what type of style to prepare for?

DS: I feel comfortable going, that is what part of being a professional, to do your job regardless of who you have to fight. But you know obviously, when you have a face, it is a better. I thought it was going to be (Tomas) Barrientes, but he pulled out a few times. There had been many different changes in opponents, but you know I stayed focused and trained hard. Going to the Pocono's helps me with that. I also did another good strength and conditioning program with Dave "Scooter" Honig, so I expect for that to show itself off in this fight. Hector and I have been working on some good things, we are getting better and added a few things and improving on the old stuff, and I am hoping to show it all off on Thursday night
RC: Looking at his record some may say this should be a walk in the park which a guy with 12-4 record against someone who is 23-0 is suppose to be, but taking a closer look, he has lost to opponents with a 43-2(21) which doesn't seem that bad after all. From what you have seen of him, have you picked up on anything that you might be able to go in there and take advantage of and make it an easy night?
DS: I definitely think that they are things that I am going to be able to take advantage of. A fighter that stays busy always presents you with a lot of opportunities. I always prepare for a tough fight, everyone that I have spoken to has told me that he is a very respectable 12-4 and he is a tough guy, and I was told not to think that it is going to be an easy fight. So you know, I don't and I am looking forward to putting on a good show.
RC: Will Matisyahu (The Hassidic Jewish Reggae singer who escorted Salita into the ring in his last fight) be there Thursday night?

DS: Matisyahu is on a world tour, so he won't be there, but he will be there in spirit and on the loud speaker, but he won't be there live
RC: Will your NABA title be on the line for this fight?
DS: No, the NABA title is good, and I am very grateful it is my first title and I am very happy that I won it. But that is not my goal, my goal is to win a world title and I hope to do it soon, if everything goes well I hope to do it in the very near future. The NABA title was just a step towards much bigger things later on down the road.
RC: Does that mean you vacated the title?
DS: No I didn't vacate it, but at this point and time…. the title isn't on the line; whether or not I will defend it I don't know. I want to get the world title, the NABA is a very legitimate title and I am very proud to have it, and I am grateful for the NABA and to the WBA which the extension of the NABA for giving me the opportunity to fight for it. But being that the WBA title is vacant, that is the real goal
RC: I don't want to look past your opponent Thursday night in Robert Frankel, but I remember talking to you when you initially informed us of December 15th show, you mentioned that this might be your last Broadway boxing show, unless it is like an interim keep busy kind of fight, is that still the plan if everything goes works out Thursday?
DS: More so than ever, not to overlook what is going to happen on Thursday because I expect a good tough fight, but that absolutely is the plan. From the last fight, you know this fight has been sold out for three weeks but they are supposedly holding twenty tickets just for the door, just to have them for the people that didn't get tickets.
RC: It's obvious you have a great deal of respect for Frankel, but it seems as if you have something in the works for bigger things in 2006, tell us the deal…
DS: The fight has been sold out and the ratings on MSG for the last fight has been four times what they usually are for Broadway boxing, not only on MSG but on all of the broadcast that they show it on, which is HDTV and Fox Sports New England. So you know as far as I am concerned I am ready for the big boys like HBO and Showtime, and I want to take real step up, and you know that vacant WBA (Once Hatton unified against Maussa, he became WBA Super champion, and the WBA vacates the regular version) title is making me very hungry. It is certainly wetting my appetite.
RC: Whoa! So has there actually been any talks about…well again not that I want you to look past Robert Frankel on Thursday night, because we all..

DS: (Cutting in) I mean listen, I don't want to talk to much before Thursday night but definitely I want to get Thursday's fight out of the way and I will be in full pursuit to get this….
RC: (Cutting in) Well has there been any formal discussions about any of this or is this just something that you are looking forward to doing?

DS: There has been discussion about it, I mean I am not… I am trying to talk about it as least as possible because I am concerned about the fight on Thursday, but yet I don't want the opportunity to slip away. So Israel Lieberow and Kurt (Emhoff) have been speaking with Lou (DiBella) so we will see what is going to happen, and I am excited about it because historically there has not been a Jewish Jr. Welterweight world champion (Barney Ross, a world champion in three weight classes) in 75 years, and no one in the century, so it will be a great honor
RC: With this possibly being your last show, can we expect you to go out there and put on a superb show for your fans and punctuate what could be your Broadway Boxing Finale?

DS: Hey you know Boxing and especially sports is a funny thing, I pray to God and I hope that all of the training is going to show itself. On Thursday night I am going to feel great and ready to perform, if things are going to go the way they have been going and I am feel the way I train, I am definitely looking forward to putting on a great performance and showing wassup man. Brooklyn is in the house.
RC: Is there anything else you'd like to add Dmitriy?
DS: I just want to thank my sponsors Kosher Zone Chef, Ecko (Unlimited) who I just signed a second year contract with, I am very happy to be with those guys. And for this fight I have another sponsor which is Tracy Real Estate, it is a very strong and popular Brooklyn Realty, and I am happy and honored to be a part of that. It is always great when different companies and different business sponsor boxing. To me, whether it is for me or other fighters I think it is awesome. So shout out to Tracy Real Estate, Kosher Zone chef and Ecko.
Send questions and comments to: ray@Boxingtalk.com