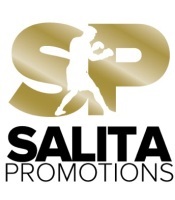 GL: Congrats on a great card the other night. Can you give us some thoughts on Claressa Shield's virtuoso performance against Christina Hammer? Dmitriy Salita: "It was an incredible, historic performance and her greatest performance against a world-class Christina Hammer [that unified all four middleweight championship belts around Shields' waist]. Christina Hammer would have beaten anybody else that night. She was sharp, she was focused, but Claressa went into a different zone. It was just an amazing victory for Claressa Shields, women's boxing and the sport of boxing."
GL: Did you ever think it was going to be that one sided?
Dmitriy Salita: "Claressa is a special athlete and she's made of something different. She's from one the toughest places to grow up in the United States, Flint, Michigan. She's gone through many challenges in her life to get to this point where she was facing a world champion like Christina Hammer who had a true dislike for Claressa. She was focused on doing everything to win. Claressa just rose to the occasion and painted an an awesome picture inside that ring and I think it's going to be the sport of women's boxing to the next level."
GL: I spoke to Claressa and [her manager] Mark Taffet and their expectation is that the viewership numbers for this fight will mark the dawn of a new era in women's boxing. Do you concur with their position?
DS: "I definitely concur. We had a tremendous amount of press coverage leading up to the fight. Most of the mainstream media covered the fight from beginning to end. Claressa's last performance on Showtime did the best Friday night rating in years and more viewers than the Anthony Joshua-Joseph Parker heavyweight unification. That was a foreshadowing of the substance of Claressa Shields and I believe that the way she won that fight, only being 8-0 and 24 years old, she's going to be remembered with the great athletes like Muhammad Ali, Sugar Ray Robinson, Pele, Michael Jordan and the other leaders of their repsective sports."
GL: Where does she go from here? A mega-fight vs. [undisputed world welterweight champion] Cecilia Braekhus?
DS: "From here she goes on a little vacation. We're going to evaluate everything and the next biggest fight in women's boxing is Claressa fighting Cecilia Braekhus at a catch-weight to truly make history and transcend the sport forever. Christina Hammer was willing to risk it all to make history and we're hoping that Cecilia Braekhus has the same desire to enhance the sport. It takes fights like this to take women's boxing to the next level and Claressa has shown that desire to be great from her pro debut when she faced Franchon Crews Dezurn, the current [WBC] super middleweight champion. Claressa definitely wants to fight the best every day of the week."
GL: What did you think about Jermaine Franklin's performance against Rydell Booker [W10 via unanimous decision]?
DS: "Since I signed him, I've been telling everyone that I believe Jermaine Franklin is the best American heavyweight prospect and with his win on April 13th he graduated to contender status. Rydell Booker came to fight and was very prepared. Jermaine learned some lessons that will be very important as he continues to develop. He's 18-0 now, he's only 25 years old and I'm very happy that he got a real fight out of Rydell because that's only going to improve him and take his game to the next level, but he showed heart, he showed a great chin and he showed that he was able to get himself into condition to go the distance with a very short five training camp to prepare himself. He's still got a lot of development to do and he's got a ways to get better and he's on his way to be the king of the heavyweight division."
GL: I spoke to him and he was kind of disappointed with his showing. He said he's going to be 15-20 pounds lighter in the ring, but he feels he could do a lot better.
DS: "If he's disappointed with his performance, that's what you want to hear from a young fighter. That's what you want to hear them say, you want them to keep pushing themself to be at their best, you want them to continue to improve. He's saying the right things and that's why I'm excited about Jermaine moving forward."
GL: Closing thoughts?
DS: "I was disappointed that heavyweight Otto Wallin didn't get the chance to showcase his skills [becuase his bout ended in a two-round no contest]. I believe he was going to put on a sensational performance and really introduce himself to the American boxing fans, unfortunately the bout ended in two rounds with a cut to (Nick) Kisner. Otto will be back and I have no doubt he's going to be making a lot of noise in the heavyweight division. Claressa's performance has taken women's boxing to new heights, I think the Shields-Hammer bout was a historic night of boxing that will remembered forever. I want to congratulate Claressa Shields for her performance and Christina Hammer as well for putting on such a great effort."
Send questions and comments to: Boxingtalkg@Yahoo.com