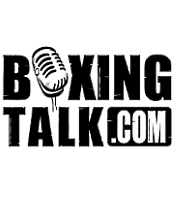 One of the greatest things about boxing is being able to brush the dust and debree off an old VHS and re-live a great fight long after it takes place. In doing such a thing one can begin to make observations that may not have been noticed during the adrenaline and hype surrounding a fight moments before it happens.
After watching Roy Jones Jr. knocked out cold by an overhand right from Glen Johnson a few weeks ago, and still with the first Tarver-Jones fight fresh in my mind, I decided to give Jones' history making effort against John Ruiz another viewing.
I know, I know. Watching John Ruiz is about as exciting as watching paint dry. But hey, sometimes the boxing scribes don't always get the glamorous assignments. It's a tough job, but somebody's gotta do it.
Let me start by giving some of the readers a bit of my background and thoughts going into the Jones-Ruiz fight back in March of 2003. I have never been a huge fan of Ruiz and I have always believed that something was fishy about throwing Ruiz and Holyfield together and calling the winner a champion.
Ruiz had done nothing prior to facing Holyfield, and still with three fights under his belt against the Real Deal, he didn't do anything great but prove to the boxing world that he can act, which to his benefit, got a perfectly thrown body shot from Holyfield called low thus saving Ruiz from being knocked out. Besides that, Ruiz has always been most known for being starched in 19 seconds by David Tua.
Holyfield, on the other hand, left his best days after beating Mike Tyson in 1996 and then again in the infamous ear biting fight in June of 1997.
Boxing has a funny way of giving people a title who don't deserve it.  So just like the rest of the boxing scene I shrugged it off and dealt with it. What else can you do? Trying to turn your back on this sport is like proclaiming to everyone that you're on a new diet. With time, a short amount at that, you end up stuffing your face with McDonalds just as you do with big fights you vowed never to watch again.
Despite knowing how good Roy Jones was at middleweight, super middleweight and light heavyweight, I went with John Ruiz to win a decision or possibly knock him out late in the fight. I couldn't see Roy handling the power of a real heavyweight. And now after his last two fights against light heavyweights, I'm sure I don't look as stupid as I did some 18 months ago.
At first glance I saw Roy Jones sticking to the outside and pot shotting Ruiz over and over, blinding him with his speed and unmatched elusiveness.  Even though I picked Ruiz I couldn't find any reason to give him a single round out of tweleve. He didn't land anything, didn't fight how he said he would by bullying Jones into the ropes and banging his arms, chest and mid section. There was no jabbing, no rough house tactics. Nothing.
Instead Ruiz tried to outbox the boxer, which never works. I was dumbfounded at what I was watching. Every round felt like the previous one I had watched - Roy dominating, Ruiz doing nothing but showing Jones didn't have heavyweight power.
Norman Stone, who I have never respected, was going crazy in between the rounds screaming at Jay Nady to let Ruiz fight his fight. At first, and probably because of my dislike for Stone, I ignored it and saw it as nothing more than Stone being a sore loser. But now my tune has changed.
Before anyone questions this piece, let me point out that I am not trying to discredit Roy Jones' win over John Ruiz. Although it doesn't prove anything to me other than Jones' beat an average belt holder (not champion), I still give the man respect for moving up from middlweight and beating a bigger fighter.  A lot of scribes are out here discrediting Jones for losing, but that's not the point of this piece.
With that cleared up, let me bring you to the present day.
I had noticed in the first Tarver fight that Jones spent most of the fight on the ropes getting pummled by Tarver. There were enough instances where Jones fought from the outside and was, in my view, effective enough to pull the fight off. The final round alone proved that Jones can dig deep when he needs to. But prior to that fight I had never seen a fighter take Jones to the ropes and work his body with the ease that Antonio Tarver was doing.  It was remarkable that a light heavyweight was able to bully Jones, but a fighter of Ruiz's calibur - known with that type of rough house reputation - wasn't able to be effective at all.
Perhaps Tarver just had Jones' number. The second fight proved that by only lasting 2 rounds and not allowing any observation to take place other than Jones chin wasn't as solid as people expected.
Then there was Glen Johnson. I had picked him to beat Jones only because Jones said he couldn't get up for light heavyweights anymore.  I never expected to be right but I'll take it any way I can.
Johnson came out like Mike Tyson in the early 80's used to, head movement, jabs to the face and a vicious body attack. It didnt look like much was landing, but the point was that Jones was once again being backed up and touched more than I had ever seen him in his 16 years of commanding the ring.  What was more amazing was watching Johnson land clean shots on Roy for 8 rounds in a row. Jones came back with a flurry of combinations once every round, but Johnson walked right through the storm and continued to pound Roy. In fact, most of the fight was done at a close distance (as boxing enthusiasts call it - fighting in a phone booth) and Johnson was never once asked to be haulted by the referee in charge.
Watching this made me think of John Ruiz. How in the hell can two light heavyweights push Roy around like I had seen, but a guy who is naturally 230 plus pounds decides to out box him? I didn't buy it for a second. You can say I'm even pointing the finger at Jay Nady, the commision, or anyone invloved in the Jones-Ruiz mega fight.
I do not have nearly enough evidence to accuse anyone of anything, but I want to know from you readers at Boxingtalk.com, if I am the only one who believes John Ruiz may have lost his fight with Roy Jones before even stepping foot in the ring.
I've watched Ruiz push Roy to the ropes in almost the entire first half of his fight with Jones and each time, almost before he touches Jones, Nady jumped in and made sure the fight was kept at a distance that would favor Jones considerably.
This leads to many questions that boxing seems too afraid to ask about the fight.
For instance, John Ruiz and Norman were pleading during and after the fight that Nady wasn't letting Ruiz fight at all. The whole build up to the fight was along the lines of how Jones would deal with Ruiz presence and strength. However, the promotion lied to the boxing public from the get go.
Ruiz wasn't able to use his strength or his size. He wasn't able to fight on the inside or pressure Roy at any time during the fight. Now I know that Jones is a masterful boxer, but after careful examination I believe that John Ruiz had a point about the momentum of the fight. 
So what happens if that fighter in with Jones isn't John Ruiz? What if Jones had challenged a heavyweight who earned his stripes in the squared circle? A Lennox Lewis. An even better example would be Evander Holyfield. The Real Deal is notorious for leading with his head (ask Tyson or Rahman) and being, not a dirty, but very effective fighter at his trait. Would he not be allowed to fight the way he has fought his entire career since moving up to the heavyweight division?
I can't say that the outcome would have been different. Nor am I suggesting otherwise. Roy Jones is an extraordinary fighter with the greatest amount of pure athleticism I have ever witnessed in my time watching boxing. You can never count a guy with his abilities out of any fight. But I feel that is my duty as a boxing scribe to present the facts, not just the fluff, about situations within the sport.
The questions in boxing will always remain. They are some of the reason certain fights have some sort of mystique to them. The tough call is asking the questions, exposing different theories and situations that go beyond what it says in the record book.
Boxingtalk.com Would Like To Welcome Mike Samuels Aboard Our Team!