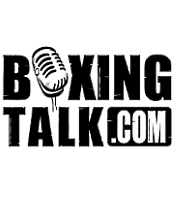 Julio "The Kidd" Diaz, a top lightweight contender, was showcased at Sycuan Casino in San Diego and on ESPN2 in a bout against Marco Angel Perez. The Coachella, California resident was fresh off a tough loss in March against Jose Luis Castillo, the former world champion who lost to Diego Corrales in what was the fight of the year thus far. Weighing in at 137½, Diaz hoped to
use this opportunity to get back into the lightweight title picture. The fight didn't last long. A few wild shots by Perez (21-6, 14 KOs) were eventually met with a thunderous right uppercut from the floor by Diaz who scored a TKO victory after referee Tony Crebs halted the action when he looked at the shaky Perez. Despite the 66 second victory, Diaz later was asked if he was disappointed that he didn't get more work. His response was, "This was something for myself, after a defeat to show that I could come
back." Diaz moves his record up to 31-3 with 23 KOs.
Former WBO Bantamweight title holder Mauricio Martinez, 120 (28-5-1 with 18 KOs) of Panama thoroughly dominated Miami's Reynaldo Hurtado 122 (36-7-1 27 KOs) on his way to a stoppage victory at 2:29 of the 4th round. Martinez is rated #11 at bantamweight by Boxingtalk.
In the first bout of the evening, a war ensued between two young
welterweights. Delvin Rodriguez 148 (now 15-1-1 with 7 KOs) of Danbury, Conn. took on Christopher Henry 149 (19-11 with 4 KOs) of Bridgetown, Barbados. After a very short feeling-out period, the fight really got started when Henry belted Rodriguez with a solid left uppercut that had the youngster not only on the canvas but also dazed. Rodriguez stepped up and countered the charge, landing a right that had Henry down momentarily. A few
seconds later, Henry would taste the canvas again courtesy of another well-placed right hand. Henry would survive the round and at the bell, the small crowd roared in appreciation of the action.  The second round would spell the end for Henry who was knocked down by a solid one-two and then finished later by another lead right at the :44 second mark of round two. After henry had been down a total of four times in less than two rounds, referee Pat Russell waved things off for a TKO victory
for Rodriguez.
The second fight featured lightweights in a six rounder with undefeated Larry "Pit Bull" Gonzalez 132 (8-0, 2 KOs) of Denver facing veteran Carlos Cisneros 138 (6-11-1, 4 KOs) of Los Angeles. Gonzalez scored well with long, lean blows that had Cisneros on his heels most of the fight but Cisneros also had success when he countered with left hooks. The only knockdown occured in the 4th when an off balance Cisneros suffered a flash knockdown. The fight went the distance with a unanimous verdict reached by all three judges in favor of Gonzalez. Scores as follows: Judge Tony Crebs(59-54), Max Deluca (59-54), and Marty Denkin (60-53).
The fourth fight featured two light-heavyweights who fought to a
majority draw. Curtis Jones 169 1/2 (1-0-1) of New York City and Moses Motovu 171 1/2 (2-5-3) of Las Vegas shared the verdict with a decision by judges Max Deluca (39-37 Jones), Marty Denkin (38-38) and Cantu (38-38).
In the walk out bout heavyweights Sal Farnetti 310 (3-12-3) of Palmdale, CA. met Ruben Torres 232 (5-1, 3 KOs) of Coachella, CA. Farnetti was floored in the second but survived and landed at times.  Torres got the unanimous decision by the following scores: Crebs (39-36), Russell (40-35) and Denkin (40-35).
Rich Vierling also publishes the boxing newsletter THE JAB. For further info, checkout his boxing blog at:
http://thejab.blogspot.com