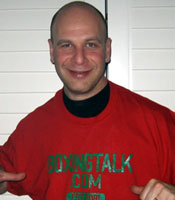 With Madison Square Garden now hosting only a few boxing shows per year, Lou DiBella's Broadway Boxing series – based at the nearby Manhattan Center - has become the Big Apple's place for fans to get their fix of the Sweet Science up close and personal. Broadway Boxing has served as a developing ground for DiBella's up-and-coming stable of fighters. After one show at a midtown hotel, the series made its Manhattan Center debut two years ago when charismatic Paul Malignaggi squared off against Ray "Rocky" Martinez. Malignaggi has come a long way since that first Broadway Boxing card. In June, he'll be taking on Miguel Cotto at Madison Square Garden for Cotto's WBO junior welterweight championship. The match will pit Cotto's power versus the lighter hitting but much quicker Italian southpaw. In addition to staying undefeated over the last two years, Malignaggi used his gift of gab to maneuver himself into his first fight for a major belt. Sechew Powell is another boxer who has benefitted tremendously from the series. 
There's never a bad seat in the house at a Broadway Boxing show, so fans feel a closer connection to the fighters that they might not feel, for example, at the vast Madison Square Garden or the 10,000 seat Mohegan Sun Arena one state away in Connecticut. In addition to fans being nearly as close to the fighters in the ring as the media, DiBella's stable of fighters regularly mingle with the crowd, obliging every photo or autograph request. New York fight fans had an opportunity to meet Jermain Taylor, DiBella's most high-profile fighter – though not a product of the Broadway Boxing series – last August, when then undefeated Jaidon Codrington stopped 30-fight veteran Levan Easley in five rounds. Leavander Johnson, then the reigning IBF lightweight champion, was also at that card. It would be the last chance for anyone from the Big Apple to get a picture with or an autograph from the class act that was Leavander Johnson. The champ passed away a month later following injuries suffered in a Las Vegas fight against Jesus Chavez.  
Broadway Boxing allows fans the opportunity to rub elbows with current champions and former champions, future champions and all-time greats. One never knows who might show at a Broadway Boxing event.  
In February 2005, at a rather low profile Broadway Boxing show – the main event was an eight-rounder between Yuri Foreman and Jesus Soto – former undisputed heavyweight champion Lennox Lewis was in the house. Hip-Hop fans attending DiBella's regular series, if they kept their eyes peeled, could have made small talk with Ja Rule, Cam'Ron, Foxy Brown and Damon Dash, an entertainment mogul who founded Roc-A-Fella Records with Jay-Z. Making moves into the sports world, it was announced in January 2005 that Dash and DiBella had partnered up to form Dash-DiBella Promotions. DiBella and Dash currently co-promote 2004 Olympian Andre Berto and "The Chin Checkers," known separately as Curtis Stevens and Jaidon Codrington. Codrington, undefeated at the Manhattan Center, saw his unbeaten streak snap when he ventured to a place called Miami, Oklahoma to face super middleweight Allan Green, 17-0 at the time. Codrington, who was only 9-0, had his chin checked in 18 seconds. It was a scary knockout loss in which Codrington looked lifeless.
 Media and fans who have met Codrington at the Broadway Boxing shows and found him to be a nice young man, are hoping he can make a successful comeback and reach his goal of becoming a world champion. Codrington was present at DiBella's latest Broadway Boxing show two weeks ago, rooting on fellow chin-checker Curtis Stevens. 
Stevens passed the biggest test of his career in winning a 10-round decision over former world junior middleweight champion Carl Daniels. Stevens, who has a reputation as a knockout puncher, showed he could box when needed. He floored Daniels in the first round but couldn't end things early, as Daniels used all of his 18 years of experience to make it to the final bell.  
While it was a nice win for Stevens, it must be said that Daniels is past his prime. He lost three in a row before facing "Showtime," including a 10-round decision to Providence, Rhode Island-based Joey Spina, who has struggled against other opponents over the last year and should be grateful he is still officially undefeated.
 In attendance at last week's Broadway Boxing card, which also featured Silence Mabuza cruising to a 12-round decision against Tijuana, Mexico's Ricardo Vargas in an IBF #1 position eliminator, were, among others: former world champion Zab Judah; WBA 147-pound title holder Luis Collazo, who will be challenging Ricky Hatton next month (Hatton himself was at a previous show); boxing Hall of Famer Emile Griffith; former world super featherweight champion Brian Mitchell visiting from South Africa; former Olympic and professional world champion Mark Breland; light heavyweight contender Eric Harding; former WBO middleweight champion Lonnie Bradley; undefeated female prospect Maureen Shea; legendary trainer Lou Duva; junior middleweight Sechew Powell, Malignaggi and Spanish Harlem junior welterweight Edgar Santana.  
Not only is there an assortment of boxers past and present at DiBella's Broadway Boxing series, there is also a blending of cultures. When Yuri Foreman and Dmitriy Salita made their ways into the Broadway Boxing ring at a February 2005 card, mny of their supporters were dressed in conservative garb complete with yarmulkes, the Jewish skull cap that cover a small portion of one's head. When Stevens came out to the ring, he had a slew of supporters, with serious looking expressions, wearing black headbands with "B-Ville" written in basic lettering on the front, representing Brownsville, the same area of Brooklyn where "Iron" Mike Tyson is from. There is a mix of people of all backgrounds at the Broadway Boxing shows, from those who grew up on the street to those who make their living on Wall Street.  
Salita even surprised the fight fans at a card last summer when he made his way to the ring with a Hasidic (Jewish) reggae artist named Matisyahu, sporting a full beard and Orthodox garb, delivering rapid-fire brand of hip-hop and reggae. Matisyahu's performance was so well-received that Salita had a hard act to follow.  
From a reggae artist who stunned the fight fans when they saw him reach ringside and realized he was a white Orthodox Jew, to Lennox Lewis showing up for an insignificant fight card, one can expect the unexpected upon entering a Broadway Boxing fight card. And the fights aren't too bad either.