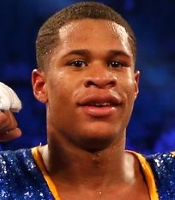 Greg Leon: The last time we had you on Boxingtalk it looked as though you'd be a part of the Wilder-Fury II PPV telecast. Quite a bit has changed since then, Fury went to ESPN so that show never happened. Now you're signed with DAZN. Talk to me about your decision to go with DAZN. Devin Haney: "Everything wound up playing out in my favor, I went with what was best for me. Of course I had a lot of multi-millionaire dollar offers on the table and we just went with the one that suited me best."
GL: How has everything gone in preparation for Antonio Moran this weekend?
Devin Haney: "Everything is going great. All of the hard work is done. Now it's just about making weight and getting a lot of rest."
GL: What do you know about Moran?
DH: "I know he's tall, every fight he comes to put up a good fight and he's coming to win. He's not coming to lay down so I got to bring my A game."
GL: What does a victory over him mean to you?
DH: "It would just be getting me one step closer to a world title. The WBC has mandated a tournament with me, Teofimo, and Javier Fortuna, and this win is going to get me one step closer to that world title."
GL: Do you feel disrespected that you were bypassed for a title shot in favor of Lomachenko?
DH: "I wouldn't say I feel disrespected or anything like that. It's like I said, I'm only 20 and my time will come. It's only going to give me more time to get stronger and get better."
GL: It also gives you more time to get older and grow. How much longer are you going to be able to hold 135lbs.?
DH: "Not much longer. 135lbs. is not easy for me to make. I'll make it a couple of more times if there's a title shot ahead, but if not I'm just going to move up to 140."
GL: Do you have a dietician or nutritionist on board to make the cut easier?
DH: "I don't have that, I don't need that. SNAC helps me a lot with that and cutting weight, so I just follow that."
GL: You said a couple of more times, when do you see yourself moving up to 140lbs.?
DH: "I don't know. It's like I said, if a world title is on the table and it's guaranteed, then I'll stay as long as possible, but everyday I'm getting bigger, everyday I'm getting stronger so I don't know. 140lbs. is definitely in the equation."
GL: Who will be the last man standing in the mandated WBC tourney?
DH: "C'mon now, that's a no brainer...me!"
GL: Who do you like in Lomachenko-Campbell?
DH: "I think it's going to be a good fight, but I'm going with Lomachenko. Campbell will give him problems early, but once Lomachenko starts putting that pressure on him he'll break down and win easy."
GL: Do you agree with a guy who is a champion of another sanctioning body getting a mandated title fight from a sanctioning body he doesn't currently represent?
DH: "I don't agree with that at all, but I don't make the rules. It's just how it goes, my time will come and I will not dwell on that, I'm just going to focus on Antonio Moran and the future. When the time comes for me to fight for a world title I will be ready."
GL: What does it mean to you to be the first American talent that everybody wanted to work with to sign with DAZN?
DH: "It's great. I'm blessed to be a part of DAZN and Matchroom. There's plenty of work to do though, I've still got to prove that I'm real deal and that they didn't make a mistake signing me."
GL: Are you showing out in your DAZN debut or what?
DH: "Hell yeah! At first I was just the co-main, but now I'm headlining so everything is falling into place and now it's time for me to show out."
GL: Is Moran going the distance?
DH: "I don't know. I'm definitely going in there to put a beating on him and if he can take it, he will and if he can't he won't."
GL: After back to back distance fights I imagine you're trying to get somebody out of there inside them rounds.
DH: (laughs) "Yeah, you're right about that, but as long as I get the win, that's the most important thing."
GL: I'm the sure the money and the terms are sexy for the deal you just made with DAZN, but as a young blossoming star in this sport are you concerned at all that DAZN won't have you in front of as many eyeballs as the platforms you turned down to sign with them?
DH: "No. Of course it's not as big as the other platforms yet, but I'm trusting in the process and I think that in the very near future everybody is going to be fighting on the streaming apps. They believe in me and I believe in them."
GL: At what point in time will DAZN have the best pound-for-pound fighter in the world-- you?
DH: "Yo what's up with you asking me all these hard questions today G? You asking me all these tough ass questions cut that off, save that for after the fight." (laughs)
GL: Fair enough. Here's a nice softball, what's your biggest advantage over Moran?
DH: "Speed, my speed. He's tall and I want to say he has the reach even though I'm not really sure how long his arms are. I just have the better speed with my hands and feet, he's slow on his feet and fights like a mummy."
GL: Closing thoughts for the fans.
DH: "Tune in on May 25th, I'm live on DAZN and I"m going to put on a great performance. I'm going to showcase my full arsenal and beat the shit out of him."
Send questions and comments to: Boxingtalkg@Yahoo.com