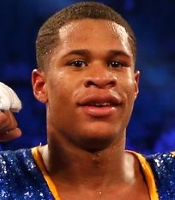 Greg Leon: Congrats on your recent victory over Antonio Moran. Can you give us some thoughts on your performance? Devin Haney: "I feel like I put on a good performance, I showed a lot of what was in the arsenal, I didn't show everything, but I think I showed enough to put the world on notice. GL: Was there anything about Moran that surprised you? DH: "Not really, I knew he was going to come forward and I knew he was going to be ready to be there all night. My dad put together a great game plan and I just executed it." GL: What did it feel like when you landed that right hand that finished the fight? DH: "It felt great, I knew the fight was over when I landed the shot."
GL: I've been hearing that you could be fighting Zaur Abdullaev sometime in September. Is that accurate? When can we expect you back in the ring?
DH: "Nothing is guaranteed as of now, but that's what we're negotiating for right now. I look forward to that happening, but nothing is done yet."
GL: What do you think about Abdullaev as a fighter?
DH: "I actually watched a lot on him because I thought I was going to be fighting him before Antonio Moran. I did a lot of studying on him."
GL:Did you catch the Commey-Beltran fight?
DH: "I didn't think nothing of it to be honest. Neither guy looked like much to me, Commey got the win and he's a strong fighter, but I didn't see nothing special."
GL: Do you give Luke Campbell any chance of upsetting Lomachenko?
DH: "In boxing every time we think that somebody is a huge favorite something happens to remind us that anything can happen in boxing. Of course I give him a chance."
GL: I've been around this game for a little while and you appeared to looked physically drained at the scales. How difficult is it for you to make 135? How much longer can you do this?
DH: "You said drained? I don't know about that. But it's not the easiest thing for me to do. Everybody gets hungry, everybody gets antsy and a little bit dehydrated and with me it's no different. 135 isn't the easiest thing for me to make. If there's a world title for me to get at 135 I'll take it, if not eventually I'm going to be moving up to 140. If Gervonta Davis moves up to 135 I'm willing to fight him, if he doesn't want to fight Lomachenko I'll fight Lomachenko. I'll fight anybody they put in front of me, I'll fight anybody at 135."
GL: All boxers have their struggles when it comes to making weight, but not all of them are 20 years old, 22-0 and still growing. How many more fights at 135?
DH: "I don't know, if there's a world title on the line then I'll stay around for it. I can't really say how many more because it depends on what's ahead, but I'll sacrifice to make the weight as long as possible."
GL: When will camp start if you're back in September?
DH: "Right now I'm getting back into the groove. One thing I learned over the years is that you want to peak at the right time. You don't want to get burned out training, so when September comes I'll be ready."
GL: Closing thoughts for the fans?
DH: "Keep supporting me because I will be a world champion soon at 135 or 140. I thank everybody who has been watching me and showing support, the best is yet to come..and yeah, tell Tank Davis to come on up to 135 and let's make something big happen next, I'm willing to bet $1M on myself. Is he? Put your money up! I don't know how much he's going to make on his next fight, but I'll put $1M on myself that he can't do nothing with me."
Send questions and comments to: boxingtalkg@yahoo.com