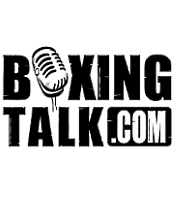 Joey Eye Boxing and NIT Management have joined together in kicking off a weekend full of hope for Philadelphia area sports fans.  Boxing will kick off the May 6th weekend on Friday night in Northeast Philadelphia at the World Gym at 11000 Roosevelt Boulevard.  Afleet Alex is a Philadelphia area horse who's shooting for the roses on May 7th in the Kentucky Derby.  
Popular junior middleweight Clarence "Sonny Bono" Taylor will battle the seasoned Franco Ogentho at the fights on Friday May 6th.
Taking advantage of a stretch of unbelievably sunny weather in Philadelphia, the promoters removed the veil of training by putting on a public workout in front of the gym.   The World Gym is located in a shopping plaza, thereby playing to a built in walk-by audience as Taylor, Rami Ibraham (pictured) and Jack Burris worked the focus pads, heavybag and shadow boxed.  The fans also got tips on exercises they can do such as the proper way to do push ups and sit ups.  The curious stopped and some requested and received photos with the boxers.  
Boxers are usually the nicest of the athletes and these
guys are no exception.  The workout attracted some young fans who realized boxers are hard-working, dedicated athletes and some adults who admired the work these guys were putting into the workout.  It was a smart, different approach conducted by Eye and NIT to promote their product, but they've made
the matches to be old-style Philadelphia fights.
It's definitely worth looking into on May 6th when Taylor, a guy who came up on the streets, (8-5-2) will fight an elite fighter from Uganda in Franco Ogentho (15-5) in the main event (Junior Middleweights).  Chucky Cavallo (2-0) will battle the more experienced Dhafir Smith (13-7-2), Rami Ibraham (1-2) and Dasine Asbury (2-2) will mix it up and Jose "El Macho" Medina (11-3; 9KOs) is in training to fight Leon Pearson.  The May 6th card will have several other bouts including Mark Ford and Josean Escalares and an exhibition between Omar Sheika and Buster Drayton.  Get your tickets by calling 609 209-5642 or 267-304-9399.  The World Gym can be reached at 215 677-1496.