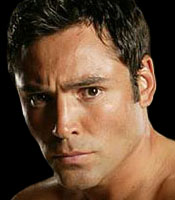 Oscar De La Hoya, who promotes Ryan Garcia, issued a rant against Garcia on Twitter on Thursday... "Wtf, Ryan Garcia. It's been almost two months [since you got stopped by Gervonta "Tank" Davis] and youre still crying about the post-fight presser? The blame for your loss is on YOU and your advisor Lupe [Valencia]. He is the only one who pushed you to accept that insane rehydration [post-weigh-in weight] clause and that is the reason you lost. Man up. Own that....Also, you keep saying Tank's team offered more support for you, blah blah blah. Bro they set you up to lose with that rehydration clause and most importantly… [Davis' de facto promoter] Al Haymon didn't even show up the entire week. Actually, he never shows up. How's that for "support" ???
Garcia's response: "Weren't you just promoting the fake Pac [Manny Pacquiao vs. Ryan Garcia] fight that I already told you I'm not accepting? You really think ima fall for that bull twice?"
De La Hoya: "Not going to argue over social media. When you have time to sit down, man to man, we can get you another huge payday."