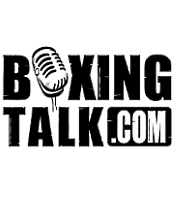 WBC Youth champion David Martinez has steadily built upon a successful amateur career to become one of the brightest prospects in the US currently fighting in the bantamweight class. The twenty one year old from Stockton, California spoke to Boxingtalk.com and you won't want to miss this closer look at the talented 118lb boxer as he seeks an avenue that will take him to the world title he so earnestly seeks.
Like so many boxers, David Martinez grew up in a troubled broken home. The dry, sunbaked environs of Albuquerque, New Mexico provided the backdrop of David's tumultuous youth and while discovery of the sweet science provided welcome shelter, it couldn't bring the fractured elements of his family together.  "I was raised around women, my mom and sister, because my dad was in prison," said Martinez. "I was a momma's boy and I wanted to do something other than cry all the time to my mom, so I started boxing when I was twelve. My dad did get out of prison eventually but he never stepped into the gym to watch me train. That hurt me, but it also pushed me to continue what I was doing and swear that I would never be that type of dad. That's why I like what Felix Trinidad his dad have, what Danny Romero and his dad have, and really any father-son type relationship in boxing or sports in general."
With or without the support of his father, Martinez went on to become a force in the amateur ranks but was uncomfortable with the often baffling rules. "I was ranked one in the country during 2001 and I more then likely would have been in the 2004 Olympic games in Athens over this past summer," said David. "I decided to turn pro after having problems with the amateur scoring system and my amateur experience has helped me alot in my pro career, but not staying in until the Olympics made me less marketable."
The inner drive that Martinez derives from his upbringing combined with the solid fundamental background served him well in September of last year when in just his ninth pro fight, the bantamweight stepped into the ring with hardened Mexican fighter Angel Mata. While Mata's record at the time was barely better than fifty percent, his edge in experience coupled with a bruising nothing to lose style drew young David into a much more engaging contest than expected. "All my fights have been tough, but the one with Angel Mata probably gave me more difficulties then any other because I made it a harder fight then it should have been," recalled Martinez. "Having this Mexican blood in me sometimes makes me want to duke it out when I should use my skills instead."
Claiming victory in that contest also gave Martinez the opportunity to claim his first belt, the California Super Flyweight title in March of that year. Three months later the Stockton native won the WBC Youth Super Fly crown, pounding out a ten round majority decision over 15-2 Alex Becerra. "A lot changed for me after I won the Youth title," recalled Martinez. "Along with the added exposure I got, came confidence as now I know that I can beat the best of em. After that fight I got straight back in the gym as I've always kept in good shape and it's definitely been paying off. I've improved upon the shape I'm in for each fight since winning that title."
Most recently Martinez, 12-0 (2), successfully made a jump up in weight while grinding out another win. Journeyman opponent Alex Martinez, another experienced campaigner who had been in with accomplished foes up to 132lbs, presented David with another valuable learning experience. "Martinez was no slouch at all, he had fought guys like former super feather and lightweight world champ Acelino Freitas, and was physically bigger than me," said Martinez. "He had to lose weight to fight me and it was something like David and Goliath, but boxing is more of a mental game than it is physical."
"I boxed the way I was supposed to and I thought I performed great, but he kept coming in with his head and caused a little cut over my left eye. I wasn't bothered by the cut, in fact it made me fight more and that's when the real fight started. I learned that sometimes, regardless if you're careful or not, there's still a possibility of head butts and cuts. I'm happy that I did get cut because I hadn't known before what to expect when that did happen to me in a fight. I was wondering how I'd act and now I know that it won't bother me a bit, so it's just added to my confidence. The Martinez fight was another step for me towards greater things. I got to experience a little more of what boxing has to offer and I love it."
Martinez hopes to be back in the ring sometime this winter, but in the meantime the twenty one year old continues to lay the foundation of future success against what will certainly be increasingly difficult competition. "I actually started running and training a week after my win over Alex Martinez," he said. "I'm doing more plyometrics and improving my strength. I turned getting cut into a good experience, using the time to add things to my arsenal. I just want to push my body to its limits; I want to train so hard that if a fighter trains any harder then I have, he's overtrained. My team's job is to pick who's across the ring from me, and my job is to come prepared, so I'll continue to push my body to its limits. I plan on giving one hundred and ten percent in training, and staying dedicated. I know if I stick to that goal, it will lead to a world title, if not more then one. I'll fight anyone, because to me were all men, and were all there to chase after a title."
Individuality and personality are key components to a fighter's success in this media driven age and David Martinez strives to stand out among the many other hopefuls in the sport. The bantamweight draws inspiration from his faith, his fans and hometown heroes, brimming with confidence that his future is what he makes it. "I was born in Albuquerque, New Mexico and raised in Stockton, California," said David. "I'm fortunate to have two cities that support me and my fans understand that I give my all for my supporters. Albuquerque is known for guys like Danny Romero and Johnny Tapia, while Stockton is known for a tough warrior by the name of Yaqui Lopez, a contender for many years in the light heavyweight division. Someday I hope to be mentioned by an up and coming kid the way those fighters are, and to do that, I've got to work like those great individuals did, and I will."
"People may laugh at this, but one of the fighters that I look up to is not a boxer, but the late martial arts star Bruce Lee. I've loved Bruce Lee since I was a little kid. I also like never quit fighters like Diego Corrales, Roy Jones Jr., Bernard Hopkins, Manny Pacquiao, and just about anyone that steps in the ring is respected by me because it takes alot of heart to get in there. There's a lot of great fighters in boxing, and a lot of talent. I can understand being overlooked at times, but if anyone out there ever gets the chance to witness me fight, take it. I promise no one will be disappointed for the simple fact that I give one hundred and ten percent every time out."
"I'm currently a free agent looking for a promoter and I'm looking forward to working with one of the big organizations such as Top Rank, Don King, or Goosen-Tutor. I'm a classy, talented fighter with a great amateur background. I'm adaptable and I feel my work ethic, skills and faith will lead me to realize my dreams. I'm very grateful to my fans and my sponsors, Chase Chevrolet, Crego Roofing, and Coca-Cola, because their support has helped me to get to this point. My goal is to accomplish what God has written out for me and I know he has something more beautiful planned for me then any mind can imagine. What ever it is, I will be satisfied, but anyone in my weight class should be looking out, because I do plan on taking out any obstacle in my way."
Boxingtalk.com would like to thank David Martinez for making this article possible.
Send questions and comments to: thomaspointrd@aol.com