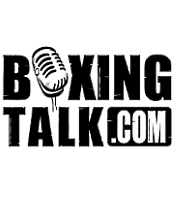 Undefeated British Cruiserweight David Haye takes a big step up by facing former WBO, European, British and current IBO champion Carl Thompson tonight at London, England's Wembley Arena. Fight Academy promotes the event, which also features heavyweight sensation Roman Greenburg, former British Lightweight champ Bobby Vanzie and scheduled European title light heavyweight challenger Matthew Barney. The BBC will air highlights of the highly anticipated main event tomorrow during the day, check local listings for showtimes throughout the UK. Boxingtalk.com spoke with David as the heavy handed former amateur standout discussed taking on the forty year old, but still highly dangerous, Carl "The Cat" Thompson so read on for this exclusive interview and look at a sure fire action fight in this red hot division.
David Haye, 10-0 (10), will be the first of Britain's "young guns" of the cruiserweight class to take on one of two older, established fighters in Carl Thompson. Thompson has impeccable credentials, having won many titles of note as well as the WBO world belt. Most recently Thompson, 32-6 (24), disposed of highly regarded Sebastian Rothmann with a single punch to win the IBO belt for the second time. Thompson had gotten off the canvas in the fourth to drop former WBU titlist Rothmann in the fifth and ninth but found himself on the brink of disaster later in that same ninth round. As Rothmann closed in for the kill, Thompson caught the South African with a perfect overhand right, sending him face first onto the canvas. Rothmann got back on his feet but was declared by the referee in no condition to continue.
It's that type of power and experience, which Thompson possesses that have caused many in Britain to question Haye's willingness to step in with "The Cat". While in his last outing, Haye did put away former IBF world champion "King" Arthur Williams in three rounds, Williams at thirty nine years of age did not appear to have the skills and abilities that Thompson appears to still have despite being a year older. Regardless, it's Haye's rock solid belief in himself that inspires him to such a challenge at only twenty three years of age.
"I've wanted this fight for at least six months now and it's finally come around to this Friday and I can't wait to get it on," said Haye. "I've told people that I'm going to fight the best out there and in Britain, Carl Thompson is the most dangerous and exciting fighter we have. He's a genuine world top ten cruiserweight and that's where I want to be. I've had ten fights now and I'm not looking to waste anymore time by fighting journeymen, I'm looking to fight top level opponents. Carl is the IBO champion and while it's not the biggest or best title out there, it's a step in the right direction. It's a twelve round top fight and that's where I want to be at this stage of my career."
The fans in Britain have been very enthusiastic of late about the cruiserweight division there, with younger fighters Haye, Mark Hobson and Enzo Macarrinelli vying for fights and attention with the more established Thompson and WBO king Johnny Nelson. "This fight is very big in Britain and it's been in all the national papers," said Haye. "Obviously the BBC are doing a lot of coverage and at the press conference we just had today, there were at least thirty journalists and about five camera crews three. There's a lot of interest and this is by far the biggest fight of my career. I'm just looking forward to it."
If Haye defeats Thompson, as he fully believes he will, he wants to continue right on with world level fights, emulating the career of a certain budding light welterweight superstar. "I'm happy that after ten fights I'm fighting for a title and not only that but fighting a world class fighter," said Haye. "I'm a big fan of Miguel Cotto and I like the way he does things, as in fighting live opponents. He's scheduled to fight Kelson Pinto this weekend and he's been getting in with top ten guys in his division, which is what I want to do.  He's getting a lot of respect for doing that and I want that type of respect. When people think of David Haye, I want them to think 'Okay, he fights the best out there.' I feel that I'm the best but I'm looking to prove that I'm the best by fighting the best, just plain and simple."
"There are a lot of British fighters that are forever telling you that they're the best in the world but they never prove it. They can never fight outside their country and they never fight anyone from the States, and if they do, they're (the American fighters) are completely shot. I'm going to prove to people that British fighters aren't protected constantly. There are guys here in Britain, like myself, who are willing to take on all comers and fight the best out there and I think that fighting Carl Thompson is a step in the right direction for me."
Boxingtalk.com would like to thank David Haye and Adam Booth for making this article possible.
Send questions and comments to: thomaspointrd@aol.com