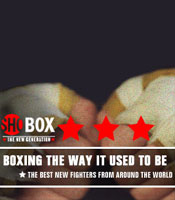 One night before SHOWTIME will offer the eagerly anticipated Jeff Lacy-Joe Calzaghe showdown for the undisputed super middleweight championship, America's No. 1 Boxing Network will continue to commemorate its 20th anniversary of televising world-class match-ups with an excellent world title fight Friday, March 3, on "ShoBox: The New Generation.''
The International Boxing Federation (IBF) flyweight title bout between undefeated champion Vic Darchinyan and IBF No. 4/World Boxing Council (WBC) No. 2 contender Diosdado Gabi (11 p.m. ET/PT on SHOWTIME, delayed on the west coast) has all the ingredients of being exciting, explosive and compelling. In the "ShoBox'' co-feature from Chumash Casino Resort in Santa Ynez, Calif., unbeaten Anthony Mora will face Rustam Nugaev in a 10-round lightweight bout. The doubleheader will be promoted by Gary Shaw Productions, LLC.  
Darchinyan (24-0, 19 KOs), of Sydney, Australia, by way of Vanadvor, Armenia, and Gabi (26-2-1, 19 KOs), of Davao City, Philippines, are talented, crowd-pleasing southpaws. Armed with bone-crunching power, Darchinyan has won six consecutive bouts by knockout. Gabi, who has never been stopped, has won 12 in a row, including eight inside of the distance.
The Darchinyan-Gabi battle will be the second world title fight in "ShoBox" history. On June 3, 2005, Scott Harrison retained his WBO 126-pound title with a fourth-round KO over Michael Brodie.
"My goal is to unify the belts and to fight the best," said Darchinyan, who will make his second United States start and third title defense. Since I won the title, I have had four fights either cancelled or postponed. So, I am excited to be fighting and defending my title again.
In his stateside debut and first pro start outside of Australia, Darchinyan captured the IBF 112-pound crown with an 11th-round TKO over defending champion Irene Pacheco on Dec. 16, 2004, in Hollywood, Fla. The previously undefeated Pacheco (30-0 going in) had held the title for more than five-and-one-half years and made seven successful defenses.
Not even a bizarre, 10-minute timeout in the ninth round caused by a large fireworks display next
door to the outdoor venue could save Pacheco.  The champion went down twice - once each in the 10th and 11th - and had three points deducted for low blows (one in the ninth and two in the 10th). After the final knockdown, Pacheco's corner stopped the bout at 0:44 of the 11th round.  The challenger was ahead 99-88, 97-90 and 96-92 entering the 11th.
The hard work for Darchinyan began in Vanadzor, Armenia, when he was eight years old.
"In Vanadzor, boxing, weightlifting and wrestling were very popular,'' Darchinyan said. "My father was a wrestler, and he introduced me to the sport when I was very young. Amateur boxing in my hometown was like football and baseball in the U.S.
"I recognized very early that I enjoyed boxing and the opportunity to challenge myself.  Most importantly, I learned to enjoy winning.''
From an early age, Darchinyan showed that he might be special. Once he joined the Armenia Junior Amateur Boxing circuit, the young fighter dominated at 108 pounds and was Age Champion from the time he was 12 until he was 16. In 1993, the Armenian Amateur Boxing Association selected Darchinyan as its representative in the World Title junior tournament in Turkey.
The pint-sized powerhouse left Armenia a year later and relocated to Russia to pursue his amateur career. In 1996, Darchinyan accepted an invitation by Ukraine to be its representative in amateur boxing tournaments. Then, in mid-'97, he returned to his homeland. Shortly thereafter, he joined the Armenian army. During his two-year stint, Darchinyan continued his boxing training.
In 1998, Darchinyan represented Armenia at the Goodwill Games in New York, the European Cup in Greece and the World Cup in China. After finishing first in the European Cup and third in the other two events, Darchinyan was honored as one of Armenia's top-10 sporting heroes (he was No. 3) and was awarded Armenia "Sporting Masters in Boxing" status. The next year, Darchinyan completed his commitments to the Armenian army while winning the European Cup for the second straight year (at 112 pounds) and reaching the quarterfinals at the World Amateur Championships in Houston, Texas.
While in the U.S., Darchinyan was approached by American managers and promoters to become a pro boxer. He declined, however. Darchinyan's dream was to represent Armenia at the 2000 Olympic Games in Sydney. He made the team as a flyweight and advanced to the quarterfinals where he dropped a 15-8 decision to Bulat Jumadilov of Kazakhstan.
"Jeff Fenech saw me fight at the Olympics," Darchinyan said. "He was the one that said I should stay in Australia and turn pro. So, he became my trainer.''
After an amateur career in which he compiled a 152-18 record, Darchinyan turned pro on Nov. 3, 2000. In his seventh start, Darchinyan captured the Australian flyweight title. Four outings later, he won the Oriental Boxing Association (OBA) bantamweight belt. Dropping back down to flyweight, Darchinyan won the International Boxing Federation Pan Pacific (IBF/PP) belt on Aug. 2, 2002.
Darchinyan retained his IBF title the first time and won the International Boxing Organization (IBO) crown with an eighth-round TKO over Mzukisi Sikali on March 27, 2005, in Homebush Bay, Australia. Despite suffering a cut over his left eye in the sixth, Darchinyan continued to press the issue. After getting staggered from a right uppercut in the eighth, Sikali turned his back and signaled that he did not want to continue. The bout ended at 2:28.
In his last outing, Darchinyan retained his title with a fifth-round TKO over Jair Jimenez on Aug. 24, 2005. Darchinyan scored a knockdown in the fourth. After he rocked Jimenez with a series of punches in the fifth, the referee ended matters at 2:23.  Darchinyan led 40-35 twice and 40-34 after four rounds.
Darchinyan should have his fists full with Gabi, who was known as the "Prince of Flyweights" in the Philippines.  Gabi, who will make his world title debut, was supposed to challenge WBC titleholder Pongsaklek Wongjongkam in early October 2004, but the champion backed out.
The slick, determined Filipino is trained by Freddie Roach at the Wild Card Gym in North Hollywood, Calif. Gabi has worked with Roach since he left his wife and young son behind in their homeland to come to the United States in August 2005.
"I want to make a better life for my family, so I came to America," said Gabi, who scored a fifth-round technical decision over Jose Tirado in his U.S. debut on Sept. 23, 2005, in Stockton, Calif.'' 
Mora (15-0, 10 KOs), of Trenton, Colo., is one of the Centennial State's top boxers. After finishing fourth at the USA Nationals and second at the National Golden Gloves, he turned pro in 2000.
Through 2002, Mora had fought 10 times. However, he has fought just five times since. Injuries slowed him in '04, but Mora returned with two wins in '05. And in 2006, despite going down in the sixth, Mora earned an eight-round unanimous decision (77-74 twice and 76-75) over Roberto Valenzuela on Jan. 31.
At six-feet, Mora is very tall for his division. He has a brother, Adrian, who is five-feet-11-inches, and also is unbeaten as a pro.  Adrian fought on Shobox January 4, 2004 and scored a 10 round decision over Steven Quiñones.
Nugaev (15-4, 7 KOs), of Los Angeles, by way of Perm, Russia, will make his second start since his opponent on July 1, 2005, Martin Sanchez, died the day after their fight in Las Vegas.
"Sanchez' death affected me a lot,'' Nugaev said. "I thought a lot about boxing and my career. But I realized that I am a professional boxer and I have to earn my living.''
Two and one-half months after the Sanchez bout, Nugaev registered a sixth-round TKO over Luis Arceo to capture the World Boxing Association Latin America's (WBA/LA) lightweight title on Sept. 16, 2005, in Atlanta. Shortly after Arceo got knocked down in the sixth, the ref stopped the fight at 0:56.
The telecast represents the 72nd in the "ShoBox" series, which debuted on SHOWTIME in July 2001. "ShoBox" features up-and-coming prospects determined to make a mark and eventually fight for a chance at a world title. A number of fighters who have appeared on the series have gone on to become world champions, including Jeff Lacy, Ricky Hatton, Juan Diaz, Leonard Dorin, Joan Guzman and Scott Harrison.
Nick Charles will call the action from ringside, with Steve Farhood serving as expert analyst.  The executive producer of the telecast is Gordon Hall, with Richard Gaughan producing.
For information on "ShoBox: The New Generation" and SHOWTIME CHAMPIONSHIP BOXING telecasts, including complete fighter bios, records, related stories and more, please go the SHOWTIME website at <
http://www.sho.com/boxing
>.