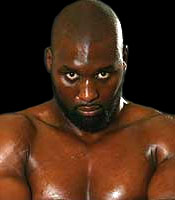 In a rip-snorting, head on-collision of a fight between two pugilistic rhinoceroses at the Excel Arena in London, England, Commonwealth heavyweight champion Danny Williams punched his way to a split decision win over British champion Matt Skelton.
Some 9,000 fans crammed into the arena in anticipation of what would be one of Britain's best heavyweight fights in a decade. Williams, 32 years of age, 267lbs and now 35-4-0 (28), pumped out a heavy, accurate jab and surprisingly was able to slug it out on even terms with the massively strong and fit, 255lb Skelton. Both had their moments in a rough and very physical fight, and I had the fight even going into the final round.
The two, however, had saved enough in reserve for a grandstand finish. With just three minutes to go and everything on the line, the combined 522lbs of heavyweight muscle collided mid-ring, determined to impose themselves onto the other to take the final round and the fight.
With less than a minute to go, the two traded atom bombs…and it was Danny Williams who landed the biggest shot of the match in that moment. A huge left hook and follow up right hand nailed Skelton, now 18-1-0 (17), and suddenly the Bedford iron man looked ready to crumble. Williams piled on the pressure, and it looked as if one more nudge on the chin would put Skelton down and out, but the 39 year old former Kickboxing champion held and fiddled his way to the bell, finishing with streams of blood running down his face from an ugly split on top of his shaven cranium.
It was undoubtedly close, but Williams had the look of a winner as the bell went, and a tense few moments followed for both men as the scores were read out. Judge Richie Davis went for Williams, 115-114, judge Ian John Lewis went for Skelton by the same margin…which left judge Dave Parris's score of 116-113 to clinch it for a jubilant Williams, who retained his Commonwealth belt (why the British title was not also on the line is beyond me). Williams has also knocked off Britain's two brightest unbeaten talents in Audley Harrison (floored and outscored in December) and now Skelton.
Whereas, however, the Audley fight had less action than a 12-part Pride and Prejudice remake, Williams-Skelton was, in comparison, a thrilling tour-de-force of power punching and brawling. Early on it looked as though Skelton's huge reserves of strength and immense mental fortitude were going to be a little too much for Danny, who has a habit of switching off mid fight and only throwing punches in spurts. An uppercut jolted the Commonwealth titlist's head back and he immediately looked to hold.
However, as Danny finally began to tee off with big counter shots, one of them must have registered with Skelton early on. The swarming, mauling style that he used to wear down Michael Sprott, Bob Mirovic and Fabio Moli was only used sparingly, and at other times he uncharacteristically stood off and used a heavy jab and right hands….and strangely he held his ground with Danny fighting this way.
And ironically, the few times Skelton did come tearing in with both fists pumping, Williams was able to slug it out with him, and it made for a fantastically even fight. 
After Skelton's strength nicked the opening rounds, William's boxing brought him back into it. A foul-packed 7th turned the tide back in Skelton's favour, in which he repeatedly bulled into Williams, using his head in close and his forearms to try and push Danny over the loose top rope! Three times this happened, and each time referee Terry O'Connor failed to properly admonish Skelton. It was ugly, but effective, as it took Williams out of his game plan and put the ball firmly back into Skelton's court.
Some of the later rounds were very closely-fought, and could be scored either way depending on whether you preferred Skelton's aggression or Williams' better quality punching.
As the final round started, however, I think nearly every impartial observer had it darned close on the cards….and it was Williams' big finish that swung the decision his way.
After an unconvincing three fights previous to this for Danny, it was back to the form that saw him destroy Mike Tyson in 2004. Inconsistency has always been a problem for him, but on this kind of form you would have to give him a shot, even an outside one, with a relatively unproven titlist like WBA holder Nicolay Valuev.
In fact, if Hasim Rahman somehow gets through his big fight with James Toney next month, a match with Williams would be fascinating. They are both big, strong heavyweights with heavy jabs, bone-crunching right hands and just enough vulnerability to make any fight they're in potentially dangerous.
For Skelton, there is little ground lost here with the first blemish on his record. He can console himself with the fact that he went 12 desperately close rounds with a guy just two fights removed from a world title challenge. I'm sure Skelton and his team are convinced they won (who doesn't think they deserve victory when they've lost a close one?), and he may even still hold the British title, which wasn't on the line here.
Beforehand, a defence of Skelton's belt had tentatively been pencilled in for April, and if he hasn't been stripped following this loss, he may be able to continue as planned, happy with the knowledge that a top 15 heavyweight like Danny Williams couldn't put him away. Another few wins, and…BINGO! Skelton is back in line for a big fight. In fact, promoter Frank Warren, who put the show together and works with both men, insisted that a rematch would be a big attraction if a world title fight cannot be put together this year for Williams. If this is the case, the British public, who watched the fight live on ITV – a free national channel – would turn out in swarms for a second instalment.
Whatever happens, Danny Williams has dragged his bulky frame back into the heavyweight mix by proving himself supreme in Great Britain, and with the current absence of quality contenders, the Brixton Bomber may receive a title shot sooner rather than later.
Send questions and comments to: mattwinsper@yahoo.co.uk