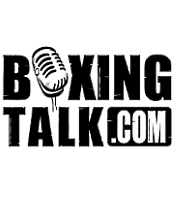 PRESS RELEASE:
The February 25th broadcast of Guilty Boxing's weekly boxing series, "Guilty Fight Night," promises to be a knockout with a powerful one-two punch featuring a pair of twelve-round world-class fights. Daniel "El Olympico" Reyes (34-2-1, 29 KOs) and Omar "Lobito" Soto (13-2-1, 10 KOs) square-off in an IBF 105-pound title elimination match.  Reyes is rated #7 in the world by Boxingtalk. On the same card [venue not mentioned in press release], Yusef Mack (17-0-2, 11 KOs) makes the first defense of his regional title against Richard "The Alien" Grant (16-10-1, 3 KOs).
The Feb. 25 "Guilty Fight Night" show is the first promoted by Guilty Boxing, Inc. and Classic Entertainment & Sports, Inc. (CES) since the two companies joined forces. It'll be broadcast to more than 60 million households all over the world on America One, Fox Sports International, BEN Television, Urban American Television and other broadcast and cable outlets.
"This show is exactly what we envisioned teaming up with Jimmy Burchfield and CES," Guilty Boxing Vice President Jay Hassman said. "Jimmy put this terrific fight together between Mack and Grant to go with our IBF 105-pound title elimination match between Reyes and Soto. How many televised boxing shows have two world-class fights like this?"
Reyes lost his IBF 105-pound title last September to Muhammad Rachman (48-7-3) by split decision. "El Olympico," fighting out of Columbia, is rated No. 3 by the IBF (No. 1 & 2 are unrated) and he faces one of the hottest minimumweight prospects in the world, No. 10 rated Soto. The 24-year-old Soto, rated No. 10 by the IBF, is another in the long line of rugged Mexican fighters. The Reyes-Soto winner gets a title shot against Rachman.
Mack captured the USBA belt last October with an eighth-round TKO of Shannon Miller. Mack, fighting out of Philadelphia, is rated No. 14 by the IBF. Grant is one of the most colorful fighters in the world. The native of Jamaica, now living in Brooklyn, extended current IBF super middleweight champion Jeff Lacy 12 rounds in their July 2003 fight.  Grant holds two wins against James Butler, as well as victories against Vitali Kopitko and Kevin Pompey. He also has been in with some of the real iron of the super middleweight division including Scott "The Sandman" Pemberton, Eric Harding, and Kabary Salem.
"This is an example of what two great companies can do together and it's only the beginning," CES president Jimmy Burchfield explained. "A show like this may cost more, but this is clearly the type shows we want to promote together on a regular basis. Either of these fights is better than the main event you watch on just about any other network."
Guilty Productions and its parent company, Guilty Boxing, annually provides a minimum of 48 episodes of "Guilty Fight Night" that also includes an extensive amount of high-quality features and behind-the-scenes looks of the events and fighters.
"Guilty Fight Night" emanates from different locations including The Orleans Hotel & Casino and the Gold Coast Hotel & Casino in Las Vegas, Tijuana (Mexico), Connecticut, Puerto Rico, and southern California. It also includes an extensive amount of high-quality features and behind the scene looks of the events and fighters.
Guilty Boxing is expanding its stable of 80-fighters under contract, including former World Boxing Council and International Boxing Federation featherweight champion Manuel "Mantecas" Medina (64-14, 30 KOs), NABF super featherweight title-holder and IBF No. 1-rated welterweight Cosme Rivera (28-7-2, 20 KOs); WBC No. 2, WBO No. 7 and IBF No. 8 featherweight Humberto "Zorita" Soto (36-5-2, 21 KOs); WBC No. 10 and WBO No. 12 welterweight Jose Luis "Chelin" Cruz (32-0-2, 27 KOs) and Omar Soto.
Guilty Boxing, Inc. and Guilty Productions, Inc. were founded by Nick Rattenni to create a full-service boxing and production operation, located in Las Vegas, Nevada. Guilty Boxing and Guilty Productions provide a truly unique combination of promotion, production, sales and marketing professionals that are all dedicated to bringing real competition back to boxing.
Tickets for the Feb. 25th show are priced at $30.00 and $20.00 with all seats reserved. For more information about Guilty Boxing call 760.327.4589 or visit its web site at
www.guilty.com
.