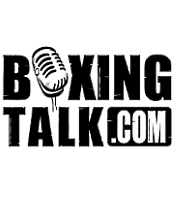 Besides my parents, my grandmother and a professor I had in my sophomore year of college, there's no one I respect quite like a professional prizefighter. Whether they're household names or obscure journeymen, the professional boxer embodies something everyone wishes they had. It might have something to do with the will to wake up at dawn everyday to run several miles or having the guts to get up from a brutal knockdown. Somehow boxers seem to be fighting with more than just gloves and for more than just the W. Their struggle, perseverance and determination seem to spell something almost heroic. 
But despite their noble efforts, which usually go unnoticed by most in the industry, professional boxers usually get the short end of the stick. Go figure. Somehow, promoters, cable networks and crooked sanctioning organizations carry more muscle in the sport than the athletes; somehow, the business aspect of boxing comes to weigh more than the boxer's hard work. Way more. Somehow, legal issues often seem to matter more than the sport itself.  More often that not, boxers simply have to take it on the chin, dust themselves off and get up again if they want to survive in this industry. That's another reason why I respect professional boxers even more.
Take Daniel Edouard for instance. "The Haitian Sensation," who has been sidelined by serious legal (managerial and promotional) issues for more than a year and has not fought since losing to current undisputed middleweight champ Jermain Taylor in early 2005, has come to experience the dark side of the sport. But despite the legal problems that have put his career on hold, Edouard is far from being bitter.
"I had management problems with Ernie Cardonis, who got incarcerated shortly after the [Jermain] Taylor fight. The process was long, but things had to get fixed. It took some time to get things organized, to get to where we are now, but that's no longer an issue. I've heard so many rumors about Cardonis, but from what I hear, he still hasn't been indicted or charged with anything. All I know is he's in federal prison right now. Then I had promotional problems with Russell Peltz, who wasn't doing too much to assist me. We're currently in the process of getting out of that contract still," says a relaxed Edouard. "I just had to accept my situation. My faith told me that God will always guide you and direct things the way He wants it to be for your benefit. I just had to allow things to flow. I got to grow up and focus on life. I realized what I wanted to do with my life and my career."
Tim Walker, a close friend of Edouard (16-1-2, 9 KOs), saw firsthand how such issues affected his friend's career.
"People thought Danny had just disappeared after the Taylor fight, but it wasn't like that at all," says Walker. "He had a fight scheduled for May after the Taylor fight in February, but then he got hit with this."
But just like in the ring, Edouard has learned how to roll with the punches. It's something he's been doing in preparation for his junior middleweight debut on May 27 against Elio Ortiz, who has been in the ring with the likes of Ray Oliveira, Kermit Cintron and Teddy Reid.
"I'm not worried about Ortiz right now. I'm focused on me. The number one battle is with me, myself and I. The main thing is overcoming the frustrations and anxieties within myself," says Edouard calmly. "I'm just anxious to step back inside the ring. I've sparred with Edison Miranda of Puerto Rico, Charles Whitaker, Grover Wiley and some other good names. And it's been going good. I feel great. Now I'm at a more comfortable weight and I'm training harder than I ever have. I'm with Panama Lewis and he's been wonderful. He's gotten me into great shape."
For Edouard, who has fought his entire career at middleweight, the decision to move south to 154 was one he felt he would only benefit from.
"I really didn't decide to drop down to 154. It was more of my advisors saying, 'If you can make 154, just try to work harder and run a little more.' And that's what I've been doing," he says. "One of my problems of fighting at 160 was that all the guys were much larger than me. I always made 160 easily, but I was just being lazy, to be honest. I wasn't dieting properly. Now that I'm at 154, I'm maximizing my potential. And that makes a big difference in the 10th, 11th and 12th rounds of a fight."
For Edouard, the plan is to pick up a victory on the 27th and fight again a few more times for the remainder of 2006. Hopefully by 2007, he will be poised for a title shot and some kind of TV appearance.
Since his loss to Taylor on HBO in 2005 did not go as well he would have liked, Edouard has come to realize certain things about himself, his career and his life. Things that he's known since he was a little boy. Things like self-confidence and patience. Valuable lessons that can only be learned in defeat.
"The Taylor fight really opened up a lot in my eyes. I realized I am a top prospect and a top ten fighter. It really didn't click into my head till after the fight. I looked around the ring and said to myself, 'I'm here on HBO, too, and I'm just as good. I deserve to be here. I'm not just here because my name got picked out of a hat. I'm here because of my talent and skill.' If I want to be back there, I have to work even harder and elevate my game," says Edouard pausing. "After that, everything will come together."
Again, that's why I respect professional boxers as much as I do.