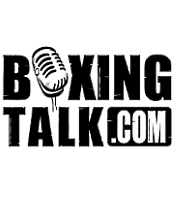 This weekend (Nov 5th) at the Braehead Arena, Glasgow, Scotland, Scott Harrison takes a potentially dangerous match as he goes up against hard-man Australian Nedal Hussein. The featherweight world rated Harrison (who also holds the low-rent WBO belt) has taken on consistently good opposition since starting his pro career way back in 1996. His educated boxer-puncher style saw him take leaps and bounds in his first couple of years, and by his twelth fight he was taking on former world champion Tracy Harris-Patterson. His thirteenth fight was a points win over Tom 'Boom Boom' Johnson, another former champ, and his seventeenth fight saw him blast out British veteran champ Steve Robinson. From the get-go, Harrison was marked for big things.
However, when 'The Real McCoy' won his WBO strap by stopping Victor Santiago, his career began to stutter somewhat. Impressive wins over 44-2-0 Julio Pablo Chacon and former bantam champ Wayne McCullough were followed by a disastrous points defeat to veteran Manuel Medina, in which his boxing seemed to have become aggressive but extremely one-paced. Whilst Harrison bounced back to stop Medina in a rematch, it had caused many of his supporters to rethink their lofty assumptions of Scott's world ambitions. Beforehand, his manager, the diminutive and cynical Frank Maloney, not normally associated with excess hyperbole, said that Scott would be 'the best British featherweight ever', no small feat when you consider Naseem Hamed, Howard Winstone and Barry McGuigan all brought titles back to good old Blighty.
After the shock of the Medina loss, Harrison took a few easy paydays, beating up on Walter Estrada, William Abelyan and the woefully inadequate Samuel Kebede, an unknown from Ethiopia, before another horrible performance saw him scrape to a draw with Victor Polo, the rugged Columbian who always fell short at the highest level. That Polo was able to draw with Scott, and then be subsequently schooled by division leader Juan Manuel Marquez spelt out a worrying conclusion...was Harrison REALLY ready for the division's best? Matches with WBC champ Injin Chi and WBA/IBF champ Marquez had been talked about...but based on this performance, could Harrison really hack it?
In his next fight, Harrison went some way to erase the doubts, when he trounced Michael Brodie with body shots in four rounds. Previously, Brodie had drew over 12 hard rounds with Chi before being knocked out in the rematch. Skeptics said the Chi fights had taken too much out of the Manchester veteran, but it was still a top result for Harrison, who took his record to 24-2-2 (14). And now, with his name firmly entrenched in the upper echelons of the featherweight top ten, it's time for Scott's big assault on the world titles. If he wants to live up to his manager's lofty comments, he has to now go for the Marquez's and Chi's of the division...but first he has to take care of business on Saturday night.
The opponent, Hussein, is a quality, competent world class operator, trained by Aussie legend Jeff Fenech. In compiling a 39-2-0 (25) record, he has shown flashes of power, skill and resilience. His first loss, back in 2000, is perfectly excusable as it was merely a cuts loss to the wonderful Manny Pacquiao. His second, for the WBC Super-bantamweight title, was more disappointing. In a clash widely expected to be a classic, Hussein looked lethargic and one-paced, being constantly outworked by Mexican workhorse Oscar Larios, who won a landslide decision at Las Vegas last year. Was this merely an aberration, or did it show that Hussein will always be one of those fighters who can never quite crack it at the top level?
If it's the former, then Scott Harrison, 28 years old and in his prime, is in trouble, because at his best, Nedal Hussein can crack, and takes a hell of a punch, too. A series of fights in Britain (including one win over Scotland's Brian Carr for the Commonwealth belt) showed off his power to Harrison's fans, and the fact that even mega-hitter Pacquiao could not legitimately stop him earmarks him as a tough challenge for Harrison.
And if it's the latter, then it will tell us a lot about Harrison's chances at the division's very highest level. If Harrison is truly world class and ready for Chi or Marquez, then he should vanquish Hussein. If Harrison continues to perform inconsistently and erratically, then he will struggle on Saturday night. Hussein, who works at a measured pace, will not outwork the strong Scot, but his powerful right hands may mark up the Brit's face and hurt him throughout the fight if Harrison is less than sharp. However, it should be remembered that Hussein is moving up from super-bantamweight/jr featherweight (122lbs), whilst Harrison is a BIG featherweight. Often he looks like a lightweight in the ring with his smaller opponents.
All in all, we get a quality fight between a top ten 122lb'er and a top five 126lb'er. Often in these cases, you see the good big man beat the good little man, and Harrison should record a points win. Whether it's an impressive unanimous decision or a troublesome and hard-fought verdict largely depends on Scott's form.
Let's hope it's the former, because Britain genuinely wants to see Harrison-Chi or Harrison-Marquez, and Scott will have to come through this unscathed if he's going to get one of those fights.
THE PICK:
Harrison, fired up and ready, is aggressive from the start, and whilst Hussein lands a few heavy bombs in the early rounds, Harrison's strength and resilience discourages him. By the halfway mark, the Australian is boxing to go the distance instead of winning. My pick is Harrison on points by about 5 or 6 rounds.
Send questions and comments to: mattwinsper@yahoo.co.uk