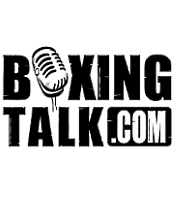 By Scott Shaffer
DaVarryl Williamson is not yet a champion, but he showed the character of one on Thursday by offering to put his chance at every boxer's dream, a world title fight, on hold in order to fight a rematch against Wladimir Klitschko, a man who previously defeated him. Williamson made the offer as a means of resolving Klitschko's lawsuit against the IBF, or at least the issue of who should be Byrd's mandatory.  Klitschko has thus far refused the offer because he wants an immediate shot at IBF heavweight champion Chris Byrd, whereas the proposed settlement would allow Byrd to defend, and possibly lose, the title to someone else while Klitschko and Williamson conducted the box-off. In the absence of a settlement, the presiding judge, William Martini will decide Klitschko's request that the Court prevent the IBF from sanctioning a mandatory between Williamson and Byrd. The judge promised to render a verdict in the next two weeks.  
After attending the hearing, Wlliamson told Boxingtalk he was willing to settle the lawsuit by putting his chance to challenge Byrd on hold in order to have a box-off against Klitschko.  "The judge said in no uncertain terms, why don't you just have a box-off," said Williamson.  "Well, DaVarryl Williamson is ready to fight either Chris Byrd or Wladimir Klitschko in a box-off if it would please the court.  And the legal team that represents me echoed that to the judge. He wants us to settle this in the ring, and we couldn't be happier to do so."  Judge Martini has not ordered the box-off, apparently because he believes he lacks the legal authority to do so. Instead, the judge asked the parties to voluntarily agree to the box-off.
The three-party dispute between Klitschko, Williamson and the IBF was complicated further when a fourth party entered the case. Byrd sent attorney Patrick English to intervene, and English argued that any proposed settlement should not harm Byrd by forcing him to remain inactive.  In order to sign off on the settlement, Byrd wants the right to go down the list of contenders to conduct an intervening mandatory defense against another boxer while the Klitschko-Williamson box-off is arranged. Next in line would be Sam Peter and, after that, Nicolay Valuev.
Williamson was represented by attorney Jay Labe, who added, "we don't want DaVarryl's career wasted in litigation. We want to get in the ring and settle this in there." When asked about Klitschko's response to the invitation for a box-off, Labe, somewhat surprisingly said, "We don't think its appropriate to discuss settlement negotiations."  A comment made by the judge indicates that Klitschko has not agreed to the box-off and instead will roll the dice on the judge's decision.  "I thought that [a box-off] might be the appropriate and best way to resolve it," said Judge Martini, according to the official transcript.  "It doesn't appear that at this point that's an option; at least at this point."
According to Klitschko's attorney Ron DiNicola, Byrd's request for an intervening bout was the sticking point. "We originally proposed a box-off between Klitschko and Williamson back in May [so that the matter could be resolved before Byrd's mandatory came due].  At the time, we didn't have to propose that, and the IBF rejected it. Then we get flipped in the ratings [Williamson was moved ahead of Klitschko], so we had no recourse but to file this lawsuit. Now its too late for a box-off because it would allow someone else [like Peter or Valuev] to come in and take the opportunity that belongs to Wladimir."
TRANSCRIPT OF JUDGE MARTINI'S REMARKS, JUNE 30, 2005:
As I indicated the last time we were here in court, my parting  comments were, I thought the best resolution of this matter would be by way of a resolution within your own profession. And that is the way that I think the public would have hoped or expected that this would be resolved if there's such an issue with respect to rankings and the closeness of them, that perhaps the best way to resolve this for the credibility of the boxers themselves and the sport itself would be by way of a box-off.  And I mentioned that the last time we were together in our closing comments, I see little benefit for judicial intervention in a situation like this.  This is an industry which governs itself primarily, with some oversight but not extensive, and in a situation where the ranking appears be to be so close and two boxers have a difference of opinion as to who should be ranked over the other, I'm still of the opinion the best resolution for the credibility of the sport, the credibility of the boxers would be to have a box-off.  And I thought that that might be the appropriate and best way to resolve it.  It doesn't appear that at this point that's an option; at least at this point... As I indicated in chambers, I'll [decide the matter] not next week, but the following week, and I'll issue the opinion in writing and therefore you won't have to come back.  The attorneys who are here from out of state won't have to fly back for that.  We'll issue that opinion sometime the following week.  In the meantime, there's nothing to prevent you from talking to each other to see if there's a resolution within your own profession that you can reach.  I think it's to everybody's benefit to do that, quite frankly.  I think you understand, no matter what my decision is -- and this might be for the benefit of the clients that are here -- no matter what my decision is, there's a good likelihood someone will appeal it -- and you have that right and I expect that's what would occur -- and as you well know as lawyers, that could mean this matter could end up sitting in litigation for a considerable period of time and no one will be boxing.  And so everybody's opportunity for doing what they claim they'd like to do, box, will be put on the sideline for what may be a considerable period of time.  And that would be unfortunate for everybody. The last thing I think this profession needs is intervention by courts.  I think it hurts the whole credibility of the process.  But we're here if we have to. So with those comments, I again urge you to, you know, if you wish, continue to see if there's a resolution outside of the court.  If you do reach some understanding, I would appreciate that you would let us know as soon as that happens. Even though I may not be available next week... I'll be available by phone.  And so if you do need me to get involved by phone, you can call my chambers and I would be available.
CLICK HERE FOR THE FULL STORY, INCLUDING A TRANSCRIPT OF THE JUDGE'S REMARKS
Send questions and comments to: boxingratings@yahoo.com