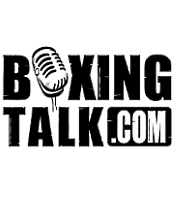 Valuev coming to America next?
Undefeated WBA heavyweight title holder Nikolai "The Beast From the East" Valuev scored a third-round knockout to defeat Owen Beck in Hannover, Germany tonight. Beck attempted to make up for the 78 pounds and 10 inches he gave away in respective weight and height advantages by taking the fight directly to the champion on the inside during round one. Valuev responded by throwing brief, effective combinations that quickly paid dividends in the form of space to throw more combinations.
Beck briefly landed a few body shots at the beginning of round two before being caught with a one-two combination that consisted of a left jab followed by a picture-perfect right hand that landed flush on Beck's jaw and sent him crumpling to the canvas. It turned out to be the beginning of the end for Beck.  With less than a minute to go in the round, it was all Beck could do to survive it, which he did, but just barely.
The impressive combinations from Valuev continued and expanded in round three.  He added to his arsenal a clubbing left hand followed by a staggering right uppercut that lifted Beck off his feet before sending him back to the mat.
Beck beat the count on very unsteady legs, and referee Luis Pabon made a poor decision in letting the match continue.  Fortunately, Pabon quickly recognized his mistake and waved off the action seconds later at 1:44 into the round.
"It was an important fight for me being my first title defense," Valuev, who improved to 44-0 with 32 knockouts, said.  "I change my training after each fight to prepare for my opponent's skills.  My trainer and I developed a good boxing plan tonight.Now I will go to conquer America."
Valuev was congratulated after the fight by a man in an arena hallway who told him, "Your combinations looked good."  The 7-foot Russian smiled when he heard the English word and pointed to his trainer, Manuel Gabrielian,from Armenia.
"Combinations, combinations, combinations," he said in reference to Gabrielian's repeated training guidance to use this boxing skill to his benefit.  His trainer returned the smile and added a nod of approval.
While Germans and people in other countries have been able to follow Valuev's progress on television during his last three fights that included majority-decision wins over Larry Donald and against John Ruiz [to capture the WBA crown] as well as tonight's triumph, viewers in America did not see these bouts from Germany as they were not broadcast there.
Valuev's co-promoters, Sauerland Event from Germany and Don King Productions from America, were vocal at the post-fight press conference in support of Valuev.
"Nikolai Valuev is one of the most underestimated boxers in the world," Don King said.  "He is throwing more and better combinations as well as a devastating uppercut.  I believe this man has the ability to become undisputed world champion."
Wilfried Sauerland addressed America and Americans directly. "I have heard some of the Americans were skeptical of Nico in the beginning, only looking at his height and weight," Sauerland said.  "What they don't
know is how hard we and Nico have been working to improve his skills.  He's always been a tremendous physical specimen.  Now the Americans are going to
see how much his boxing skills have improved."