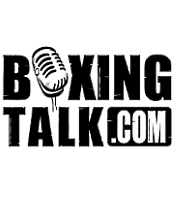 British and now Commonwealth Middleweight king Scott Dann of Plymouth, England, proved to be too much for Canadian opponent Larry 'Razor' Sharpe, who proved to be a surprisingly tricky opponent for several rounds before succumbing to a meaty right uppercut in the ninth round.
The clash, for the vacant Commonwealth (British Empire) belt, took place in Dann's hometown in the south west of the country at the Pavillion's centre, and little was known about Sharpe coming in, apart from his 14-2-0 record.
As it was, he proved to be a neat southpaw boxer, who provided the hard-hitting Dann with lots of angles and movement, frustrating the local hero for much of the fight. Sharpe even managed to worry the Plymouth supporters with a sixth round blitz that nearly saw Dann fall apart. Up until that point, Dann had stalked his opponent, throwing single hard shots and winning the rounds, albeit closely. Sharpe had been momentarily stunned in the opener, but besides that was using his awkward style to good effect.
 Suddenly, in the sixth, Sharpe managed to sneak home a hard right hand that rocked Dann dramatically. The Englishman reeled backwards, and Sharpe jumped on him, teeing off with a series of clubbing blows. Luckily for Dann, the Canadian was not a big puncher, and he was able to regain his senses and fiddle his way to the bell.
The eighth saw the momentum swing back into Dann's favour, and he continued pressing forwards, winning the rounds without looking overly impressive.
The finish in the 9th however, came suddenly. With just a dozen seconds in the round gone, a southpaw left uppercut from Dann sliced through Sharpe's guards, nailing him on the orbital surrounding the right eye. Sharpe stepped back, blinked, and then crashed to the canvas as the pain suddenly set in. He probably could have gotten up, but was obviously in a lot of pain and was not winning the fight, so stayed hunched on all fours as referee Richie Davis reached the count of 10.
It had not been the most exhilirating battle, or the most impressive performance from the new Commonwealth champion, but it was another win and another knockout. In fact, Dann's is now 9-0-0 (7) since being beaten by world contender Howard Eastman, and is certainly on the fringes of world class himself.
Afterwards, he reiterated his desire to chase the European belt, held by fast slickster Sebastian Sylvester of Germany. This would be a logical next step for him, and is certainly a winnable fight if he can work on cutting down the ring to land his damaging southpaw left hand.
As for Larry Sharpe, it is back to Pine Falls, Canada to rebuild. He is 31 years of age already, but does hold the Canadian national belt and already has a fight tentatively booked for April in Winnipeg. He will need a few confidence-boosting matches before stepping up to Dann's level again.
Send questions and comments to: mattwinsper@yahoo.co.uk