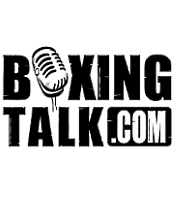 Executioner's nephew had a tougher-than-expected time
Having the luxury to cover two fight cards in one evening was a bit trying at times, but it was pulled off in grand fashion after struggling to make it to the Plaza in time due to traffic and a hectic work schedule.  Thankfully Logan was there to help out. Here is what happened inside the Union Plaza Hotel and Casino... then it was off to the Orleans...
In the main event of the evening, young Demetrius Hopkins, the nephew of world middleweight champon Bernard Hopkins, was too much for tough Ubaldo Hernandez to handle.  Hopkins was awarded the unanimous decision.  Neither man was hurt in the contest and Hernandez kept it as close as he possibly could, but Hopkins was always a step or two ahead and won via tallies of 78-74 (twice) and 77-75. With the win, Hopkins remains unbeaten as a pro and now stands at 15-0-1 with 6 KOs. Hernandez falls to 19-13-2 with 10 KOs.
-
Mike Sloan
Yanqui Diaz (aka Yamplier Azcuy), fresh off of an earth-shattering first round knockout upset of previously undefeated Juan Carlos Gomez, repeated the result by stopping a lesser foe, Marcellus Brown in the opening stanza as well. Brown, roughly seven feet tall, was toppled by a thudding overhand right that caused the lurching heavyweight to crumple to the canvas like an axed-down oak tree. He was unable to beat the count and the fight ended at just 1:16 of the first. Another huge KO for Diaz, Boxingtalk's #31 heavyweight, who boosts his record to 11-1 with 7 KOs while Brown falls to 25-14-1 with 22 KOs.
-
Mike Sloan
The first bout of the evening pitted Austroberto Juarez against Rodrigo Hernandez, two light flyweights witn huge hearts. Juarez was simply too much for Hernandes to handle, although Rodrigo never stopped trying to gain the advantage. With that said, Juarez won comfortably by the scores of 39-37 (twice) and 40-36.
Jonathan Taylor broke down Alberto Mercedes systematically for three rounds, evenutally stopping him in the fourth. After eating a few too mnay clean shots, Mercedes turned away from Taylor, prompting referee Joe Cortez to stop the bout. The official time of the stoppage came at 1:24 of the fourth. 
Victor Ortiz was doing well against opponent Lee De Leon until he was sliced open in the second round thanks to a perfectly-timed punch. Referee Rochard Steele was a bit leary of the laceration and brought Ortiz over to the ringside physician, who advised Steele to stop the bout. The end came offcially at 2:35 of the second round, awarding De Leon with the TKO.
In what was the final bout of the evening, Jose Magallon needed only 2:49 to dispose of foe Jack Martinez after landing a hard hook to the body. Once Martinez hit the deck, he writhed in pain and never came close to beating the count. Good knockout win for Magallon.
Mike Sloan is also the editor-in-chief in Ko.Sherdog.com