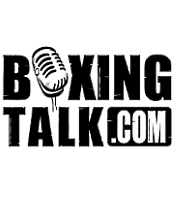 Undefeated WBO junior welterweight champion and Puerto Rican sensation MIGUEL COTTO hosted a packed media workout today at the Punch Fitness Gym in Deerfield Beach, FL., as he begins his final two weeks of training for his title defense against undefeated Brooklynite PAULIE "MAGIC MAN" MALIGNAGGI.  Cotto and Malignaggi, who combined have a perfect 47-0 record, headline a stellar six-bout Pay-Per-View card televised live from the "Mecca of Boxing" -- Madison Square Garden -- Saturday, June 10, in the biggest rumble New York has seen since the Jets took on the Sharks!              
"Paulie talks a lot and I've been listening to that talk.  All of it," said Cotto.  "I  think that kind of talk builds up his confidence.  However, deep inside, I think he's running scared.  I'm going to take this fight minute-by-minute, round-by-round and track him down.   Then we'll find out the truth on June 10 ... Judgment Day.  Let's see if Paulie is really a Brooklyn buzz saw or just a Brooklyn big mouth."            
Cotto is scheduled to arrive in New York, Friday, June 2.                 
Remaining tickets to Cotto-Malignaggi, priced at $300, $200, $100, and $50, are on sale at the Madison Square Garden box office, TicketMaster outlets, TicketMaster phone (212/307-7171) and
www.ticketmaster.com
and
www.thegarden.com
.             
The five-bout televised undercard will feature in separate bouts,  undefeated Irish middleweight sensation John Duddy, making his first WBC Continental Americas title defense; former world champion "The Flushing Flash" Kevin Kelley; undefeated lightweight contender and son of the Mexican icon Julio Cesar Chavez, Jr.; undefeated Puerto Rican featherweight prospect Juan Manuel Lopez; and making his pro debut, University of Notre Dame defensive star and team captain Tommy Zbikowski.            
This marks the second consecutive year Cotto, of Caguas, Puerto Rico, has headlined at the "Mecca of Boxing" on the eve of New York's annual National Puerto Rican Day Parade.  Last year, he knocked out Muhammad Abdullaev to retain his title in front of a huge crowd.