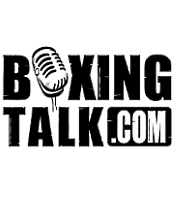 By Rea Frey
The epic battle between Diego "Chico" Corrales and Jose Luis Castillo has been called the greatest lightweight bout in history. These two warriors put forth an unbelievable effort for their May 7 title unification bout in Vegas, in which Corrales was knocked to the canvas twice, but came back to beat Castillo in the tenth round. On a conference call today, September 27, 2005, Corrales and his trainer, Joe Goossen, discussed plans for what they hope will be a second win over Castillo on October 8 in Las Vegas.
Corrales opened the call talking about training camp and how he is mentally preparing for the second time around. "Camp has been smooth," the 28 year old boxer explained. "I'm happy it's almost over with. I'm very confident. I have to say in my mind, screw it. Bite down and go. Knowing what I went through before, I honestly have to be prepared for what I went through. So I say let's do it. I'm ready for every second, every round, every inch. I know I am physically ready. I'm physically able and ready to do it. I should be better this time around. You got to look at the nine-month layoff I had before. I sharpened up much faster. My body doesn't have to remember anything. It's much easier to do a fight quicker than [after] a much longer layoff. And I don't know about Castillo, but if he's physically not ready, that's the edge for me."
When asked about the first fight, he responded, "It was a great fight. It was one of those fights that will tie us together forever. It was fair for me to do it again and give him that rematch. It wouldn't be right for me to go on to someone else."
Next, Goossen was questioned about past statements saying he didn't want a rematch between the two fighters. "I pretty much had forgotten the statement that I made. It wasn't something written in stone for me. That was that. Once the fight was set, it was like Diego said. You know you're given a job and you've got to go do it. How do you prepare Diego prepare mentally and physically? Mentally he has to prepare for that himself. Diego is the one that does the fighting and he's the one that has to prepare for it. I'll leave that chore for him. You talk about the damage done during the fight. They both absorbed punishment. The last guy standing was Diego. We cracked the pot pretty good right there. I'm taking that with us into this training camp. That's part of our knowledge here. We were the last guy standing. That's enough for us. I'm much more satisfied with his technical advancement in this camp compared to last camp. This camp I expect him to be a better fighter and a lot more at ease in the ring because he's had two back to back camps now and it's made all the difference in the world."
The next reporter compares Corrales' popularity to that of Michael Jordan's. "Yeah," Corrales responded. "It's been really cool. It's been awesome. To make an impact on a game is great, but to make a real impact like I've made is unbelievable. You know, I'm still young so it's really neat to watch my own career blossom like it has."
When asked if there is any way to avoid a war, Corrales answered no. "There's a good chance I'll come out and land a great shot, because I can hurt him again. It sometimes comes quicker in the rematches. To tell you the truth, I don't think there's any way to avoid an all-out brawl. He wants to win. He had the win snatched from him in the last second. So I think it's going to be a hard fight."
Goossen added, "number one, both boys took punishment. I've looked at that fight more than any other one I've been involved in. The other guy took a lot of punishment early, which allowed Corrales to win late. They're both aggressive guys, with their styles. Their instincts put them head to head in the ring, ninety-nine percent of the time. I'm not going to divulge my strategies but the fans will not be disappointed, because instinctually they're both tough guys. I think it would be beneath them to give any less than an effort than they gave the first time. That usually spells more action, not less. Both of them need and have to win. I don't think you're going to see much dancing around. I think they're going to break the mold with this one."
Then Gary Shaw, Corrales's promoter, piped in. "The styles of these two guys is evident. One guy is a hunter. And Castillo is like a rubber band, the way you push him, he snaps right back. This second fight will be as exciting as the first fight. I don't think you will see a lesser fight."
In the first match, Corrales spit his mouthpiece out twice, which appeared to many to be a tactic to buy himself some time. Several reporters asked about this controversial act. "This is the one thing people don't know, so listen up. It's something that I brought to Joe before the fight. I told him I needed a new mouthpiece. I had two teeth pulled that year. I don't do things to try to cheat my way. I've never been a dirty person, a dirty fighter. I'm a straight arrow fighter. That's the first time I've ever even lost a point in my professional career. I don't break the rules, I don't bend the rules, I'm a clean fighter, so I don't worry about that stuff. So, to say that this is something to beat the rules or buy time, that's ridiculous. It's beneath me."
Corrales also commented on his condition after the fight. "I felt pretty rough," he laughed. "I felt my insides, I mean I really felt my insides. My face was swollen. Actually, the next morning I stayed at the hotel, I didn't want to go home, my eyes were completely closed, I couldn't open them. I had to ice them for two hours. Yeah, so it was a pretty rough image there."
When asked where Corrales would rank it among his favorite fights, he responded honestly. "I wouldn't… it's not my job to rate it. I mean, I just loved what happened. It was a war and I got it. I'm proud of it. I'm proud of how I handled it. You know, it's great, because you always wonder if you have it in you and I was happy to see that I did. I hope that we place among the legends. And so far people have… it's unbelievable. Like I said, I'm 28, you know, I'm still pretty young to be placed in the same realm as those guys. They are the history of the sport, so it's pretty neat to think that I could even be here."
A reporter then asked Corrales why he didn't use his jab against Castillo in the first bout. "That night I just felt like fighting. I really did feel like fighting. Where's the room for the jab when you're nose to nose? At that point, there's really no room to jab. But honestly that's how I thought I could beat him. If I made him start fast and fight fast, that we could beat him later. And we did."
Corrales continued, responding to an earlier question about retirement. "I love what I'm doing. I mean I'm blessed to have a career that I've always dreamed of. I think about eighty-five percent of the male population has dreamed of being a professional athlete. But here I am, not only a professional athlete, but a great one and that makes me happy. I'm very, very happy and retirement is not an option right now. I'm making a push right now. Why retire in the middle of a push?"
Goossen once again interjected, commenting on the safety of this fight considering the recent boxing death of Leavander Johnson. "In the twenty to thirty years I've been around, the strides that the commissions have made in safety are just incredible. This isn't a tea party, it's a brutal sport, a violent sport, and it can be deadly. They know the danger in this and they try their best to protect them."
"I think Tony Weeks [the referee in the Jesus Chavez-Leavander Johnson fight] did the best job he could do," Corrales added, in response to reports of the ref not stopping the deadly bout soon enough. "This is a true legend sport. This is what makes it what it is. Its brutality is what brings fans to the game. Its savagery is what's made boxing great. It has elegant moments and it has savage moments. And this was a very unfortunate moment for Leavander's family. This game is great, it's one of the best ones out there. It's just beautiful. There could be some changes made but to get rid of the game, I think we should never do that. You know, Tony Weeks took a bashing for stopping a helpless Castillo on the ropes. And now that plays a part in his mind and now he has to question his judgment, and that's the worst place to question it, is in the ring. That's the worst place to ever question your judgment. If you look at the fight, he didn't have a chance to stop it before he did. It was up to his corner to do that."
When asked about the epic tenth round of the first bout, Corrales laughed. "I tell you what, I mean, that round is a fight by itself. I mean I walked out there, I gave him a pretty good pounding and he had no more power. I knew I wanted to put the final touches on him. I walked out, and he did some damage. When I got up, I was buzzed from the first knockdown, but the second one, I was clear as could be. Then they told me they were taking a point for the mouthpiece. Joe said you got to get on him now and he had his hands low. And I put my right hand in there and I hurt him. From that point, it was pretty much just finish it. I wasn't going to let him off the hook at all. No emotion ever came into it. I never panicked or felt nervous. I just went in and did my job."
"How much longer can you make 135?" one reporter inquired.
"I haven't given it any thought. I don't know how much more I can physically do it. I'm getting bigger, more defined. And that's usually the time for you to go. So I don't know. We'll see. I do know that it's hard for fighters to recover after I fight them. I seem to leave long-term damage on a fighter. I've done some great damage to people. I don't know what it is about my style that does it. I'm happy with what I've done the last couple of years. I'm going to keep winning. It's good to be here and I always knew I would."
Shaw commented, "it's nice to represent a fighter that wants the best fights out there. If you had more fighters like Diego, willing to fight the real fights, there would be better fights out there."
As far as Corrales' inspiration, he said he used to watch old fight tapes with his father. "My dad always said, in order to know where you are, you have to know where you've been. I used to watch tons of fights with my father and now I have my own collection. My dad is who got me into boxing. He's the guidance, he's the inspiration, he's the reason I'm here. I wouldn't be in this game right now if it wasn't for my father. He was a big part in making me do it. I love what I'm doing, I've always loved it. I'm glad he took me to the gym and got me started. In fact, I Tivo everything that comes on in boxing. I love the sport. You can pick up a lot of stuff, those old fighters were slick and very smart. You had to be a lot sharper, because you had open thumb gloves. You had to be a little trickier back then than you do now."
As the conference wrapped up, Goossen made a statement about his fighter. "The bottom line is Diego is willing to go to the ends of the earth to get a victory and that's number one what I love about him. He doesn't cheat people around him. He does it six times a week, three times a day. Plus he's very cooperative, he's easy to get along with, and we get along because he's a very mature guy. He's able to talk on many levels. And without getting silly and sloppy, let me just say he's a great guy. He's a good man. That's what he is."
"What is it like for your family and wife?" an ESPN reporter asked.
"I don't know," Corrales said. "I don't know how my wife handles that. I've always said if anything were to happen to me, to be happy because I would have been doing what I love to the very end. That's something that not all people can say. I think every wife, any family, has that to worry about in certain jobs. How does a police officer's wife deal with that? I think they find their own ways to cope with it. I don't know if I could deal with it. She's never asked me to stop. She just goes with the flow. My mom, she doesn't love it as much. She will be at this one though."
The call wrapped up with anticipation for the October 8th pay-per-view bout. Corrales promised to bring his A-game. There is no doubt that Castillo will do the same.