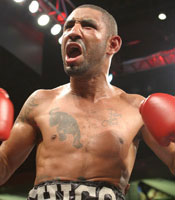 America's #1 Boxing Network Needs To Act As Such!
GL: Boxingtalk.com recently broke the news that WBC lightweight champ Jose Luis Castillo will be fighting Joel Casamayor on Showtime December 4, the date orginally being held for you to face Castillo in a lightweight unification bout. Can you give us your thoughts on this whole situation?
"I'm disappointed about the fight not happening. Castillo and me are the best lightweights in the world period. I believe we share that title so the two of us fighting made sense. It's a shame that it's not happening.
GL: Is it insulting to you that after two big wins against Casamayor and Freitas (whom the network was paying millions to) on Showtime that they would only come with $1M for you and Castillo to split?
DC: "I think it's kind of messed up, because I've stepped it up and I've made a lot of sacrifices to get where I am. I just feel that at some point they have to realize I won the big fights and I fight everybody, let's treat him better. I'm one of the few willing to fight anybody with no questions asked.
GL: I've read several reports that stated you priced yourself out of the Castillo fight, however, sources from your Team have informed me that of the $1M Showtime was offering, Top Rank wanted half of the money, which meant you would were being offered less money than you made to fight Freitas, is all of this correct?
DC: "Yeah it is."
GL: You're certainly in a position to become fighter of the year for 2004, were you hoping to put a stamp on it before the year ended?
DC: "I really was. Heck yeah! And I really don't think Casamayor has earned that fight, I've beaten two of the best out there and that's the kind of fight I've earned. I've already proven myself in two different divisions, Cass doesn't deserve the Castillo fight!"
GL: Do you think the winner of Castillo-Casamayor will expect to have more leverage with you at the negotiating table?'
DC: "I don't. My thing is, I have an obligation to fight the best fighters I'm after the best and I'm going to follow my management on that one, I don't know about the leverage, right now I'm just waiting to see what happens next." 
CLICK HERE FOR THE REST OF THIS MUST READ INTERVIEW WITH THE BEST LIGHTWEIGHT IN THE WORLD!
Send questions and comments to: gleon@Boxingtalk.net