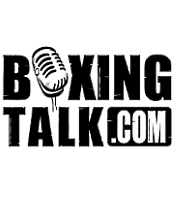 By Ramon Rodriguez
Young fight fans have not been around long enough to remember the Ali-Frazier trilogy. Even Hearns-Hagler is ancient history to anyone in their teens. In time, the younger generation ensure that the boxing world never forgets Diego Corrales-Jose Luis Castillo—it was just too intense of an experience.  Blood and guts, normally a cliché used to describe fights, would have been a gross understatement for thislightweight bout.
Older fight fans will tell younger ones about the intensity that was Ray Robinson vs. Jake LaMotta, the ferocity of Rocky Marciano vs. Jersey Joe Walcott. We can only marvel at the thought. But after the buffaloes collided on May 7, 2005, young fight fans can now boast of experiencing something just as profound. Not that the rivalries between Arturo Gatti and Micky Ward, Evander Holyfield and Riddick Bowe or Marco Antonio Barrera and Erik Morales weren't fascinating. Castillo v. Corrales, though, was magical, a step above.
Those involved in the fight agree it was historically significant.  Gary Shaw, Corrales' promoter, had similar words. "Both fighters are now legends and true champions. Never take anything away from either of these fighters. That fight changed their lives forever."
According to Top Rank's Todd Du Boef, this matchup already has made a considerable impact. "It has been an unbelievable run…we're getting articles from guys who normally don't write…they (Castillo and Corrales) put on a beautiful performance."
"We captivated people," said Corrales, the new lightweight champion of the world. The adrenaline rush would be capped off by Corrales' stirring off-the-canvas-twice technical knockout of Jose Luis Castillo in the tenth round. But when it was all over, there was more than the thrill we had all experienced. Not only did this memorable fight transcend the sport's history books—it made us reach out to our own.
Originally, Castillo (52-7-1, 46 KOs) and Corrales (40-2, 33 KOs) squared off to determine who would reign supreme in the lightweight division. In the aftermath, there was WAY more than that.  Was it fight of the year? Fight of the decade? Probably both, as the two would etch a timeless war into boxing immortality.
Joe Goosen, Corrales' trainer, believes what makes the fight so tremendous was all the punishment that was exchanged. "The reason it's going to be a legendary fight is because of the brutality of it."
The grueling battle was also one a source of inspiration.  In the face of adversity think of Chico Corrales in the tenth round. Then think of the strength, pride, mentality and bravery both warriors conjured for the entire fight. It's simply breath taking.  What's most special about Castillo v. Corrales, though, is the very essence of humanity that two men brought to boxing and all of sports with one epic performance.
As Du Boef sees it, Castillo and Corrales created something almost unimaginable. "The whole boxing world and I think the whole sports world knows that this fight was something legendary."
And as George Foreman so accuratelysaid when talking about the sport in general, "Boxing is the sport which all other sports aspire to be." Could anything be truer? Not everyone has scored the golden goal in sudden death or swished a three at the buzzer or caught a Hail Mary with seconds to go. Sure, maybe not everyone has parried punches and slipped jabs but everyone has struggled at some point in their lives and has had to fight back. Perhaps that is the triumph we'll see in Castillo and Corrales. Perhaps that is the ultimate triumph we wish boxing always was.
So for the ten rounds that Castillo and Corrales set ablaze on May 7, 2005, nothing else mattered in boxing…perhaps at all. Not the bleak heavyweight division, not pound-for-pound lists. Anyone who watched the instant classic was united in awe and admiration, whether it was mothers gasping or fight fans cheering and screaming.
Deep down you asked yourself if brutality was becoming a thing of beauty. Most of us nodded our heads and stared blankly at the ring and its two combatants. We always ask for fights of inexplicable proportions and that night we measured our wishes with gazes of pure astonishment.  The night was striking, gripping. They say if you don't bleed every time you try, all was in vain. Thus, Corrales and Castillo's efforts aimed to convince us, as the two brought sparks to every second of every round. Heated exchanges, vicious hooks to the body, bruising uppercuts, snarling jabs—words simply cannot convey the depth of that night.
For a veteran trainer like Goosen, who knows the game inside and out, the fight may have been too much. "I say there is no way one man should have to fight two fights in a career like that."
As if looking to redefine intensity, Castillo and Corrales brought more as the fight wore on: blood, gashes, cuts, bumps, anticipation. Rounds one through six see-sawed the action, rounds seven through ten magnified and exalted each punch that was thrown. At the end of round seven, Chico staggered Castillo badly. The eighth is already being considered Round of the Year, or at least it was for three minutes. In the ninth, Referee Tony Weeks would warn Castillo for continuous low blows.
Then came the tenth round. For Corrales, it may have been "hell or high water." It may also be another candidate for Round of the Year and perhaps the storybook ending to such an amazing fight. Early in the tenth, though losing on two of the judges' scorecards, Castillo seemed to have sealed the victory, after crashing Corrales with a thudding left hook to the chin. Corrales would wait out the ten count and slowly rise. Moments later Castillo landed another left hook that tumbled Corrales to the canvas. Weeks then deducted a point from Chico for having continuously spit out his mouthpiece, making it even harder for Corrales to surge back into the fight.
After the point deduction, a seemingly stunned Corrales matched his astounding courage with a strong urgency to look for the knockout. Clawing himself back into combat with his eye swollen shut, he unleashed furious haymakers and steered the wobbly Castillo to the ropes till Weeks stepped in.
"My spirit was still in it," says Corrales of his dramatic surge. "I still knew I could win that fight. I still felt like a lion…I also knew not to let him off the hook after what I had been through."  Enchanting. Jaw-dropping. Again, there was no room for words, only feelings, instinct and a hushing silence—something that happens when you just know something special took place.
Yet, while such a classic fight has garnered so much attention, a bit of controversy has seeped in as well.  After the fight was stopped, though Castillo's corner and management did not complain,his promoter Bob Arum of Top Rank was disappointed with many different things: his fighter's loss, the claim that a standing eight count could have been issued and Corrales' continuous spitting of the mouthpiece.
Goosen sees such actions as "petty." He said, "when Diego's mouthpiece had come out from a punch, and was still on the floor, Castillo was hurt and got help from the referee when they stopped the action and put it back in. Nobody complained about that because he was hurt. For anybody to try to overshadow this, literally one of the greatest fights ever, by trying to get some sort of controversy going over the mouthpiece is ridiculous. He had a point taken away and that should be it…Don't sully this fight."
But even with a loss an no more WBC title, Castillo does not complain. Rather, he relishes the type of fight he was in and remains confident and hopeful. "That's the way I like to fight…I'm not going to cry about it…let's do it again."
Again? An epic sequel? How soon? Castillo is hoping that the WBC announces the rematch as a mandatory as soon as November. With the proper training, he thinks a rematch should be no problem for either fighter. "That's why you prepare…we should be able to go another twelve rounds."
On the other hand, Shaw thinks that Corrales should head for a rematch only when he feels ready to do so. "Maybe at a later date, maybe at a different weight. I'm taking Diego to Manchester to watch this next fight (Tszyu vs. Hatton) because maybe his next fight will be at 140."
One thing is for sure though, whether or not there is a second chapter in the near future should take into account a much needed rest for both valiant fighters. Give it time, because after all, only time will tell.