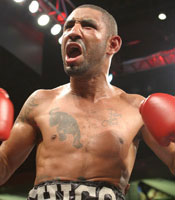 Steve Albert:  Diego, do you think the rematch will be tougher than the first?
Corrales: "I do think the rematch will be tougher.  I cannot see it happening any other way.  Castillo is not going to be less tough than what he was last time.  He is a great champion, and a great fighter. So, I cannot see why it would be any less hard than the first time.  
Albert: Jose, you have had time to reflect on the stoppage of the first fight and the mouthpiece controversy.  Are you okay with everything now?  
Jose Luis Castillo: I am calm about everything.  Now that I have an opportunity to make things right, I am very happy to be here.  
Al Bernstein: Diego, a lot of people were surprised by your strategy in the first fight when you decided to go inside and trade with Castillo.  Will we see more of the same in the rematch?  
Corrales: I think that is a great idea.  Why not?  All styles are made the way they are. There is not going to be a big change in style.  I cannot really change who I am.  That would not help me at all.  
Bernstein: Jose, do you plan to do anything differently for this fight?  
Castillo: You are going to see the same thing out of me.  It is going to be the same style of fight, the same thing I have been doing my whole career.  I just hope that Corrales and his training have not changed anything.   
Albert: Diego, do you feel you are on the verge of creating one of boxing's great rivalries?  
Corrales: I do not think we are on the verge of creating a great rivalry.  I think we already have.  If you put us (Corrales and Castillo) together 100 times, 99 times we are going to fight exactly like that.   
Albert: Jose, do you feel this is a part of a classic rivalry
Castillo: I hope these (our fights) will be like those Rocky movies.  We can do six of them, both of us winning a lot of money.