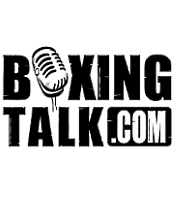 PRESS RELEASE
: Circle the wagons!! Bombs away!! Timber!! Diego "Chico" Corrales and Jose Luis Castillo are ready to do it again in "The War To Settle The Score On Feb. 4 " on SHOWTIME CHAMPIONSHIP BOXING on Saturday, Feb. 4, 2006. The two most talented and courageous lightweights in the world will collide in an eagerly awaited rubber match to decide once and for all who is the No. 1 135-pounder on the planet. The 12-rounder for the WBC title, co-promoted by Top Rank, Inc., and Gary Shaw Productions, LLC, will air on SHOWTIME at 9 p.m. ET/PT (delayed on the west coast). Corrales-Castillo III gives America's No. 1 Boxing Network its strongest opening lineup in history. SHOWTIME, which celebrates its 20th year of televising world class fights in 2006, opens with a world championship doubleheader Saturday, Jan. 7 (undisputed welterweight kingpin Zab Judah defends against No. 1 WBC contender Carlos Baldomir and WBC/WBA boss Jean-Marc Mormeck collides with IBF champion O'Neil Bell for the undisputed world cruiserweight title. A month after Corrales-Castillo III, SHOWTIME offers the long-awaited world super middleweight  title unification fight between undefeated champions Jeff Lacy (IBF) and Joe Calzaghe (WBO) on March 4.
Question: Chico, are you ready to fight Castillo for the third time in nine months?
Corrales:  I am ready. Heck I have seen him for a year already. I might as well face the year out seeing the guy.  What the heck?  So it is OK with me. 
Question: Chico, given that your fights have been so brutal, did anyone in your family have any second thoughts about getting through the holidays first and then opening up?
Corrales:  The good thing is I get to make all the choices and, of course, my whole family has voiced their opinion on the whole entire thing.  But I make my own choices. This is my call. 
Question: Chico, do you have any intention of trying to go back to the outside where you are so dominant with your reach and your jab?
Corrales:  Not at all.  Honestly, he landed a good shot, but that is all it was.  He landed a good shot.  No reason to change would work for me.
Question: Chico, regarding weight, do you feel that his punches were that much heavier in the second fight than in the first fight?
Corrales:  You do not seem to wear down as quickly as anybody else, so yeah, it does make a difference.  There is reason they have weight divisions and they vary from five pounds apart.  Those five pounds make a big difference. 
Question: Jose Luis, if you win the trilogy, will you stay at lightweight or will you consider moving up to 140?  
Castillo:  I think this will be my last fight at 135 even if I win the title, which I do want to do. Then move up to the 140 where there are very attractive fights for me like (Floyd) Mayweather, (Miguel) Cotto and (Ricky) Hatton. 
Question: Diego, your wife is expecting. Are you going to be train in Las Vegas or Los Angeles?
Corrales:  In LA. 
Question: Are you staying with the same trainer?
Corrales:  Yes, I am with the same trainer and everything.
Question: Diego, did you study the tapes of what happened in the second fight? 
Corrales:  I would say the guy made sure that he threw some shots, and (then) would slide out.  He knows I am a better machine on the inside. 
Question: Jose, what do you think is going to happen in this third fight?
Castillo:  I know he is a strong fighter and I know I am a strong fighter.  Hopefully, we will do it again just like the first fight.
Question: How important is it for this fight, however it ends, to not end in controversial fashion?
Corrales:  I think what it comes down to is who gets it and how he gets it. That is all that really matters.  Controversy – most fights have their fair share of controversy.  Who cares about a little controversy?
Castillo:  As far as I am concerned, there is no controversy.  I am going to make the weight this time around, and I am hoping that he does the same thing.
Question: Diego, do you still believe that Castillo never really tried to make the weight of 135?
Corrales:  I believe that it was never his intention to make the weight.  I do feel that way. 
Question: Diego, it seems like Castillo adapted better to your style the second time around?  Is that a fair assessment?
Corrales:  Yeah, I give him credit for that. He made sure to slide himself out. I never once questioned his performance.  The guy did a good job in the fight.  He won the fight. The only problem I had was the weight thing. 
Question: Jose Luis, are you are going to make the weight? 
Castillo:  I am going to work very hard for this. I am going to make the weight with no problem.  And if I do not make the weight, I am willing to give Top Rank half of my salary back.
Question: Sometimes fighters leave a piece of themselves in the ring that they never give back. How do you balance that risk against wanting to take a third fight? And does any of that come into play in the decision?
Corrales:  I accept the risks that we have out there in this sport, and if I can, I will minimize the risks, but if I cannot, what can I do?  I have to do my job.  It does not play in my mind at all because I know it is something that I love to do.
Castillo:  Risks are something we all take when we go up in the ring, and we know it is a little risky when you fight a fighter of the type of Corrales who is strong.  But I always give everything I have, and I always will.  My heart will be there left in the ring. 
Question: Gatti and Ward had those three back to back to back fights. Was there ever a point in those fights when you said, "I cannot believe these guys are doing this three times in a row," and here you are about ready to do the same thing?
Corrales:  These fights are important to the sport because of the kind of draw it brings, the kind of public worldwide attention you can bring on the sport.  So it is a good thing that we are both willing to take these fights.
Castillo:  You look at those fights, you figure you will never going to be in those kinds of shoes, but you are in it and you just try to do the best that you can and get out of this problem. 
Question: Diego, what is your schedule up to fight time? 
Corrales:  My schedule is back to three-a-day workouts and that is about it. Just eat, sleep, and drink Castillo. 
Question: Jose Luis, what is your schedule going to be?
Castillo:  I am going up to the mountains (in Mexico) and train like I always do.  Get away from everything and get ready for the fight.
 Closing Comment.
Corrales:  I hope you enjoy the fight.  It is going to be a great fight, it always is.  Everybody enjoy it and with me and Castillo, I believe it is a clash of the Titans again.  We are the two Titans of the game, so enjoy it.