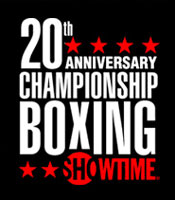 It is official! Diego "Chico'' Corrales and Jose Luis Castillo are signed, sealed and ready to deliver once again LIVE on SHOWTIME Saturday, June 3, 2006 (9 p.m. ET/PT, delayed on the west coast). The world's most talented and courageous lightweights will collide in their eagerly awaited rubber match for Corrales' World Boxing Council (WBC) title at the Thomas & Mack Center in Las Vegas, Nevada. The 12-round world title bout will be co-promoted by Top Rank, Inc., and Gary Shaw Productions, LLC, in association with Caesars Palace and Wynn Las Vegas.
Let the questions begin.
Can Castillo make 135 pounds? Can Corrales bounce back after getting knocked out in their last meeting?  Did Castillo have an unfair advantage in the rematch? Is Corrales completely healed from a rib injury that caused their Feb. 4 fight to be postponed? Can Castillo perform with more intensity than he did in his most recent outing? How much does Corrales have left? Can the third chapter end with a clear winner and without controversy?
Most importantly, who is the most talented lightweight boxer in the world?
Stay tuned to America's No. 1 Boxing Network. All of your questions will be answered when the 20th anniversary celebration of SHOWTIME CHAMPIONSHIP BOXING continues on June 3.
Simply, it doesn't get any better. 
"I fully expect this fight to be a rerun of the original in both action and result," said Gary Shaw.  "This will not just be Chico's coronation, but Castillo's retirement.  Corrales-Castillo 3 will successfully defend its title as fight of the year!"
Top Rank CEO Bob Arum added: "This is a real fight, an exciting world title fight between two great champions who have explosive knockout power.  Fight fans throughout the world will be anxious to see this showdown of big punchers."
Corrales (40-3, 33 KOs) won the historic first bout against Castillo – and the near-unanimous 2005 Fight of the Year -- when he dramatically rallied from the brink of defeat to register a  memorable 10th-round TKO to unify the title and capture the WBC lightweight belt on May 7, 2005.
Castillo (54-7-1, 47 KOs) won the brief, but brutal sequel on Oct. 8, also at Thomas & Mack, with an impressive and sudden fourth-round knockout. Despite losing the rematch, Corrales came away with both his world title belts because Castillo failed to make the 135-pound limit and one of his camp members was caught trying to tamper with the scale at the weigh-in.
"I feel fine. My rib is fine," Corrales said. "I would be lying if I said I was not thinking about Castillo and whether he can make 135 pounds, but I have to prepare as if he will make the weight easily and be at full strength.
"What has happened in the past is history. We have each won once. Now, it comes down to who wins on June 3. I respect Castillo and I think he respects me, but it is time to get down to business one more time. This is what boxing is all about. I cannot wait for June 3.''
Said Castillo: "I said after our last fight that if they wanted to make this like the 'Rocky' movie series, I did not care.  I will fight Corrales five or six times. I am not worried about the weight, or making the weight. It won't be easy, but I will do it.
"Corrales comes forward and wants to fight. I love his style. On June 3, we will give the fans another great fight.'' 
Corrales, of Sacramento, Calif., captured the World Boxing Organization (WBO) 135-pound crown with a 10th-round TKO over defending champion Acelino Freitas Aug. 7, 2004, on SHOWTIME. A two-time world champion at 130 pounds, Corrales won the vacant WBO belt with a 12-round split decision over Joel Casamayor March 6, 2004, on SHOWTIME. Corrales won his first world title with a seventh-round TKO over defending IBF champion Robert Garcia Oct. 23, 1999, on SHOWTIME.
Castillo, of Sonora, Mexico, won the WBC 135-pound belt the first time with a 12-round majority decision over Steve Johnston on June 17, 2000. Following three successful defenses, he lost the title and a subsequent rematch to unbeaten Floyd Mayweather in April and December of 2002. Castillo regained the WBC belt with a 12-round unanimous decision over Juan Lazcano on June 5, 2004. Castillo is coming off an easy 12-round unanimous decision over Rolando Reyes, who replaced Corrales, on Feb. 4.
 SHOWTIME CHAMPIONSHIP BOXING's Steve Albert and Al Bernstein will call the action from ringside with Jim Gray serving as roving reporter and Karyn Bryant as special commentator. The executive producer of the SHOWTIME telecast will be David Dinkins, Jr., with Bob Dunphy directing.
Tickets are $500, $300, $200, $100 and $50 and will soon be available at the Thomas and Mack Box Office, on-line
www.unlvtickets.com
, or by calling 702-739-FANS.
 SHOWTIME CHAMPIONSHIP BOXING celebrates 20 years of hard-hitting, explosive programming in 2006.  In March 1986, SHOWTIME CHAMPIONSHIP BOXING was born when "Marvelous" Marvin Hagler defeated John "The Beast" Mugabi in a spectacular and unforgettable 11th-round knockout in Las Vegas.  Since that time, the network has aired some of the most historic and significant events in the sport including both Evander Holyfield-Mike Tyson bouts.
Always at the forefront of boxing, SHOWTIME has set itself apart by telecasting "great fights, no rights" on the first Saturday of every month.  SHOWTIME is the first network to regularly deliver live boxing in High Definition.  In addition, SHOWTIME continues to be a pioneer in sports television with a number of interactive features across multiple platforms making SHOWTIME CHAMPIONSHIP BOXING telecasts the most enjoyable, immersive viewing experience for the boxing audience.
For information on SHOWTIME CHAMPIONSHIP BOXING and "ShoBox: The New Generation" telecasts, including complete fighter bios and records, related stories and more, please go the SHOWTIME website at
http://www.sho.com/boxing