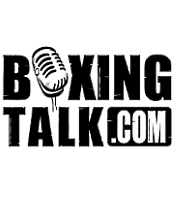 PRESS RELEASE:
While all appeared smooth at the official weigh-in last night for the World Boxing Organization Junior Middleweight Championship between Daniel Santos and Sergei Dzindziruk today at Boerdelandhall, there was more to the story. A loud controversy broke out at the Rules Meeting when the request of the World Champion Daniel Santos to be able to choose the brand of gloves was denied.   
"We feel that as the world champion, Daniel has earned the right to choose the gloves," said adviser Juan Gonzalez.  "It's boxing lore and tradition that gives the champion that right.  We don't care if they want to wear a German glove or any other ten ounce glove, we just wanted to wear Reyes, since Daniel is comfortable with them." 
Santos' promoter Don King Productions brought the Reyes 10-ounce gloves for both boxers at the request of the champion.  The WBO President Francisco Valcarcel made the decision that the promoter of the fight – Universum Box Promotions shall choose the gloves, which was a local German brand.
 "That's not the way it should be," continued Gonzalez.  "The promoter doesn't have to fight.  It's the boxer that should be comfortable with a glove that he is used to."
 When informed of the decision, the world champion took it in stride.
 "I feel great," said Santos.  "I made the weight very easily and I am strong going into this fight.  It's nothing new to me.  I fought world title fights in Italy, England twice, and this is my third time in Germany.  I feel very confident."
 The 30-year old Santos, 29-2-1 (20 KOs), from Bayamon, Puerto Rico, is the two-time WBO champion, having held the welterweight title for four title defenses.  He won the vacant 154-pound crown on March 16, 2002 by stopping "Yory Boy" Campas in the 11th round.  This will be the fifth defense of the WBO belt.