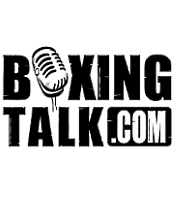 Press Release:
With a little over a month left until the much-anticipated finale of NBC's reality series "The Contender", the six remaining middleweights are preparing for their chance to shine in front of the nation for one five round bout that will determine boxing's next contender.
Who will compete in the final bout of the competition at Caesars Palace in Las Vegas on Tuesday, May 24, a fight that will earn the winner one-million dollars and the chance to change their lives and the lives of the people they love forever? Will it be Anthony Bonsante, Jesse Brinkley, Joey Gilbert, Alfonso Gomez, Peter Manfredo Jr., Sergio Mora?
Tune in to NBC on Sunday nights at 8pm (ET / PT) & 7pm (CT) to count down to the live finale.  With the stakes even higher now, each fight will move one boxer closer to the dream of a lifetime.
Tickets for "The Contender" finale, priced at $300, $200 and $100, are available by calling Ticketmaster (1-702-474-4000) or visiting
www.ticketmaster.com
. Doors open at 3:30pm for the main event. Tickets can be purchased in person at the Caesars Palace Box Office. "The Contender" finale is a live television event, featuring the final match of "The Contender," as well as "Fan Favorite" bouts, and a special town hall session with all 16 boxers and the hosts of the program, Sylvester Stallone and "Sugar" Ray Leonard.  As a separate event, tickets for the Battle of the Bronze undercard bouts are priced at $50.00. All Battle of the Bronze seats are general admission. Doors open at 9:00am for the Battle of the Bronze and the event concludes prior to 3:30pm. The star-studded undercard featuring members of "The Contender" cast will be announced shortly.