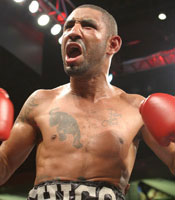 Boxing is fortunate to have people like Diego Corrales and Jose Luis Castillo.  Inside the boxing ring, both men are near perfect examples of everything the sport should be about, and the way it should be approached by those who chose to lace up leather gloves for a living.  Both men are driven, often to the brink of their very lives, by their pride, heart, and desire to be great.  It is the intestinal fortitude of Corrales and Castillo that separates these athletes from other fighters, and elevates them to levels of greatness and fame that so many aspire to achieve but never do.
By now all those who claim to be boxing fans, as well as a good deal of casual sports fans, know the names of these two giants.  Although they fight in the neigbirhood of 135 pounds, the decription of 'giant' is appropriate when attempting to honestly and accurately depict just what type of competitors these two veterans are.  They are the type of boxers that even the sport's cynical, older generation of fans can appreciate and relate to.  Corrales and Castillo are throwbacks, to an era where boxers fought often, against the very best competition, and disregarded the now all too familiar 'purse negotiations' or risk associated with making a fight against a top tier boxer.  Having said all this, it's no surprise that when these two were pitted against each other in their first bout this past May, what resulted was a bloody war that had viewers telling anybody who would listen that they had just witnessed the greatest battle of the last decade, if not longer.
During their first epic war (and it truly deserved the word "epic"), Corrales was the taller fighter who had a reach advantage, the ability to throw a stiff jab and box surprisingly well from a distance, decide to go toe-to-toe with the pride of Northern Mexico, Castillo, for ten grueling rounds.  Castillo, the quintessential Mexican brawler (something he learned about sparring with Mexican legend Julio Ceasar Chavez for five years), obliged Corrales by
supplying his trademark pressure, high punch output, and face-first attack.  The fight was like driving by a horrific car accident on an interstate, terribly brutal, but unable to avoid watching as you drove by it.  Corrales and Castillo relentlessly beat on each other, showing a complete and utter disregard for their own safety.  Mercifully, both for each other and their audience, Corrales ended matters in the tenth round, but not before picking himself up from the canvas twice, in that very same tenth round, courtesy of Castillo's vaunted left hooks.
Immediately following referee Tony Weeks intervention between Corrales and a hurt and defenseless Castillo (prompting a TKO, and the conclusion to the incredibly brutal affair), Corrales' trainer Joe Goosen said what many who had witnessed the slugfest felt, which was that "you would have to be almost sadistic to ever want to see these two fight each other again".  However, in a perfect example of how this sport truly works, money spoke louder than Goosen's common sense observation.  Only five months after the war, the two were set to do it again, and many writers wondered aloud whether or not each man would or could ever resemble the warriors they had last seen.  People wondered if the carnage of their first encounter had forever taken something from each man.
Perhaps sometimes things are just so perfect the first time around, they are not meant to ever be duplicated.  Realizing this, it becomes easier to understand the controversy that surrounded the rematch.  The day before the second clash, Castillo uncharacteristically failed to make the required weight limit for the 135 pound undisputed lightweight title bout.  Castillo missing weight for the first time in his career was not in itself the controversy, but his camp's doctor, shamefully placed his foot under the weigh-in scale in an attempt to manipulate the reading of Castillo's weigh-in, was.  Nevada
Athletic Commissioner Mark Ratner, saw what was going on and instantly banned the attempted cheater for life.
But even more disturbing than a cheating was the fact that Castillo, considered one of the game's most professional fighters, did not seem to either to lose the extra pounds required make the weight limit, even when given a few extra hours.  Putting both the incident at the scales as well as the fact that Castillo was way off the agreed weight (Castillo weighed 140 pounds, a whopping 5 pounds over the limit) together, many observers surmised that it almost appeared as though Castillo never even intended to drain his body the way Corrales had already done, to make the required lightweight limit.  To this day, Castillo adamantly denies this conspiracy theory, and to his credit, he has agreed to take the third bout at the lightweight limit again, determined to prove that the last time, he simply was unable to make weight, a mere hiccup in a career where his professionalism has gone hand in hand with his dominance.
Just over 24 hours later, when the fighters met in the ring for the November rematch, Castillo's punches appeared to be much sharper, and much heavier than during the first war.  Castillo won the first three rounds, a noticeable change for the generally slow starting Mexican who tends to become stronger as his fights progress, and shortly into the fourth frame, he ended matters with a single fade away left hook that would have made Joe Frazier proud (picture your textbook left hook, and then visualize it even better, and that's what nailed Corrales on the jaw).  Corrales, always the honorable sportsmen, congratulated his conqueror, and let the media presume what was obvious to many, that Castillo's failure to deprive his body in order to make the lightweight limit had given him a physical advantage
that Corrales sorely lacked.  Castillo's punches not only appeared heavier, but Corrales' physical sacrifices to make the weight had left him in a position where he was not able to absorb Castillo's blows as effectively as he did the first time around.
All this brings us to the present holiday season, which finds boxing enthusiasts stuffing their faces with holiday goodies as both Corrales and Castillo deprive themselves of any holiday festivities, as they prepare for the third and final showdown, to crown a winner to their now famous trilogy.  Showtime will be televising the final sequel between the two Saturday, February 4, free, on their regular cable network (something the matchmakers
at HBO should watch and hopefully learn something from).  Castillo goes into this bout as the favorite, feeling that in spite of his failure to officially make the lightweight limit in his last bout, that he is still the world lightweight champion.  In his own mind, this last fight between the pair is Castillo's chance to formally gain all the lightweight belts he believes he already informally holds (the championship could not have been contested once
Castillo failed to make the weight limit for the second bout). 
Last week during a Showtime conference call to talk about the upcoming bout this February, Castillo confirmed that he has struggled to make the lightweight limit.  "This will probably be my last fight at lightweight," said Castillo, who added that he intends to move up to 140 where fights with world champion Ricky Hatton (who olds the IBF & WBA belts), Miguel Cotto  (WBO title holder) and Floyd Mayweather Jr. (WBC) can be made (although Mayweather may be at 147 to stay).  Likewise, Corrales would likely move up to junior welterweight for the big money and highly marketable fights waitng at 140.
During the same teleconference, Corrales reassured fans everywhere that they can expect more of the same kind of action when he and Castillo resume their hostilities.  When Corrales was asked if he had any plans whatsoever to box more and brawl less, given the outcome of his last encounter with Castillo, he said bluntly, "not at all, he just caught me with a good shot."  This means fight fans can breath easy, for as sure as the sun's going to come up on 2006, Corrales and Castillo are going to throw down with reckless abandon even if a brawl at close quarters favors Castillo stylistically. At this point, the only prognosticating this author feels comfortable making is that another great fight is going to break out this upcoming February, the type of fight that fans unanimously enjoy, thanks to boxing's modern day throwbacks, Diego 'Chico' Corrales, and Jose Luis Castillo.  Merry Christmas boxingtalk readers, stay for some intense interviews provided by the sport's number one boxing website. (dedicated to James, Catherine, and Nancy Thorsen)
Send questions and comments to: michaeltyoussef@msn.com