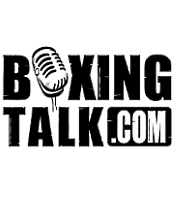 Boxingtalk was The First to bring you the weigh-in for this mega PPV fight. This is a
MUST SEE VIDEO FOR ALL BOXINGTALK MEMBERS
,
as De La Hoya looked to be in great shape and the fans went crazy, plus Sturm looks amazingly strong himself. Also see
Bernard Hopkins and Robert Allen Get FACE TO FACE - AS IF THEY WANTED TO GET IT ON RIGH THERE AND THEN.
Plus see Jose Luis Castillo and Juan "The Hispanic Causing Panic" Lazcano.
DON'T MISS THIS VIDEO - THIS IS WHY IT PAYS TO BE A BOXINGTALK MEMBER - YOU COULD SEE IT ALL HERE AT BOXINGTALK.COM BEFORE ANYONE ELSE.