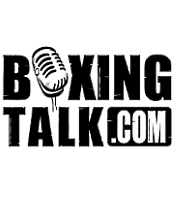 New York Welterweight prospect Luis Collazo 21-1(9) recently took the time out of his busy training schedule, as he prepares to take on former two time world title challenger Felix Flores 19-3(13). In this one on one exclusive, Collazo makes it clear that Flores of Juana Diaz, Puerto Rico, picked the wrong fight to make his Welterweight debut. "He had a two year lay off and he is coming back into something BIG." stated the Brooklyn born Puerto Rican. Read on to see what else he had to say about a possible future match-up against undefeated NABA champ Chris "The Mechanic" Smith. 
RC: What's going on Lou?
LC:  Just chilling, getting myself ready for this fight.
RC: How excited are you about getting the opportunity to fight at Madison Square Garden for the second time in a row?
LC: I'm excited, it is a great venue and then you have Trinidad-Mayorga, its Trinidad's first fight back and I think it should be very exciting.
RC: What do you know and what can you tell us about your opponent Felix Flores?
LC: He is a good fighter, he fought some top fighters at 140lbs, Sharmba Mitchell, DeMarcus "Chop Chop" Corley and now he is stepping up to the 147lb division and it is not going to be an easy fight for him. He picked the wrong fight to make his 147lb debut.
RC: Being that all of his loses has been to southpaws does that give you any added motivation going into this fight?
LC: Of course but not only that, right now I am on top of my game. He had a two year lay off and he is coming back into something BIG.
RC: From what I understand a fight between you and undefeated NABA Welterweight champ Chris Smith, another Welterweight out of NY were discussed for this October 2nd date at the Garden is their any truth to that?
LC: Yeah, I was hoping for that fight but it didn't happen.
RC: Why didn't the fight go through?
LC: Lou DiBella is his promoter and he got him another fight instead and it didn't work out. But hopefully my next fight after this one will be in New York for that title of his.
RC: So Chris Smith is in the running for your next fight if all goes well against Felix Flores?
LC: Yes, if the fight happens it is going to be a good fight man, it is going to be good.
RC: The last time we spoke right before your fight in April, you mentioned you wanted to fight in June which didn't happen, then a couple more time before you get a world title shot. It didn't quite work out that way but how would you put things in perspective as of now?
LC: Right now I am just concentrating on my fight with Flores and after this I will go back to the drawing board and hopefully my next fight or the fight after should be for some type of title.
RC: Being of Latin decent yourself, how do you feel about fighting in front of such a huge Latin crowd that will be coming to see the return of  Felix Trinidad one of Puerto Rico's greatest?
LC: It is going to be exciting because I am from New York, a lot of Puerto Ricans are going to be there and I am Puerto Rican. I am a young, hungry up and coming prospect at 147lbs and I just can't wait, it is going to be great.
RC: How has your preparation for this fight gone so far?
LC: It's going good, I am up here with Travis Simms the WBA Champ, he is fighting Bronco McKart the same night and we are just up here getting ready, things are going real good up here.
RC: What can those on hand October 2nd expect from Luis Collazo?
LC: A lot of boxing and in the later rounds, I'm going to take him out.
RC: So this one isn't going the distan....
LC: (Cutting in) Nah, they are not cutting my fight short this time. This time I am going to finish my job.
CLICK HERE FOR MORE OF THIS EXCLUSIVE INTERVIEW
Send questions and comments to: rayocampbelljr@hotmail.com