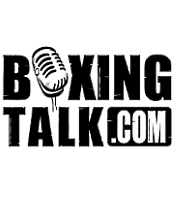 Don Wright & Mike Samuels @ ringside
Kermit Cintron TKO3 Francisco Parra... Fighting against a much smaller opponent, welterweight Kermit Cintron looked sharp and landed hard shots to earn a third-round technical knockout against overmatcher Francisco Parra in Glen Burnie, Maryland on Thursday. Cintron knocked down Parra in the third round and referee Ken Holmes summoned the ringside physician to look at Parra. The bout continued until Cintron landed an overhand right that floored Parra and convinced Holmes to stop the bout. For Cintron (25-1, Boxingtalk's #9 welterweight) the win was a much-needed confidence builder after a devastating loss to Antonio Margarito. Parra started his career as a 122-pounder back in Mexico.




Chazz Witherspoon TKO2 Lincoln Luke... On the same card heavyweight Chazz Witherspoon is now 8-0 after stopping Lincoln Luke in the second round. Luke went down once, but became upset when the referee stopped the bout.