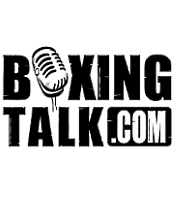 Photos By Jeff Julian
Once again, Boxingtalk spent significant time observing camp Cintron, and once again, Cintron is looking very powerful, perhaps more powerful than we have seen in the past.  As assistant trainer Jason Kauffman has taken over the majority of hand pad work under the tutelage of his father Marshal, the two friends and teammates have seemed to gel remarkably.  Although Jason and Kermit like to fool around in the ring from time to time, throwing each other faints and threatening to kick the crap out of one another, when they get down to business, it's boxing at its finest.  As Kermit began putting his punches together on the hand pads, the complicated and complex combinations exuded power and beauty at the end of each punch.  After Kermit began to warm up, loud and sometimes very loud thuds and smacks could be heard outside in the street. 
As Cintron prepares for the biggest fight of his life, in the main event of his first PPV, he seems at ease with the situation, especially when working in the ring.  Although the Boricua knock- out artist only had 51 fights (27 amateur and 24 pro), not to mention the fact he is coming off of the longest layoff of his career due to a recurring hand injury, the young and talented Cintron is making the most of his preparation time. 
Between swinging the jump rope multiple times while still in the air, the extensive work on the hand pads, throwing right hand bombs at the heavy bag and ripping body shots at just about everything in the way, Cintron is determined to prepare harder than ever for his showdown with the high volume punching style of Antonio Margarito.  Trainer and co-manger Marshal Kauffman described Tony Margarito as an "18 Wheeler," ao Camp Cintron is fully aware of Margarito's ability to roll right over his opponents once he gets going. 
Although Team Cintron won't reveal their strategy for taking on the tough Mexican champion, Kermit did explain that he wants to use the "angles to his advantage."  While Camp Cintron is working on "the angles" and whatever other particular strategies they refuse to reveal, one thing is certain, POWER is their biggest asset and advantage coming into the Margartio fight.  
After knocking out 22 of his 24 opponents, Cintron is beginning to be considered one of boxings biggest punchers.  While the young star is learning how to box on a day to day basis, his power is as natural and indigenous as his confidence is in illustrating his devastating offensive arsenal in the ring. 
While Margarito is susceptible to being hit, if he is not taken out of the fight early, his innate boxing ability to pick his opponents defense  system of his opponents, the "18 Wheeler" might not reach full speed until the later rounds. 
Although Margarito might not have the power of Kermit Cintron, he most certainly has the power to hurt pretty much any welterweight in the world.  If Margarito is not hurt early, this fight will most likely end on a very close decision.  
Boxingtalk President Greg Leon is confident that Antonio Margarito will stop Cintron in the middle to late rounds if Cintron is unable to catch him with a right hand bomb in the first three or four rounds.
I couldn't disagree with him more. I think the phenom is going to defeat Margarito via fifth round KO, in very dramatic fashion.
As always, Greg Leon does his homework, and as he explains, "the time off, the surgery, and lack of a tune-up following the surgery will begin to show unless  Kermit takes Margarito out early." 
Many strategies can be considered when fighting Margarito, but one is usually more of a gamble than the next.  If Kermit Cintron throws the entire arsenal into the first couple of rounds, he could very well KO the Mexican champion early, however, if Cintron is not successful at landing something big quickly, the WBO welterweight champion will take Cintron into the deepest waters of his young career.  "We know Margarito will be coming in shape," said trainer Marshal Kauffman, "which is exactly what we are going to do."  However it is done, whether by brutal KO, or a display of boxing abilities, if Kermit Cintron is raised at the end of the evening, he will become one of boxing's brightest young stars.
CLICK HERE FOR FULL PHOTOGALLERY
Send questions and comments to: boxingtalk@gmail.com