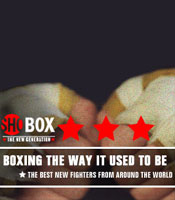 SHOWTIME will kick off the Cinco de Mayo weekend with the first of excellent back-to-back fight cards on Friday, May 5. In the main event on "ShoBox: The New Generation" (11 p.m. ET/PT, delayed on the west coast), North American Boxing Association (NABA) flyweight champion Cesar "El Gallito'' Lopez (18-2, four KOs) defends against Glenn "The Filipino Bomber" Donaire (15-2-1, nine KOs). The vacant North American Boxing Organization (NABO) 112-pound belt will also be on the line in the 12-round bout.  
In the 10-round co-feature, undefeated super welterweight Juan Manuel Buendia (12-0, four KOs) collides with hard-hitting Alexis Division (16-2, 13 KOs). Gary Shaw Productions, LLC, in association with Tony Holden Productions, will promote the doubleheader from the Lucky Star Casino in Concho, Okla.  
The next evening on Saturday, May 6, the 20th anniversary celebration of SHOWTIME CHAMPIONSHIP BOXING continues with a world title doubleheader from Worcester, Mass. Alejandro "Terra'' Garcia will defend his World Boxing Association (WBA) super welterweight belt against former WBA welterweight champion Jose Antonio Rivera. In the other world title fight, Luis Perez will defend his International Boxing Federation (IBF) junior bantamweight crown against mandatory challenger and IBF No. 1 contender Dimitri Kirillov.  
Lopez, of El Paso, Texas, is a master technician who creates crafty angles and picks apart his opponents. At his best when he can maintain a fast pace and utilize his excellent movement, the soft-spoken warrior with a docile and humble demeanor is the NABA flyweight champion and former Texas State 115-pound titleholder.  
Using his lightning-quick speed and technical skills, Lopez won 18 consecutive bouts and ascended to the top 10 of the world rankings (WBA No. 7, WBO No. 8 and IBF No. 10). Although he dropped his last outing, a 10-round decision to top-10 contender Gabriel Elizondo (19-1 going in) on Dec. 8, 2005 in New Mexico, he is ready for his ShoBox debut.   
"This is a great opportunity for me to get back to where I was," said Lopez, whose flyweight title was not on the line in this super fly event. "I did not have my best night against Elizondo, but I will be ready on May 5. Donaire has never fought a boxer like me.''  
During his world-ranked amateur career, Lopez represented the United States in the Junior Golden Gloves World Championships. At 18, he turned pro only to lose a majority four-round decision to Fidencio Reyes on May 17, 2001, in Victoria, Texas. Lopez lost by the scores 39-37, 40-36 and 38-38.
Three years later, Lopez avenged his loss in a rematch with Reyes by winning an eight-round split decision (July 9, 2004, in El Paso). "I knocked Reyes down twice in our first fight, but the referee ruled those slips both times," said Lopez. "I always wanted to fight Reyes again because he did not beat me the first time and I knew he definitely would not beat me the second.''
Lopez captured the NABA title on Jan. 24, 2004, and made two successful defenses, the last coming on a 10-round decision over Alejandro Moreno on Dec. 10, 2004, in Albuquerque, N.M.
On May 5, Lopez needs a victory to keep alive his dream of becoming the first El Paso fighter to win a world title. Bantamweight Fernie Morales and lightweight Juan Lazcano came close in 1990 and 2005, respectively, but fell short.
"I think about it all the time,'' Lopez said. "My goals were to win a regional title, to win a world title and be the first world champion from El Paso. I am sure other boxers from El Paso have the same goal, but I would love to be the first.''
Donaire, of San Leandro, Calif., by way of General Santos City, Philippines, is subbing for his younger brother, NABF Super Flyweight Champion Nonito, who was scheduled to fight Lopez on the May 5 ShoBox card but sustained an injury during training.  
Glenn, unlike his younger brother, is an aggressive-minded, two-fisted banger who likes to get in close and throw hard combinations to the head and body. The older Donaire turned pro at age 20 with a first-round knockout over Eduardo Reyes on Aug. 27, 2000, in Del Mar, Calif.  
Donaire continued to dispose of opponents early in his next four fights, scoring knockouts inside the first, second and fourth rounds. After suffering a loss in his sixth bout, Donaire rebounded to win his next eight, including a 12-round decision over Phanomchai Dejritha to capture the World Boxing Organization Asian Pacific (WBO/AP) flyweight title on Nov. 22, 2002, in Guam.  Donaire then lost in a shocking first-round TKO to Zcy Gorres on March 19, 2005. The fight, scheduled for eight rounds, was over at the 2:03 mark of the opening session.  
As the boxers sized each other up, both simultaneously moved in, which caused their heads to collide. Donaire got the worst of the unintentional exchange and the referee gave him a few minutes to recover. Shortly after the bout resumed, Donaire committed a big mistake and lowered his hands. Gorres took advantage and landed a right hook solidly on the jaw.  
"I definitely wanted to continue," said Donaire, who vehemently protested the decision.  
Donaire rebounded to pound out a lopsided 10-round decision over veteran Juan Alfonso Keb Baas on June 24, 2005, in Cabazon, Calif. In his final 2005 start, Donaire scored a sixth-round TKO over Benito Abraham on Nov. 5 at Stateline, Nev. In his lone 2006 outing, Donaire and Jose Albuquerque boxed to a six-round draw on March 3 from Santa Ynez, Calif.  
Buendia, of Detroit, by way of Durango, Mexico, is a versatile sort who will be making his 2006 debut. He has won his last two outings inside of the distance, including a first-round TKO over Jonathan Nelson in his most recent start on Nov. 18, 2005, in New Haven, Conn. Buendia scored one knockdown before the referee stepped in and stopped the bout at 1:28.  
In one of his finest performances, Buendia captured the Illinois State welterweight title with a crowd-pleasing eight-round unanimous decision over previously undefeated Luciano Perez (9-0, eight KOs going in) on Aug. 13, 2004, in Cicero, Ill.  
To the surprise of some, Buendia opted to go toe-to-toe with the hard-hitting Perez and took the fight to him from the outset. Out-landing Perez with heavy rights and lefts to the head and body while proving to be the quicker and the more accurate puncher of the two, Buendia repeatedly backed up his opponent. He then covered, ducked and countered as Perez stormed back.
Divison, of Miami, via Santa Domingo, Dominican Republic, is a rangy, rough, rugged, long-armed, rail-thin, 5-foot-11 brawler who comes to fight and is at his best when he can utilize his height and box from the outside. A good amateur in his homeland, Division turned pro on Nov. 29, 2001, and won his first 16 professional fights before heading to the U.S. He is winless in his two stateside outings, but both were against good opposition in bouts he took on short notice.
In his last start, Divison lost to Delvin Rodriguez on a fourth-round disqualification on Feb. 17, 2006, in Memphis. Divison may have been leading a bout that was close after three rounds. A former sparring partner of Bernard Hopkins and Zab Judah, Divison had landed his fair share of solid shots, including a couple looping overhand bombs that rocked Rodriguez in the first round. But after getting warned repeatedly by the referee for fouling and getting a point docked for hitting behind the head, Divison was DQ'ed 28 seconds into the fourth.
 "I am determined to win this time," said Divison. "I am trying to make it up to all the people who believe in me."
The telecast represents the 76th in the popular, critically-acclaimed "ShoBox" series, which debuted on SHOWTIME in July 2001. "ShoBox" features up-and-coming prospects determined to make a mark and eventually fight for a chance at a world title.  A number of fighters who have appeared on the series have gone on to become world champions, including Jeff Lacy, Ricky Hatton, Juan Diaz, Leonard Dorin, Joan Guzman and Scott Harrison.
Nick Charles will call the action from ringside, with Farhood serving as expert analyst.  The executive producer of the telecast is Gordon Hall, with Richard Gaughan producing.
For information on "ShoBox: The New Generation" and SHOWTIME CHAMPIONSHIP BOXING telecasts, including complete fighter bios, records, related stories and more, please go the SHOWTIME website at
http://www.sho.com/boxing
.