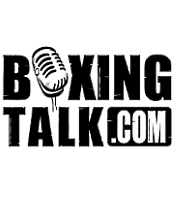 Boxingtalk.com recently spoke to welterweight contender Chris "The Mechanic" Smith 19-1-1(12) who was nice enough to take the time out to discuss his upcoming bout which takes place Saturday night at the MCI Center in Washington, DC, as the televised co-feature of the Mike Tyson-Kevin McBride PPV on Showtime. Smith, will put his NABA Welterweight title on the line when he takes on former Jr. Welterweight champion "Little Big Man" Sharmba Mitchell 55-4(30) of Washington, DC.  Read on as Chris talks to Boxingtalk.com exclusively about the most important fight of his career thus far.
RC: Chris, This Saturday June 11th you'll be facing former Jr. Welterweight champion Sharmba Mitchell, on the under card of the Mike Tyson versus Kevin McBride PPV event on Showtime, give us your thoughts on this match up?

CS: I am just excited about it. Just to be able to get back in there against a formidable opponent like Sharmba. It is about the things that I have been talking about, which is fighting the best opponents out that are out there. And at this point he is definitely one of the better opponents I have ever faced, so I am just excited because I know it is going to be a great show.
RC: Give us your take on Sharmba as a fighter?
CS: He is a good fighter; he is a good slick boxer. Regardless of the fact that he lost his last fight I still consider him to be one of the best fighters out there.
RC: Would you have preferred to take a tune up fight before stepping in there with someone of Sharmba Mitchell's caliber, especially coming of your first professional loss? Or was this a situation where you felt you had to take advantage of the opportunity because of the exposure you can get on a televised Tyson under card bout in your comeback fight?
CS: It is definitely an opportunity that I just couldn't let past me by. I really don't think that I need a tune up, I am just ready, believe me I am just definitely ready. He is not taking a tune up, (Starts to laugh) unless he considers me a tune up. But like I said this is the right fight at the right time for me.
RC: Have you made any changes since your last fight, that you feel will help you come out on top?

CS: I got a new trainer; I am working with Joey Gamache
RC:  Are you guy working on new things that you felt you maybe lacked in your last fight? Or did you feel you just needed a change and a different look?
CS: Well you know what? Once you start talking about changes, you start talking about things that went wrong, and I am not even going to get into that. The reason being is because I have gotten past that fight. It was just a matter of I fought that night, things didn't go the way I planned, I lost and I have moved on.
RC: Did you think that you would get an opportunity like this so quickly on such a big stage, against someone as formidable as Sharmba?
CS: I thought it was going to take at least, I thought I was going to have to have at least one fight before I get back and be able to get a shot at an opponent like him. I expressed to my manager that I didn't want to fight one or two guys, and that I really wanted to just get right back into the mix. So to me this was just a blessing that I was able to get this opponent. It didn't just come out the blue, but this was something that I really wanted and I had made that clear to my manager.
RC: You were originally suppose to face a TBA opponent on June 9th, but instead you will be fighting June 11th, now I know it is only a two day difference, but did you have to make many changes in your training with the date change or because it is a different opponent for that matter?
CS: I definitely had to change some things because now I am getting ready for a southpaw and we had to get some southpaw work, so basically that was the biggest change that we had to make.
RC: What is your mode like leading up to fight time for this fight, oppose to going into your last fight against David Estrada?
CS: Well mentally things are definitely not exactly the same. Like right now I see this as a bigger opportunity, a bigger name, so mentally I think I am more geared up for this fight, because it is Sharmba.
I am just happy for the opportunity; this fight came at the right time. I can correct a lot of things quickly. I am in very good shape, and I am just very excited. 
RC: It's clear that Sharmba has far more experience than you do, what do you feel you'll be able to bring to the table that will help level the playing field come this Saturday?
CS: I haven't been in as many big fights as he has, but once you have been in twelve round fight, and been in championship fights, it is pretty much all the same to me. I am not even worried about that. I am just looking forward to go out there and do what I do. That whole other aspect of the game, it doesn't even factor into me, I don't even pay attention to that.
RC: What can we expect from Chris "The Mechanic" Smith come Saturday in this the biggest fight of your career?
CS: It is going to be back to basics, back to being me. "Mr. Excitement" a lot of punches. I am just getting back to letting my hands go like I normally do and let the chips fall where they may. Mr. Excitement is back!
RC: Is there anything else you would like to add in closing before I let you go?
CS: I am just looking forward to getting out there and doing what I do, and getting ready for the people when I see them when I come back form D.C. with my NABA championship.
This fight is bigger than my last one, just the name factor alone, that is one and just the fact that I am coming off my career loss we had to get back on track. Even if I didn't have this loss, because like I said the name recognition, it is going to do a lot for me.
RC: Do you feel any extra added pressure going into a fight of this magnitude, which is a pretty much like a make or break, and like you said it is the most important fight of your career?
CS: Nah, that is funny because there is no pressure. I feel no pressure whatsoever and I am not even exaggerating I feel no pressure. I am just going out there, I feel relaxed, and I feel very confident.
Send questions and comments to: rayocampbelljr@hotmail.com