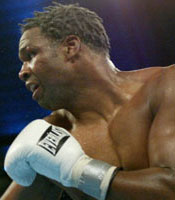 Speaks on Klitschko, Barrett and more!
GL: Monte Barrett told me you feel he's more deserving of a shot to fight for you title than Wladimir Klitschko. Can you elaborate on that any?
"I do feel that way. He earned his number one spot. He fought and beat an undefeated guy in Owen Beck, not only did he beat him, he stopped him. He dominated Dominic Guinn, another undefeated guy and he gave Joe Mesi a big run for his money at the Garden. He's fought top guys and won, what has Wladimir done lately to earn that shot? Monte's fighting the right kind of guys that put him in a position to be number one. I respect a guy like that, because he's coming with it fighting whoever to get his shot. That's how I had to get mine. I had to go through David Tua. He deserves the chance more in my opinion."
GL: Are you frustrated that this Wladimir Klitschko fight is on the table now after he's lost to Brewster and looked horrible against Wiliamson, and not when he was the man on the rise who was fighting Ray Mercer and Jameel McCline?
Chris Byrd: "I guess it's a German thing. They're trying to do whatever they can to get him back in the picture by bringing the fight to Germany. Knowing that I have an optional defense out there, I guess they feel he beat me the first time, maybe he can scrounge up enough confidence to beat me again. But that's where they would be mistaken. I'd have to blow him out this time. I'm not playing around no more. But like I said, in my opinion, Monte deserves the shot more."
GL: Monte mentioned the possibility of fighting you on the undercard of Trinidad-Wright. Is that something that's appealing to you?
CB: "You know I've been wanting to fight in Vegas for a while. If we could get Klitschko in the States, I'd fight him Wladimir in April and come right back with Monte in May. I know I could do both of them back to back and I would love to do both of those fights. It doesn't matter to me, but right now I think Monte deserves it more. Hasim Rahman always tells me if it doesn't make dollars it don't make sense, and at this point in my career, that's my new slogan."
GL: In some of our recent convo's you mentioned how it was kind of frustrating for people to want you to fly across the world to fight Wladimir Klitschko, while Vitali, the Klitschko you want to fight is fighting in America...
CB: (cutting in) "Everybody knows that I'll fight anybody and all of the boxing experts rank me and Vitali one and two. I want the people to know who the best is and the best way for that to happen is for the two best heavyweights in the world to fight. I feel like I should go for revenge against Wladimir after Vitali comes for revenge against me!"
"In the first fight with Vitali, he QUIT. How could he not want to avenge that? I guess he just doesn't want to fight me, and it's funny how his brother seems more confident in fighting me than Vitali does now. And I guess now they want the fight to go to Germany because Wladimir's last couple of performances here make him pretty much worthless to the American public."
GL: Obviously you have a great deal of confidence in yourself, but after all of the allegations of funny business you feel took place in Germany, do you honestly feel you could not only get a fair shake, but take a decision in Germany?
CB: "I don't care how stacked the chips may look to be stacked against me, my God doesn't fail me. I would go over there with supreme confidence that I'm going to win. I don't care if his Aunt's and Uncle's are the judges and his cousin be the referee, I don't care about that, I'd be there to fight and win the fight. If they would try something funny again, at least this time everybody in the world would be able to see it on HBO. I'm not even going to talk about what happened in the past anymore. If I have to go there again, trust me, I'm going to correct it."
"My whole thing with whoever it is, is let's go to war. I'm not going in there to be a cutie and try to box, I'm in there to war and I'm going to be testing people's heart from jump street. Put it out there, I don't care if you're 250 pounds of muscle coming straight ahead, I'm going to test your heart."
GL: You've made it clear that you won't go to Germany for your $2.5M minimum purse. How much more would it take to make you happy?
CB: "I'm not at liberty to talk about it right now, but it's going to take a lot more than they offered us so far."
GL: Would there have to be a rematch clause for you to fight Wladimir?
CB: "Absolutely, he doesn't deserve the fight to begin with so there would have to be a rematch clause. With Monte I wouldn't need one because he deserves it and he worked his way to the title shot. I would be a fool to take the fight without a rematch clause. I wouldn't need one because I'm going to beat him if he fight, but at the same time my interests must be protected."
GL: You're a student of the game so I'm sure you already know this, but I'll say it anyway. As limited as the Klitschko's may be, one thing they both know how to do very well is fight tall. In your last fight you got the best of a much bigger man in Jameel McCline, as tall of heavyweight outside of Klitschko country as there is in boxing, BUT unlike the Klitschko's McCline  is probably the smallest fighting 6'7 260 pound fighter in the history of boxing. Do you feel that you've made the necessary changes to your game to make sure that fights against the Klitschko's play out differently?
CB: "The fight would be 100% different. I'm a totally different person now and I'm a totally different fighter now. I would bring it to him from the first bell and I would test their heart out the gate. It would be a totally different story, I would be 100% ready and this time we're going to make sure everything is right. I'm the champion and he would have to wear my gloves and I'm bringing them with me. It's going to take a bad man to beat me the way I'm feeling now."
CLICK HERE FOR MORE OF THIS MUST READ INTERVIEW
Send questions and comments to: gleon@boxingtalk.net