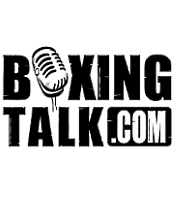 Boxing Talk's Nigel Clarke recently caught up with "The Chin Checkers". Two hot prospects fighting out of New York City. The Chin Checkers is a combination of Jaidon Codringon (Age 20) and Curtis Stevens (Age 19). Both of these fighters boast impressive amateur records. Codrington was 110 – 9 as an amateur, winning the 2002 National Golden Gloves and the 2004 New York Gold Gloves tournaments. Curtis Stevens had a brilliant record of 185 – 11. A five time Silver Glove Champion, two time National Junior Olympic champion, 2 time Junior World Champion, United States National Champion 2002, 2002 Golden Gloves champion of New York City and 2002 recipient of the Sugar Ray Robinson Award.
Both fighters have had a smooth transition from the amateurs to professionals, not only defeating, but knocking out all of their opponents. Stevens is 4 – 0 and Codrington is 6 – 0. While preparing for their upcoming fights on January 28th, check out what the two had to say and what were in store for in 2005.
JAIDON CODRINGTONNigel: Tell everyone out there how long you've been boxing.
Jaidon: I've been boxing for seven years now. I had my first fight in 99.
Nigel: How did you guys get the name Chin Checkers?
Jaidon: Well, being that we check chins it would be natural to call us the Chin Checkers. A guy, who manages us from Murda Inc, made up the name and we stuck with it.
Nigel: Tell everyone where you're from?
Jaidon: I'm from Bridgeport, CT. That is were I was born and raised. I've been in Queens NY for a while now though. I've a product of the Starrett City gym, but I'm from Bridgeport. But I'm fighting out of Queens now.
Nigel: Who influenced you in Boxing?
My uncle Danny Codrington, he was in the Olympic trials. He influenced me to box and have a heart for boxing. I'm a fighter naturally. Coming up fighting my brothers all of the time, three older brothers and one older sister. I always had to fight.
Nigel: What are some of your goals for 2005?
Jaidon: 2005, the year of the Chin Checkers. We're going to be the biggest name and bring the biggest attraction to the prospects in 2005. I plan to stay undefeated and be the most looked at prospect in the nation. Not the east coast, but the nation. I plan to have 10 fights and by the end of the year having 10 rounders. We'll be headlining for Lou's Broadway boxing and hopefully after than bigger and better things.
Nigel: What's the story with you next opponent?
Jaidon: He's a victim. I'm training hard --Don't get it twisted, I don't take nobody lightly, but real talk, I call it how I see it. It's suppose to be an eight rounder, I don't see it going past the fifth. If I smell a kill early, it's going to end early, but we're shooting for the fifth round knock out.
CURTIS STEVENSNigel: For everyone that does not know you, how long you been in the game?
Curtis: I've been boxing since I was five, I started fighting when I was 8. I'm training hard, until I become a better champion.
Nigel: You from Brownsville right?
Curtis: Brooklyn, Brownsville never ran, never will, Tyson lived right around the block, holdin them down, Chin Checkers!
Nigel: Do you feel any pressure coming out of Brownsville? Following in Tyson's footsteps?
Curtis: I don't feel that there is any pressure. I've been doing this for a while. I want to be a better champion than Mike. Me being a better champion means that I have be more dedicated, put in more work and more time.
Nigel: You're currently 4-0. You knocked your last opponent out in the first round. Prior to that you had a second round knockout. Do you consider yourself a slugger or more of a boxer?
Curtis: I can fight both ways. I can knock you out or outbox you. I'm an awkward guy. Most guys I will fight one way, most guys I can just box. I can box and I can punch. So, I can just confuse guys in the ring. I can bang with you the first round, the second round you think I'm gonna come banging, I'm going to box your head off!
Nigel: You already mentioned Tyson, what other boxers have been a big influence?
Curtis: Hagler, Roberto Duran, Zab, Riddick Bowe, everyone that has accomplished excellent things. Tyson being the biggest. We have the same style, he's from around the block, Brownsville, big up!
Nigel: You're currently fighting at Light Heavy. Are your plans to stay there or move up?
Curtis: My next fight on January 28th is at Supper Middle weight. I don't want to go up in weight, I want to go down. My goal is to fight at 160 strong.
Nigel: Hold up. Doesn't Jaidon fight at that weight?
Curtis: It doesn't really matter if we fight at the same weight, as long as we don't clash. Eventually we'll meet up for a mega fight.
Nigel: Tell everyone about the name "Chin Checkers".
Curtis: It came from one of the guys we work with. He gave us the name. We check in and check out and we check chins!
Nigel: It's 2005, what are your goals for the year?
Curtis: We're getting ready to sign with Lou Dibella. I'm getting ready to take over the 2005, anyone they put in my way I'm going to run them over and finish out the year 13 - 0, and do the same thing next year.
Nigel: What's the biggest change you had to make since you became a professional fighter?
Clarke: I've had to be more dedicated. When I was in the amateurs I did not have any any dedication. I was winning everything I did not feel right doing it any more, I was not hungry. Now I'm in the pros, I have goals. My goal is to be the undisputed champ like my man Bernard and my man Winky.
Nigel: Any fighters out there you dislike?
Curtis: Not really, as long as people stay out my way we won't have any problems. They won't get knocked out.
Nigel: You mentioned that you're moving down in weight. What do you think about the heavyweight division?
Curtis: It sucks!
Nigel: What division do you think has the most talent right now? Bernard is getting ready to retire…
Curtis: Yeah and I'm going to take over as ring champ. Right now I think Jeff Lacy is trying to move up and takeover, but if he gets in my way I'm going to knock his ass out too.
Nigel: What do you think about Jermaine Taylor?
Curtis: I'm gonna knock his ass out too!
Nigel: One of the things that people respect about Tyson is that he knows the sport very well. He knows the history of the sport. He remained a student of the sport. Do you study fight footage? What fights do you like to watch?
Curtis: I watch Hagler, he comes and hurts you and tries to take you out. Then again, Hagler boxes you. Roberto Duran was an excellent boxer. He could finish you at any time. Tyson is strong as hell, could knock you out with one punch at any time.
Nigel: Whose boxing career do you want to pattern your career after?
Curtis: Lennox -- Lennox retired as the champ. I'm going to retire undisputed. But I'm not going to get knocked out and come back and win again. I'm gonna knock somebody's ass out and then knock someone else's as out and then retire.
Nigel: What do you think about the way Roy is finishing?
Curtis: Roy Jones isn't finished yet. He is going to come back and fuck both of them up. He is going to knock Tarver's ass out and then knock Johnson's ass out. I talked to Roy personally, and he told me that.
Nigel: When your career is over, what will you have accomplished in the ring?
Curtis: Curtis Steven, the best undisputed super middle weight, middle weight, light heavy champion of the world.  I'm going to take over every fucking weight class. They will say, he was an excellent champion, he gave everyone a title shot and he knocked them out.
Nigel: Who has been your toughest opponent?
Curtis: Well you know, I lost to Andre Ward in the Olympic trials. He is bullshit to me too. He calls himself a boxer, he is no boxer, he plays track and field, and he likes to run around the ring. This is a brutal sport, come and fight mother fucker!  Tell Andre ward to come holla at his boy! Tell him come now, without any headgear! Chin Checkers, Brownsville gang, HOLLA!