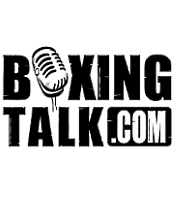 With Christy Martin in the twilight of her career, Lucia Rijker taking more movie roles than fights, and Laila Ali flirting with retirement after having won numerous world titles, Chika Nakamura, with her talent and dedication, could well become the next big thing in women's boxing.
The New York-based Nakamura, formerly of Japan, fights like a woman who takes the sport seriously. On the undercard of Eric Harding-Daniel Judah Saturday night at the Mohegan Sun Arena, Nakamura won a one-sided decision over Tampa, Florida's Cimberly Harris. She won by scores of 39-37 and 40-36 (twice). Although Nakamura didn't score a knockout, when it was over, Harris looked like the victim of a group mugging.
Nakamura is not a female who boxes in order to open the doors to do other things. You won't find her wearing a form-fitting hot pink ensemble in the ring like Mia. St. John, who posed for Playboy magazine a few years back in between fights. Nakamura is for real. Her goal is a world championship, not acting or modeling, even though outside Nakamura is a good looking woman outside the ring.
Inside the ring, Nakamura is all business. Back in June, she turned pro with a first-round stoppage of Ohio's Iris Griffin in Atlantic City one night before Floyd Mayweather, Jr defeated Arturo Gatti for the WBC-140 pound championship. Boxing legend Pernell Whitaker was cheering her on from ringside.
In Nakamura's corner was head trainer Mark Breland, 1984 Olympic gold medallist and former two-time world champion. Unfortunately, Breland was unable to be in Nakamura's cormer Saturday, as he was out in California helping Vernon Forrest with recent comeback from a two-year layoff.
Working with Breland, Nakamura is learning to be more relaxed in the ring and capitalize off of mistakes her opponents make. 
"In the amateurs, I just had to be aggressive," said Nakamura. While Nakamura went four months between her pro debut and her win Saturday night, she hopes to stay much more active in the coming months.
Manager Stephen Johnson said there's a prospective bout line up for next month "and we hope to have her fighting as well." Nakamura must stay more active if she wants to stay on schedule with her and her camp's goal of fighting for a world title as soon as next year.
Is next year perhaps too soon to make that big leap?
"I think considering Chika's skills are certainly commensurate with that of the people who are on the upper echelon so I think she'll do very well," said Johnson.
Assistant manager Steven Rauchberg said if there's anything that's going to prevent Nakamura from winning a world title next year, it will be the reigning world champions.
"One of the unfortunate things in women's boxing is the top women don't fight the top contenders," he said.
While Nakamura, 2-0 (1), did everything right in winning a four-round decision against Harris Saturday, the 2002 Golden Gloves champion wasn't completely satisfied with her performance.
"I wanted to win by knockout," said Nakamura, adding, "I didn't expect her to have a boxer style. I thought she would just come out with a wild, crazy style. I didn't think that she was a boxer."
While many fighters often say a win is a win is a win, Nakamura doesn't subscribe to that theory.
"I'm always looking for knockouts," she said. Hopefully, Nakamura can get a knockout her next time out, at least for her own personal satisfaction. However, the crowd enjoyed her fight against Harris, despite the fact Harris stayed around to hear the final bell.
Although Nakamura may be a little hard on herself, her team was satisfied with the win.
"We're definitely very happy with her progress," said Rauchberg. "She's an up and coming fighter. We expect her to get better every time out. We have great plans for Chika. She has an unbelievable future ahead of her."
Send questions and comments to: kirklang@yahoo.com