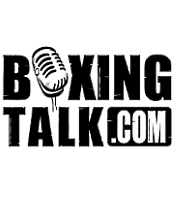 Licona Loses Technicial Decision
There was excitement in the air at the San Diego Convention Center Friday night as living legend Julio Cesar Chavez was in the house to watch junior continue his budding boxing career. Even though the offspring of Chavez was not technically the main event of the Sycuan Ringside Promotions card, one could not tell from the seats still filled after the official Telefutura featured bout between Hector Velasquez and Marcos Licona was in the record books. Usually when most main events are completed, the crowd drastically diminishes as they saw what they came to see, but last night was different. After Velasquez took the decision from Licona, the 3,314 in attendance rose to their feet, not to head for the exit doors, but instead to light up the room with a plethora of camera flashes and cheers for the historic and future figures that were making their way to the ring.
Usually the first thing that people say when they first see Chavez Jr. is "Look how skinny he is." But as we all know, appearances can be deceiving, and Friday night, it would be Leroy Newton who was deceived. Even though Chavez Jr. was the smaller of the two fighters, he was the one pressing the action against the less experienced Newton. Chavez had no problem finding his way through his opponent's defense with hooks and crosses upstairs, and it was a right hook to the side of Newton's head, followed by a left hook downstairs that put the less famous Newton down for the first time. Newton quickly rose from the canvas, but soon found Chavez Jr. in front of him landing more combinations of hooks and crosses upstairs and to the ribs. With Newton close to taking another knee, and before Chavez Jr. could inflict any more damage, referee Lou Moret stepped in to halt the bout at 2:11 of round one. Chavez Jr. earns his 5th career first round knockout and improves to 16-0 (11), while Newton falls to 5-6 (4).
Velasquez Transforms Licona Into a Bloody Mess – Wins by Tech. Decision.
Coming off two recent knockout wins, Hector Velasquez opened up the evening's main event by peppering Marcos Licona with a pestering left hook upstairs, followed by jabs and uppercuts to the body. Licona tried to dance his way around the more accurate Velasquez, but mostly missed when he attempted to counter with uppercuts of his own downstairs. Halfway through the second frame, Licona's face already appeared battered due to Velasquez' consistent but non-lethal jabs that landed flush each time they were thrown. However, it would eventually get worse for Licona. In the opening moments of round three, with Velasquez feeling more comfortable in the ring, he started putting together more combinations that landed without being answered back. Seconds after the round started, an accidental head butt opened up a gash on the side of Licona's left eye, and a toe-to-toe war ensued. As there was now a sense of urgency from both fighters, they fought in the center of the ring, landing combinations of jabs and hooks upstairs. The cut subsided for one minute while Licona's cutman worked on the injury in between rounds, but once Velasquez was allowed to let loose again in the fourth frame, Licona found himself in a free-flowing crimson mess. The cut did not seem to bother Licona too much, as he showed heart by giving just as much as he was taking from Velasquez. Similar to the round before, the fourth frame came to a close with both warriors battling in a phone booth – neither wanting to give up any ground. As the fifth inning got underway, it was Velasquez who fought smarter. Knowing that Licona's cut was now under control, and that Velasquez could visualize this fight going the distance, he attacked his opponent's body and face, while Licona was only head-hunting. The first punches that landed in round six got the crowd's attention as Licona landed two crushing right hooks to Velasquez' head, who in turn answered with a sweat-spraying hook upstairs. Since neither fighter seemed in the mood to absorb that much punishment in one night, and with Licona's face now masked completely with blood, the fight once again entered a phone booth, and both were content to landing crisp jabs and uppercuts to each others' heads. The doctor was called in before the seventh round could get started to check the status of Licona's eye, and wisely advised the referee to get the healing process started on the cut. Since the fight had gone past five rounds, the fight went to the scorecards which read 60-53, 59-55, and 58-56 giving Velasquez the technical yet unanimous decision victory. He is now 40-10-2 (29), while Licona drops to 22-5-1 (7).
Antonio Diaz Could Beat Galaviz But Not His Cold
He was the first to jinx Corey Spinks, so going up against a two fight veteran in Herman Galaviz should not have been much of a problem for Antonio Diaz. However, the brother of former IBF lightweight champ Julio Diaz had to deal with chest congestion and other flu symptoms while taking on the less experienced, but gutsy Galaviz throughout eight rounds. Diaz spent the first two rounds standing toe-to-toe with Galaviz chopping down the greener boxer with punishing hooks to the side of his head, while landing rib cracking shots downstairs to follow. Stick-and-move was Diaz' MO in the opening moments of round three, but got paid dividends when he stationed himself in the center of the ring and landed a crushing right hook to the side of his opponent's head. With a minute left in the round, Diaz landed a two-hook combination stunning Galaviz to the canvas, but did not get the desired credit since Diaz pushed his dazed opponent to the mat. However, once Galaviz rose from the canvas he mostly fought defensively as though he was fending off an energized fighter who just scored a legal knockdown. Diaz continuously landed head-pounding shots upstairs for the remainder of the frame, winding up his shots prior to crashing them on Galaviz' skull, and dazing him until the bell brought the sweet sound of relief. Diaz played the roll of counter-puncher in the fourth inning, and made his opponent pay for his mistakes by landing perfectly placed crosses whenever Galaviz missed a punch of his own. Diaz once again stunned Galaviz in the fifth round with a consecutive right and left cross upstairs, but Galaviz was able to hang on, putting on a feeble offense, unwilling to go down for the count. Seeing that he had a inferior fighter in front of him, Diaz stalked his prey pounding away at Galaviz' body and finishing off his combinations with sweat-spraying right hooks to the face. Diaz came out of his corner for the sixth inning, and landed the first four punches he threw in the form of a combination of hooks upstairs. Diaz forced his opponent against the ropes and cracked Galaviz with more leather upstairs, but for the first time of the fight, Galaviz came back with a two-punch counter that landed flush on Diaz' nose. They spent the remainder of the round peppering each other with jabs upstairs, with Diaz barely missing a wild swinging right hook that surely would have sent Galaviz to the showers had it landed. In the seventh round, Diaz landed a beautiful left hook downstairs that dropped his worn down challenger to one knee. Even though he claimed it to be an illegal blow that put him down, it was ruled a legal knockdown, and when Galaviz rose, Diaz wisely attacked the same spot. For having only two fights under his belt before entering the ring last night, Galaviz showed he was a warrior by waving Diaz over to bring more action. Diaz obliged, and mixed up his punishment by venturing upstairs. The eighth and final round was not much different from the previous rounds of the fight, and Diaz continued to stalk Galaviz around the ring landing almost at will while could only counter with a soft jab until the bell drew the fight to a close. Diaz swept Galaviz on all three judges' scorecards and improves to 41-5-1 (28), while Galaviz drops to 1-2 (1)
CLICK HERE FOR THE MOST DETAILED FIGHT REPORT ON THE NET PLUS HUGE PHOTO GALLERY
Send questions and comments to: fool4rush@aol.com